Journal #28 - Albania and Kosovo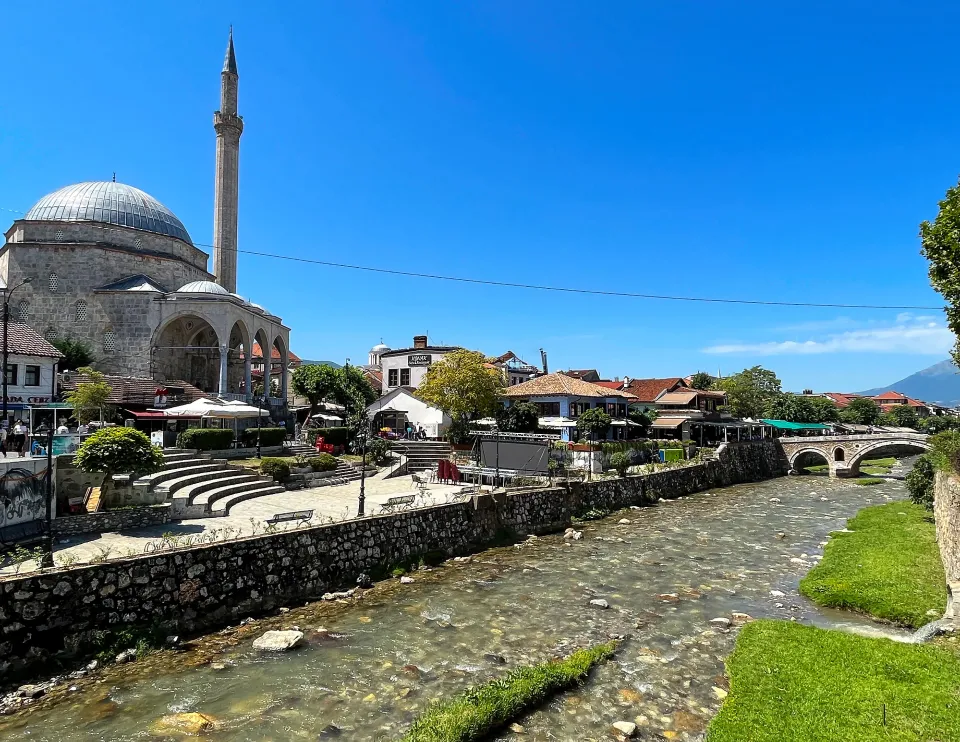 Përshëndetje from Albania!
This country marks our first venture into the Balkans. We began with a comfortable stay by the beach, to catch some sun for at least part of our summer (Scotland and Ireland were fantastic, but did not offer that particular delight). Then we moved inland to the capital, Tirana, where we used our location as a launching point to adventure to Albania's neighboring nations and learn more about their relationships with one another. We knew little about this country upon arrival, having not been taught a lot about it in school; however, we found a rich history and a unique culture that was fascinating to dive into.
For starters, we stayed in Durrës, Albania. This is a northern beach town characterized by its downtown strip. The street is lined with beach paraphernalia shops and restaurants. Each day of our stay we tried a different local eatery tasting some of the regional staples (grilled meats, stuffed peppers, etc.) and lots of fresh local options, including a variety of delectable grilled fish. These fish, served whole, were widely available and each was treated with a spiced and salted skin making for a delicious and refreshing lunch.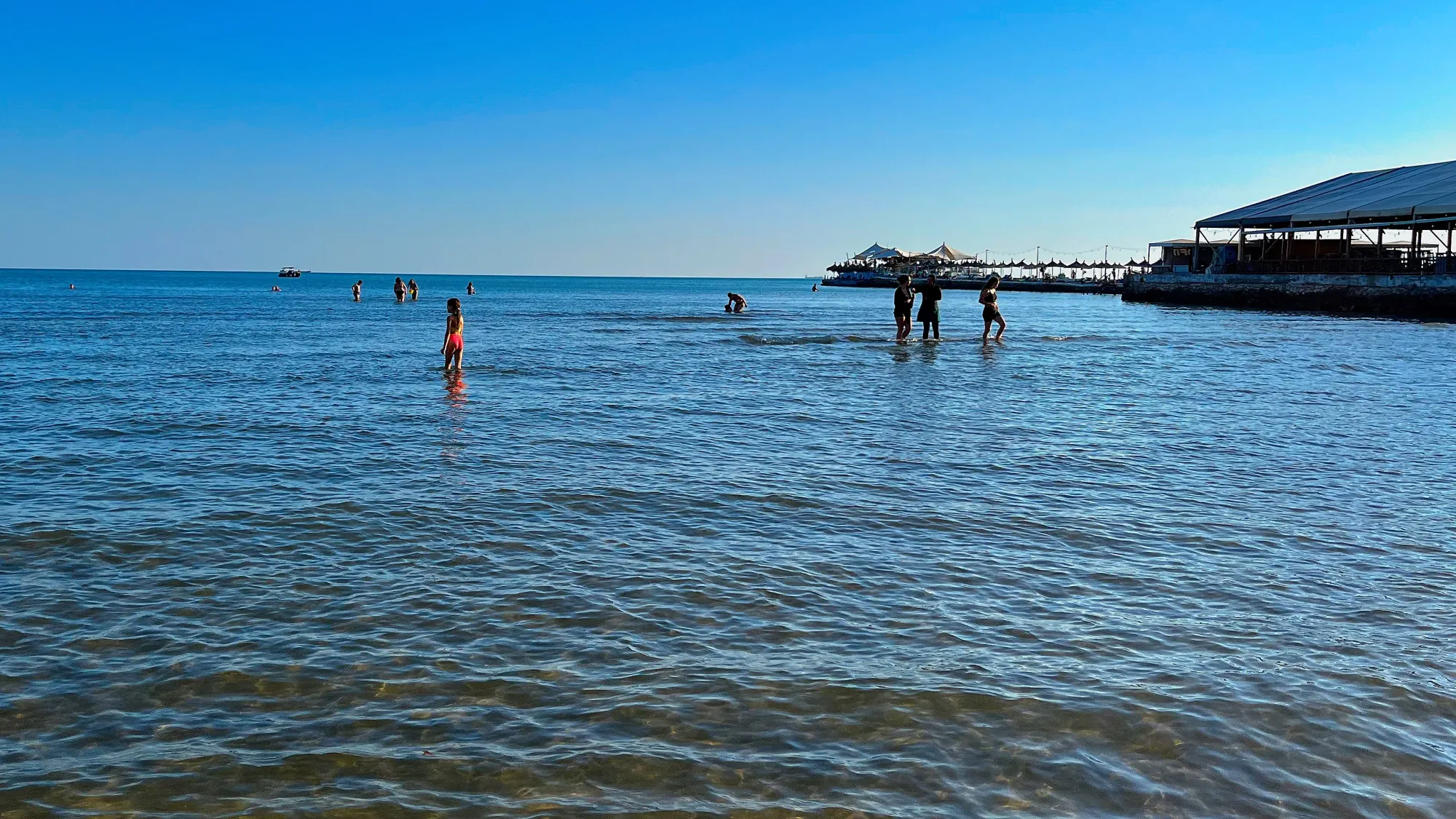 One feature of the Durrës beaches that I had not been expecting was their shallowness. For 100-200 meters out from the shore an adult could still stand with their head above water. For most of that, the water would rest between knee and hip height. This made it quite family-friendly. There were children in the water all day enjoying their inflatable toys, tossing a ball around, and even using the paddle boats availabe for rent. It was easy to see why so many Albanian (and tourist) families consider this a vacation destination.
Durrës did provide us with a first in terms of wildlife encounters – we saw, in person, our first locust. It somehow managed to get into our apartment (definitely not through the wide-open window) and surprised us while we were working. By surprised, I mean literally, mid-call, flying directly at Mr.Wanderer's head. Mr. Wanderer and I both paused everything we were doing and tried to capture it, to no avail. Our feeble attempts at capturing it involved the only object we had available to us - a silver kitchen pot. I may or may not have squealed a bit. Locusts are harmless to our bodies, but still - the insect's sudden arrival was startling, and they are much faster than you would expect.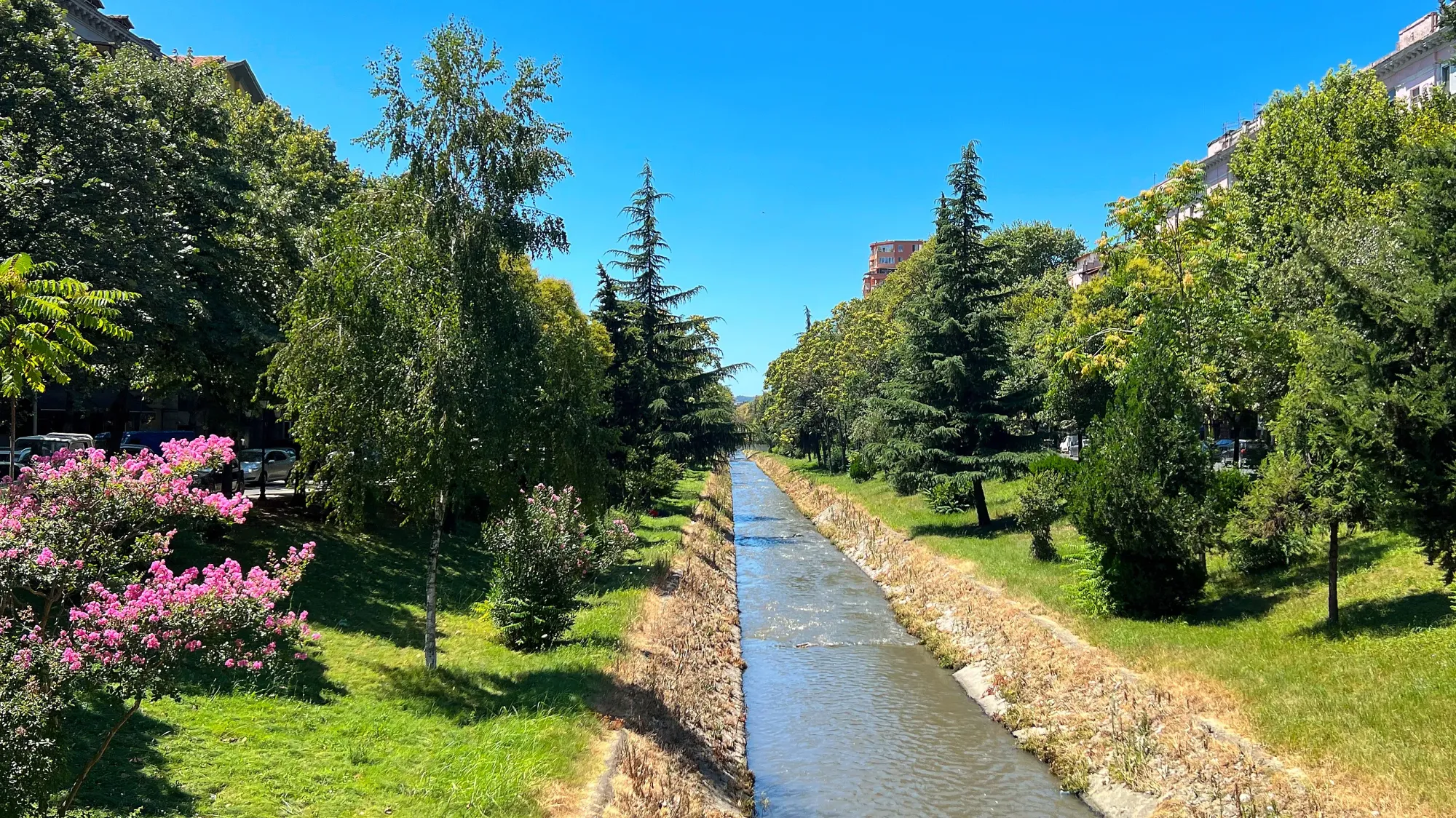 After our time in the sun, we traveled east into the capital city of Tirana. We were gladdened to find adorable tree-lined streets and a tranquil river running through the city. The road named after an American president did take us a bit aback though. We enjoyed the city for its cute restaurants and introduction to more Albanian culture.
To learn more authentically about the history of the region we hired a tour guide who took us around through Albania and its neighboring nation of Kosovo. It was immensely helpful to have someone, who grew up in the region, who we could ask questions of. For starters, we wanted to know about Albania's political past. Having been a communist state for almost half of the twentieth century, Albania actually banned all religion within its borders. This was designed to prevent prioritizing a higher power over the greater good. Due to this past, modern-day Albania now claims widespread religious tolerance, which is refreshing to hear.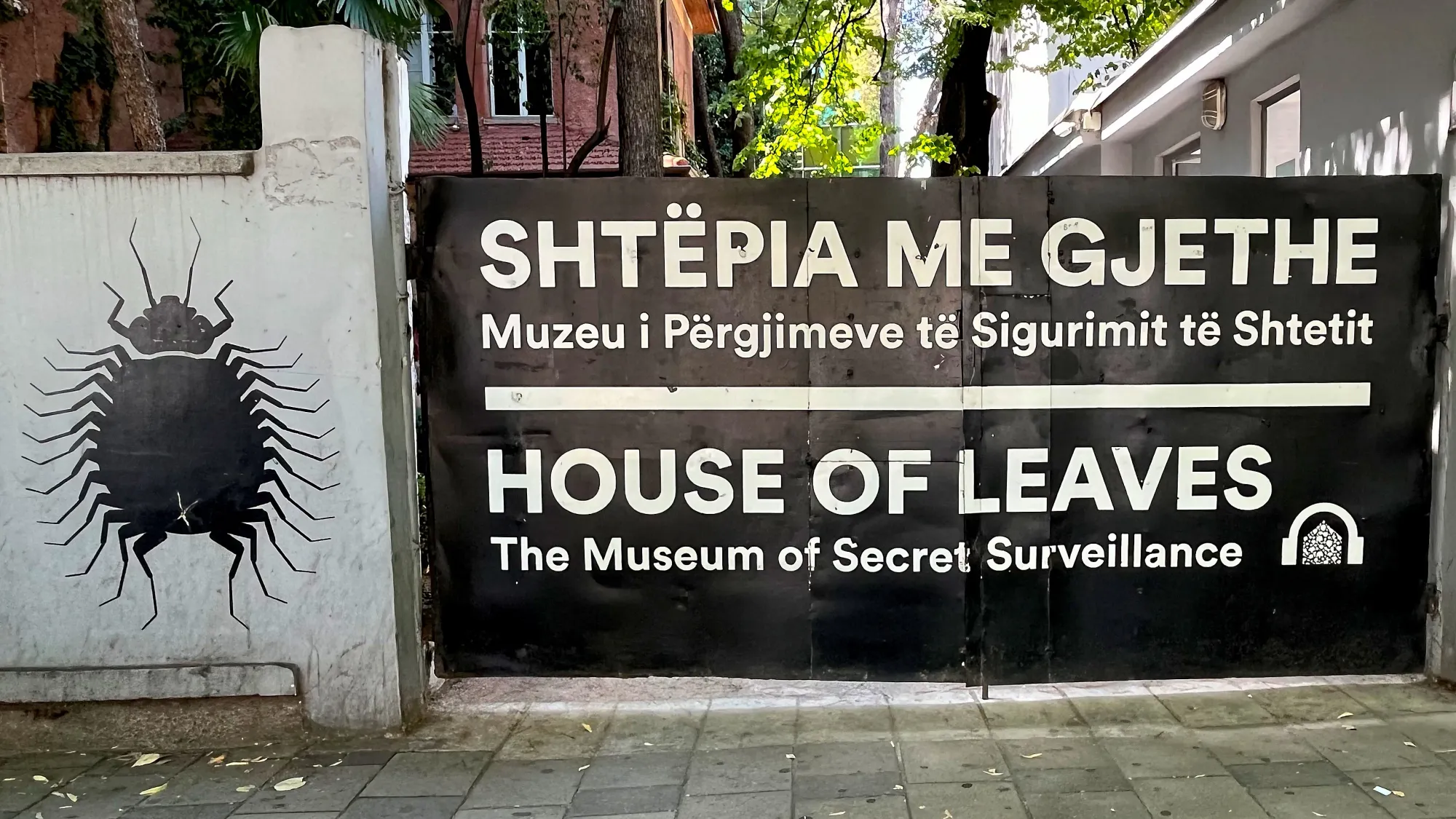 To learn more about the past communist rule, we made it a point to visit the House of Leaves Museum. It was here where the history of surveillance and persecution around the country was outlined. While many of the saved documents were in Albanian, the volume of bugs and video content plus the sheer number of government positions dedicated to this practice were enough to paint a thorough picture. There were clear descriptions of the vast quantity of citizens that "disappeared" and even stalker-esque videos of potential conspirators from their grocery runs and social outings. It helped us to better understand the reality of the nation from that period and was a thorough museum.
Modern-day Albania had more celebratory things for us to learn about including the vast number of wedding parties we saw on the roads. Brides and grooms in Albania, as a part of the wedding festivities, create a caravan with family and friends to escort them to/from different celebrations. These lines of cars take over the streets and are frequently decked out with red and black balloons. The bride is usually easy to spot, especially due to the dramatic hairstyles that are the fashion. Caravans will sometimes blast music or have different people hanging out the windows dancing and singing. Often passersby will honk or cheer as they drive by and it must have been wedding season because we rode alongside many of them.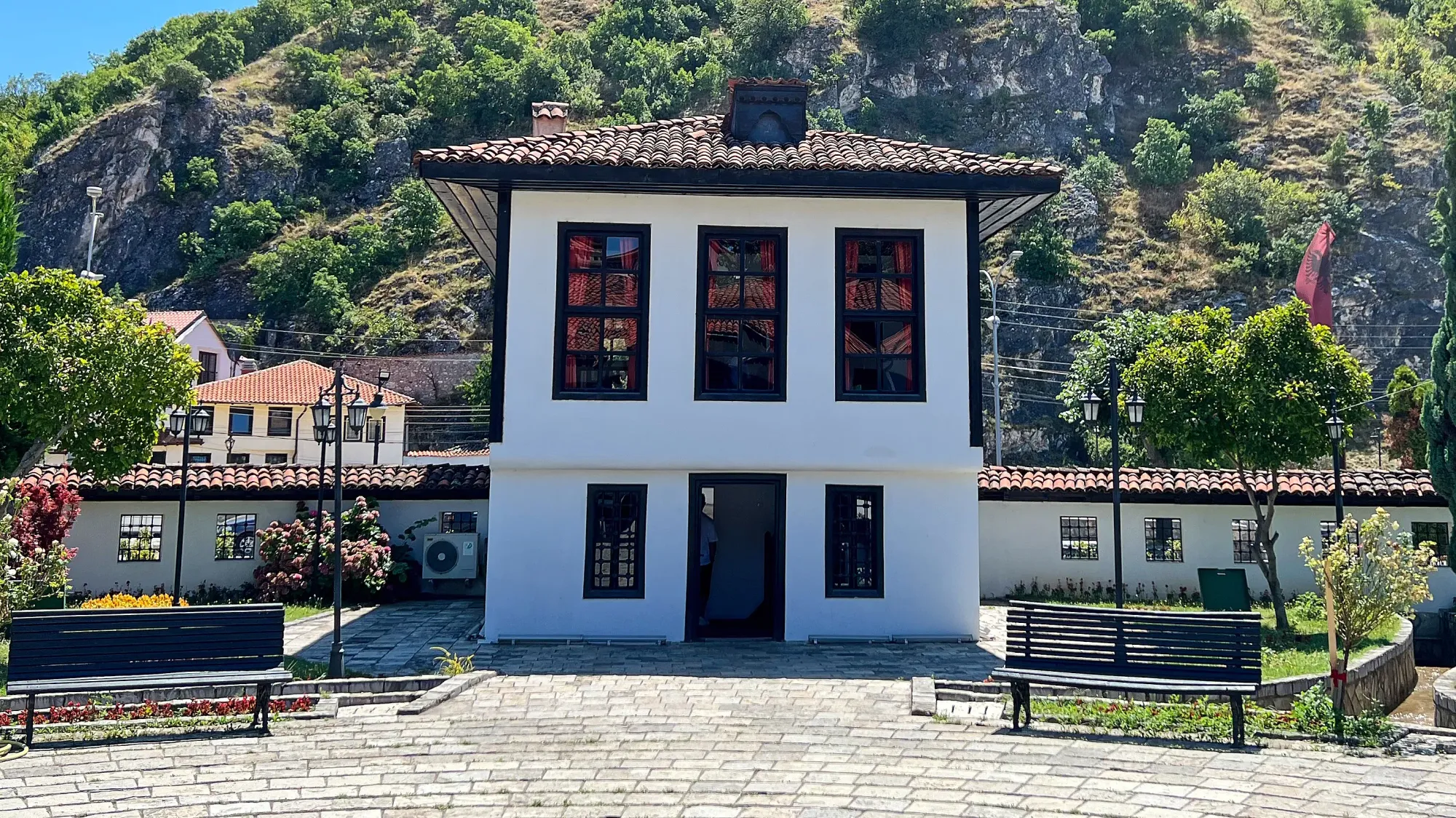 Upon arrival in Kosovo, we immediately started with a history lesson about the League of Prizren and the ethnic Albanian population within the nation. Today Albania and Kosovo stand as separate countries; but, our (albeit biased) guide explained the historical connections between the two nations and their shared history. He was fairly emphatic in making the point that they wish to be joined as one country. While we cannot speak for the sentiment of everyone residing in Kosovo, as a tourist it was clear to see that there was some merit to the claim. Every tourist shop in Kosovo sold Albanian branded merchandise, the wedding entourages existed on both sides of the border, and as we drove through the countryside we passed countless Albanian flags. If you knew nothing of the political landscape, you still could not miss the shared relationship on both sides of the border.
On our tour through Kosovo, we visited both Prizren and Pristina. We walked through both towns taking in key historical sights and even one of the "World's Ugliest Buildings". We found more memorabilia of United States presidents, but also some valuable historical context for the post-Ottoman land. There were also modern touches to these historic cities, such as a mural for Dua Lipa. Despite being separate nations Albania and Kosovo have been linked for centuries and it was valuable to us to visit them together. It helped us to contextualize their relationship and compare our experiences between the two.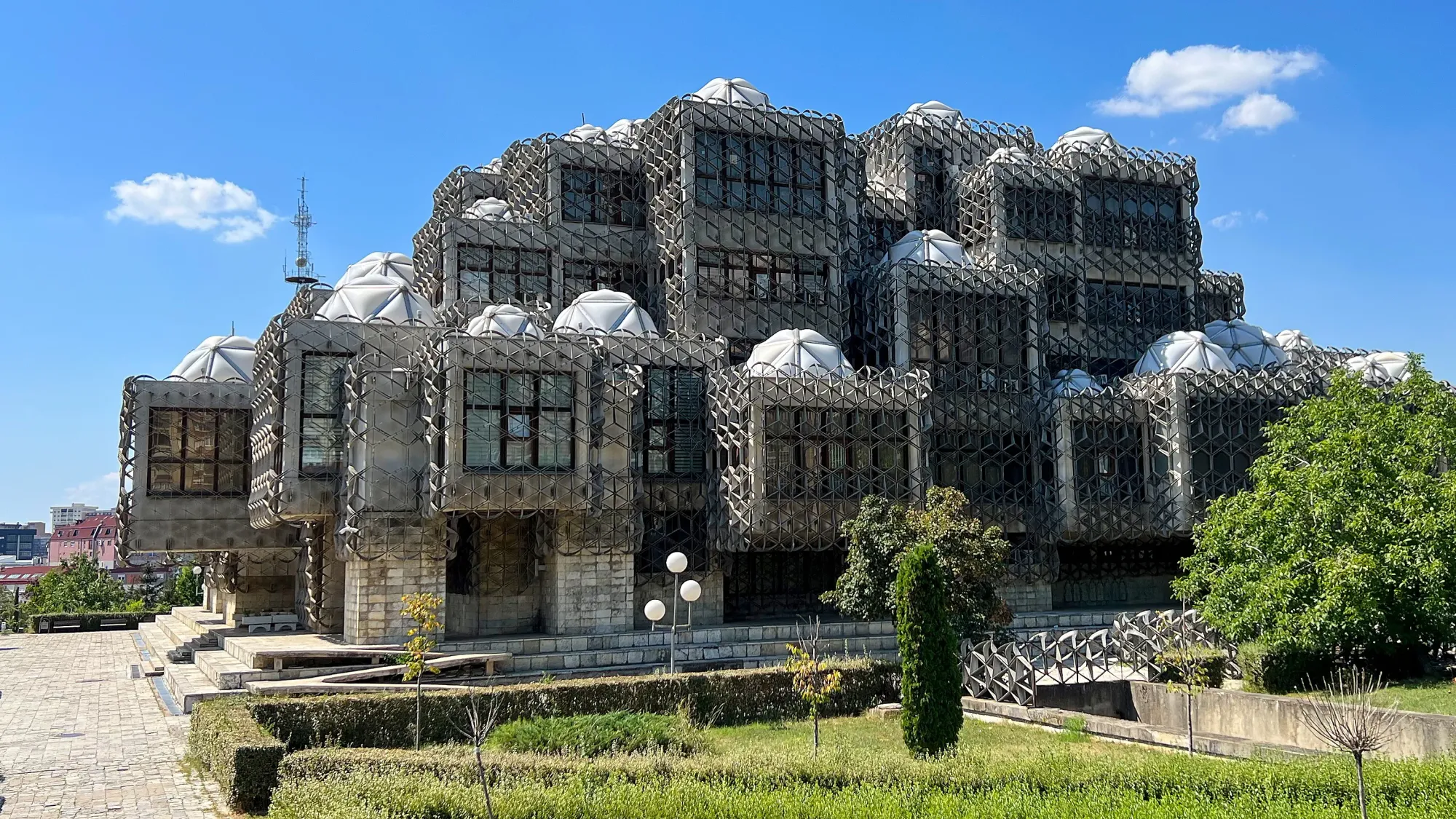 Our trip here involved a lot of history to balance with our vacation mode time at the beach. We read our Albanian book to learn about the Kanun, relaxing in the sun before our long walking days around the two nations' capitals. Our trip was punctuated with several long stretches in the car soaking up the countryside and the unique regional character. These two nations held a lot for us and we loved having the opportunity to visit and learn more. Now our bags are packed and we are headed to the birthplace of Mother Theresa – any guesses where we are off to next?