Journal #3 - Vietnam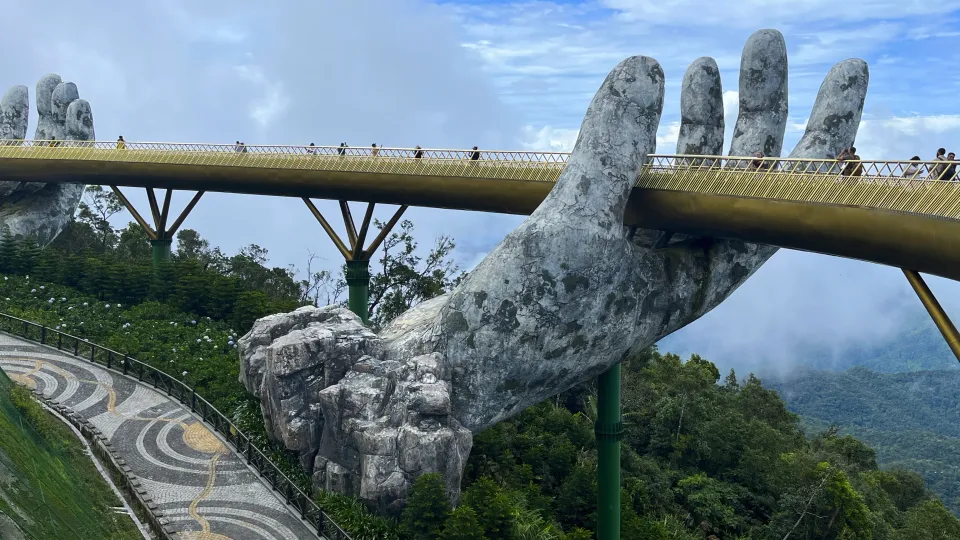 Xin Chào from Vietnam!
We have arrived in South East Asia, and what a different vibe it is from our time spent on the Mediterranean. Our first introduction has been swarming with motorbikes, slightly smoggy, and filled with some of the kindest people we have encountered. We are traveling off from the ideal tourist times, it is still rainy season here, but that has worked in our favor. We have experienced almost no crowds at everything we have visited. We had three different home bases in Vietnam. Starting in Hanoi, we took several excursions to check out more of the north. We moved down to Da Nang, where we found a beach-town vibe. Then we landed in Ho Chi Minh for a modern city flavor.
Our arrival in Hanoi was definitely rough. After flying for twenty-nine hours, we immediately dialed into our work day upon arrival at the hotel. The extended workday was our first indication that the time difference (from our East Coast US working hours) was going to be more painful than anticipated. As this will be our "new normal" for the next several months, we are working on adjusting our schedules.
Unfortunately, the working hours were not our only rough start here in Vietnam. It was also our stomachs that took a beating. Typically, the pair of us like to be adventurous. We try as many online recommendations as we can get our hands on while visiting a new city. In Hanoi though, we found that the food safety rules here were not up to the standard we have grown up accustomed to. This resulted in a rather unpleasant bought of food poisoning. Both of us rebounded though and were able to try all of the different Vietnamese dishes we wanted to during the rest of our stay (Read our Gastronomy Post and learn all about Vietnamese cuisine).
Despite our rocky beginnings, we had some enjoyable excursions in northern Vietnam. The first was a trip to Ha Long Bay. The bay is a green waterway with a smattering of limestone islands covered in lush mini-rainforests. The visit is a great way to get away from the smog and chaos of the city for a breath of fresh air and beautiful water. Plus, the sights are stunning. We particularly enjoyed getting to kayak ourselves around and through a cave.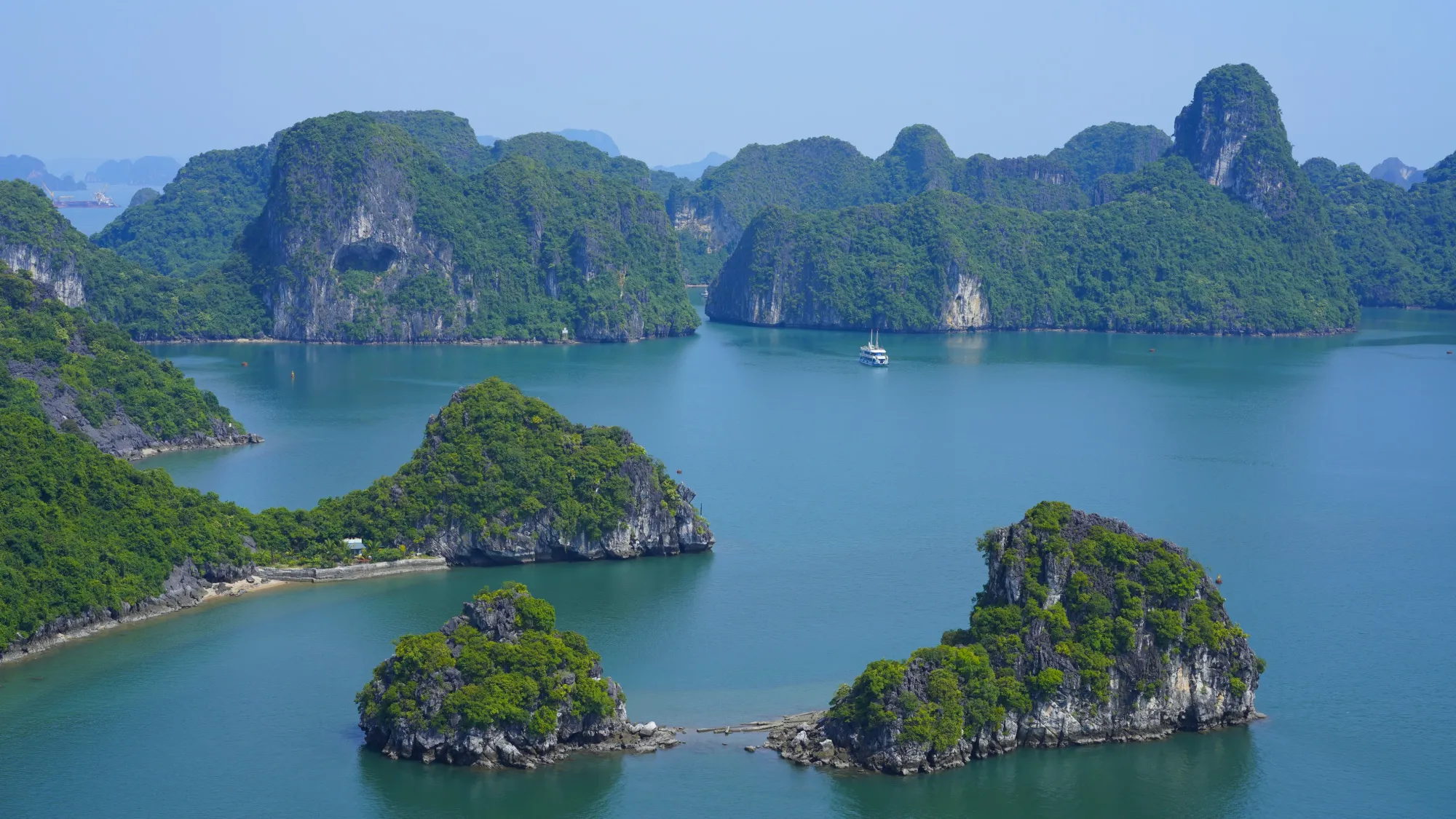 Our second excursion was to a homestay in Sapa (Sa Pa), a popular trekking base. We got the opportunity to walk around four different villages, see the daily life of rice farmers up close, and enjoy a bamboo forest and waterfall for some playtime. Our hosts were friendly, and we had many locals walk with us and tell us about their lives and unique aspects of their culture. They enjoyed showing off their green fingernails from the clothes they had been dying each morning. They even gave us the chance to rub an indigo plant and dye our own hands. We caught this visit right at the perfect time, harvest season. While it is not as popular for tourists to visit during the rainy season, at the end of September, the rice fields start to change colors to a beautiful golden. This change is nature's way of letting the farmers know when it is time to harvest. Our guides were generous and let us get up close and personal through the rice drying process. Though, from now on, I will wash my rice thoroughly after watching barefoot family members use their feet under the hot sun to spread the kernels out to dry.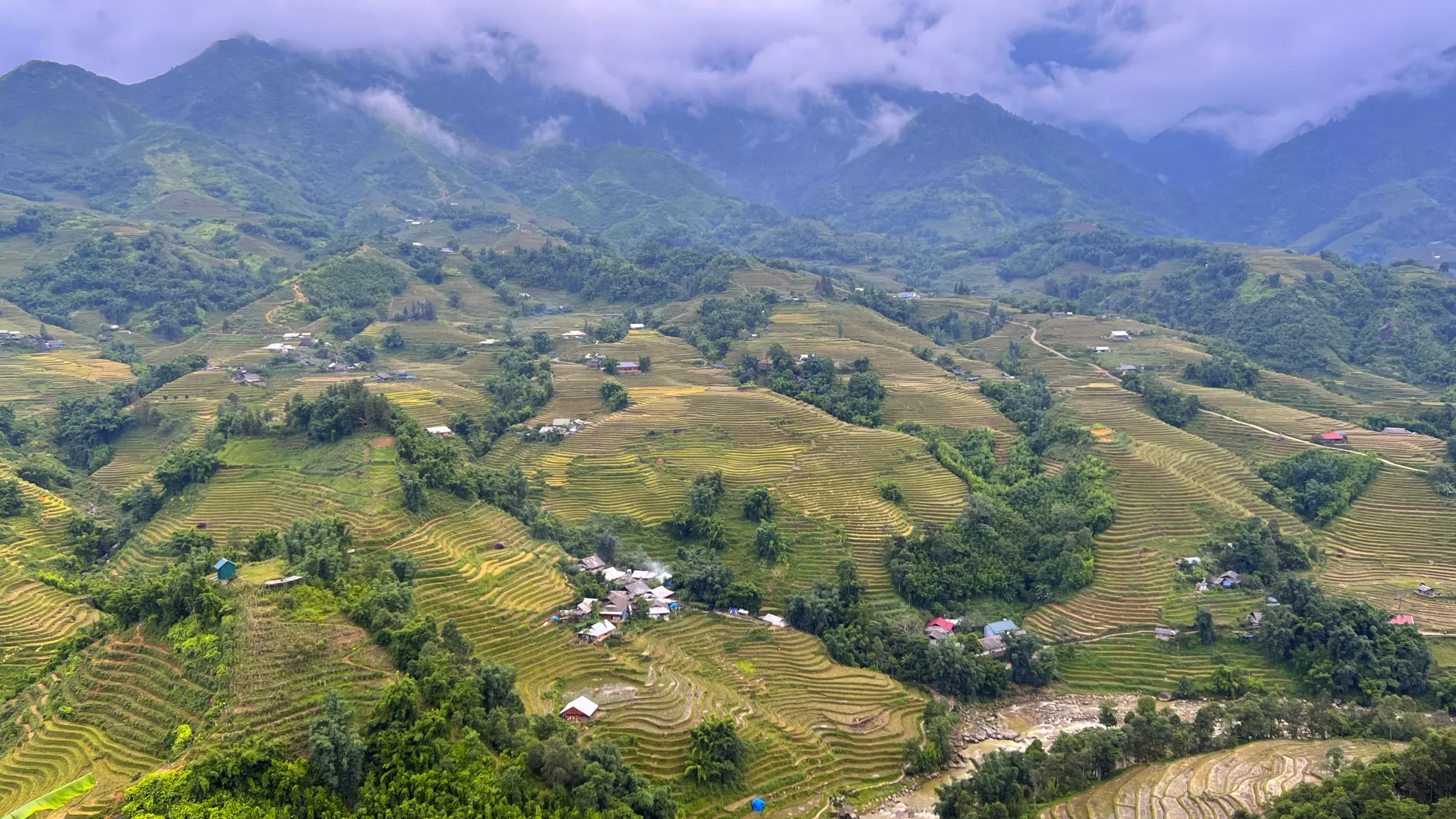 Moving south to Da Nang, we both relaxed and let go of the tension we did not realize had been accumulating in the city. Our beachfront stay and delightful touristy adventures in Ba Na Hills and Hoi An let us see a different side of Vietnamese culture and capture some beautiful photos. Our visit falling during the off-season also meant that we had the beach to ourselves and absolutely no crowds at SunWorld.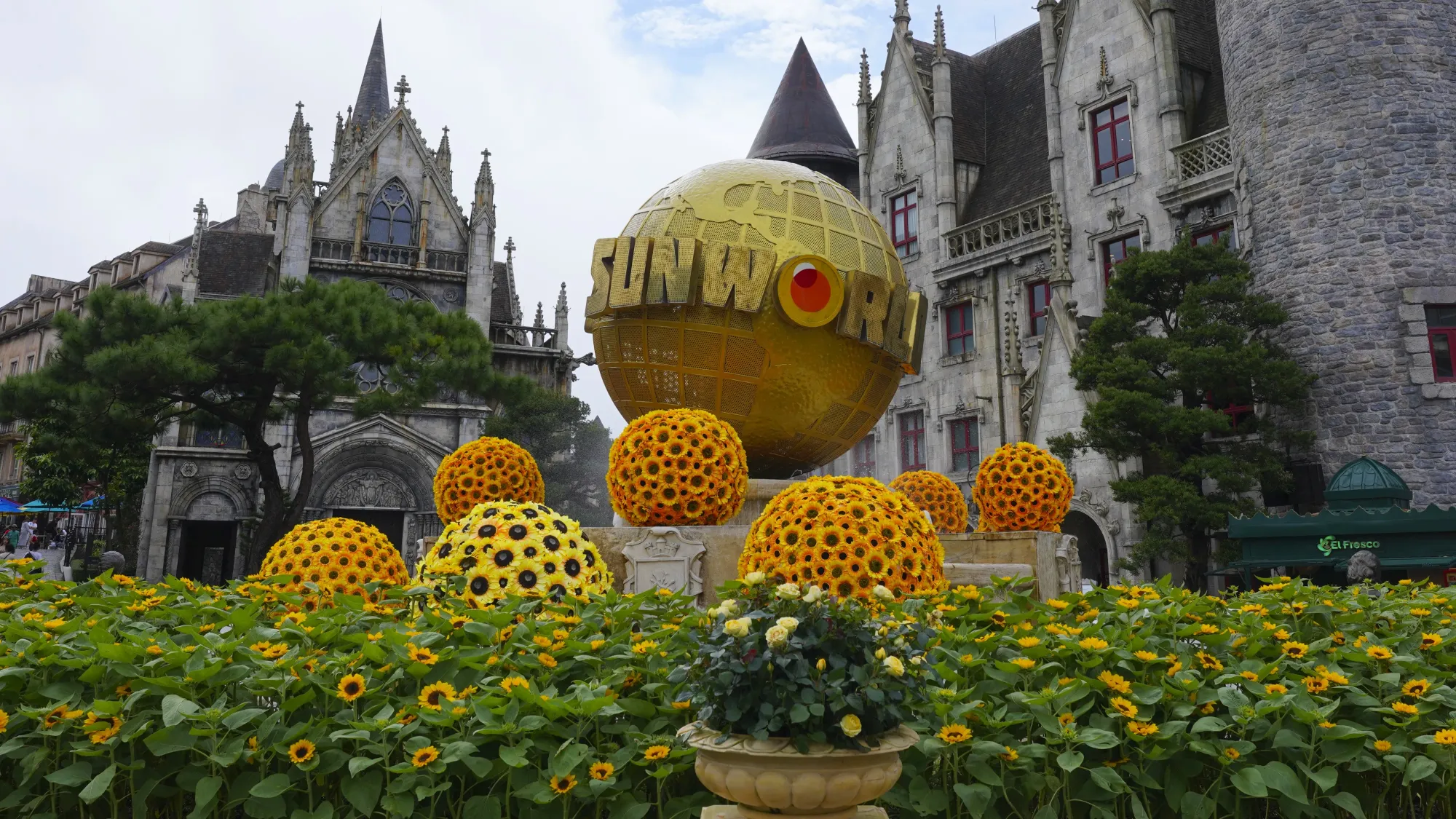 Now I do need to explain SunWorld because in the midst of what felt like middle-of-no-where Vietnam, out of the clouds, as you drift up on a never-ending cable car, arises the fever dream that is SunWorld. This "Epcot for Vietnam" has built a fully fleshed-out French village, a German beer garden (with employees in dirndls), Roman statues, Buddhist pagodas, a rose garden, an arcade, an alpine slide, and so much more. If you are looking for a tourist experience, this is definitely the place for you. But kudos are owed to the planners of this entire extravaganza because they have included some unique elements to entice even a reluctant traveler. Most notable is the Golden Bridge. If for no other reason, we felt obligated to visit to see the GIANT HANDS. The photo opportunities are endless. Especially if you catch some cool weather (misty and ethereal OR clear with a view out over the coastline, both work). We loved seeing this without the crowds and recommend it to visitors of all ages. There truly is something for everyone.
Hoi An, located just a little south of Da Nang, had its own energy. We enjoyed walking along the waterway at night and seeing it lit up with lanterns in every possible color. There were boat rides and river lanterns for all who wanted to participate. There were also balloon arches and Instagram-worthy photo spots aplenty. It was an adorable visit and I am glad we added it to our schedule.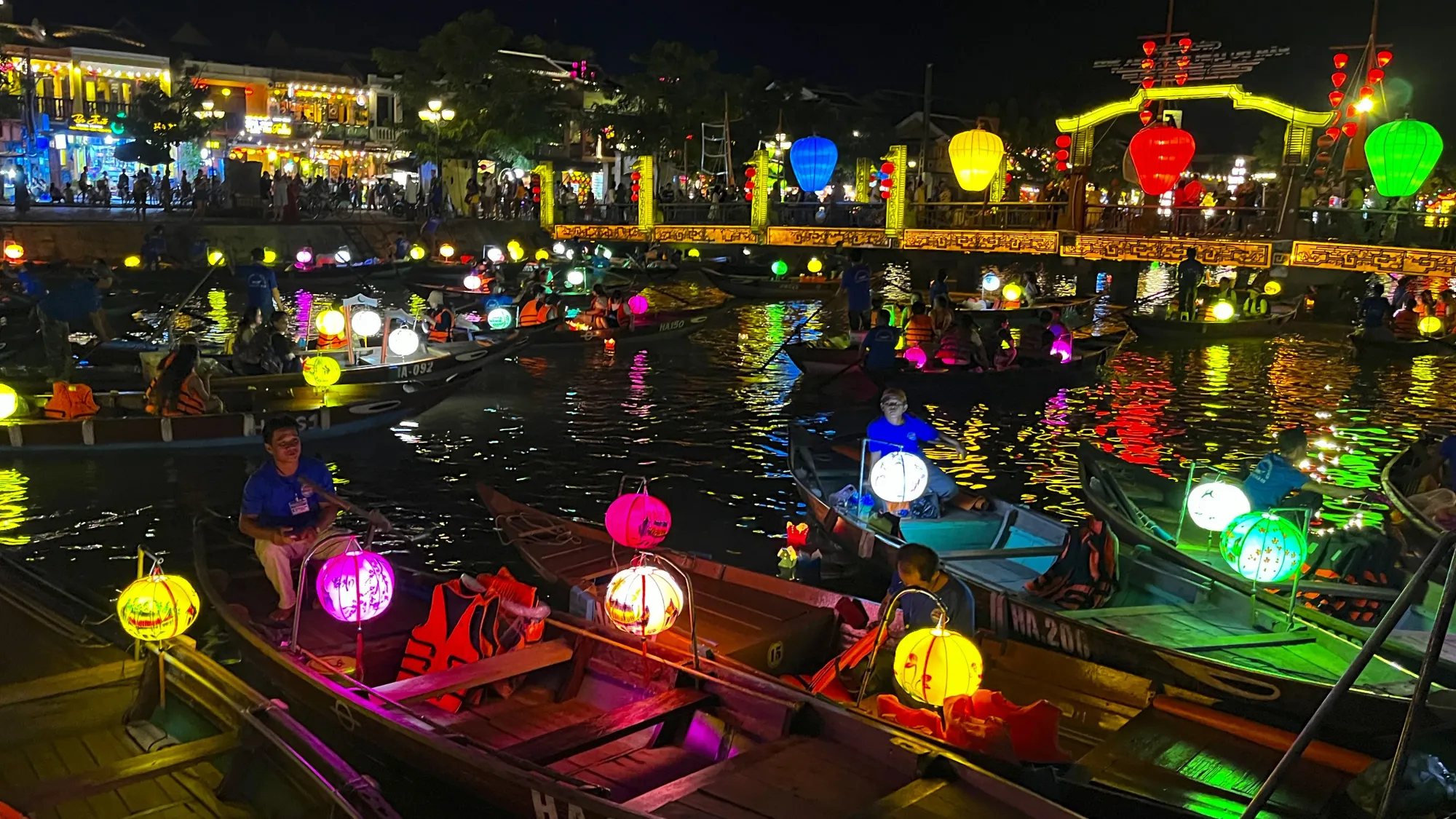 Our third base here in Vietnam was Ho Chi Minh (formerly known as Saigon (Sai Gon)). Ho Chi Minh City was by far our favorite Vietnamese city. The whole metropolis has a modern feel, and the food was yummier than in other cities we visited in Vietnam. You can tell that the city planners considered the vast number of residents and tourists who walk around the city and designated several pedestrian-specific zones. Honestly, we did not find too much that was "Must See" here in Ho Chi Minh, but rather enjoyed getting to experience the different neighborhoods around the city. Most sights felt like they were in District 1, but we also enjoyed driving out to see the Mekong Delta and Cu Chi Tunnels. This visit to the city also felt particularly special to us since we got to share our time with some friends. That made the meals, our night at the Opera House, and the obligatory karaoke all the more enjoyable.
Throughout Vietnam, we felt like we experienced several different ways of life. We got to enjoy the pastoral day in the life of a farmer up in Sapa and modern city-dweller life in Ho Chi Minh. With the more traditional Vietnamese experience in Hanoi and relaxing vacation-mode-activated in Da Nang. What better way to launch our Southeast Asian experience than by sampling as many different vibes as we could? If this is any taste of the variety to come, we cannot wait to keep traveling.
Our bags are packed, and we are ready to launch. Any guesses as to where we are heading next? Hint: It is a nation descended from an empire whose name meant "The Land of a Million Elephants."