Guide to Vietnam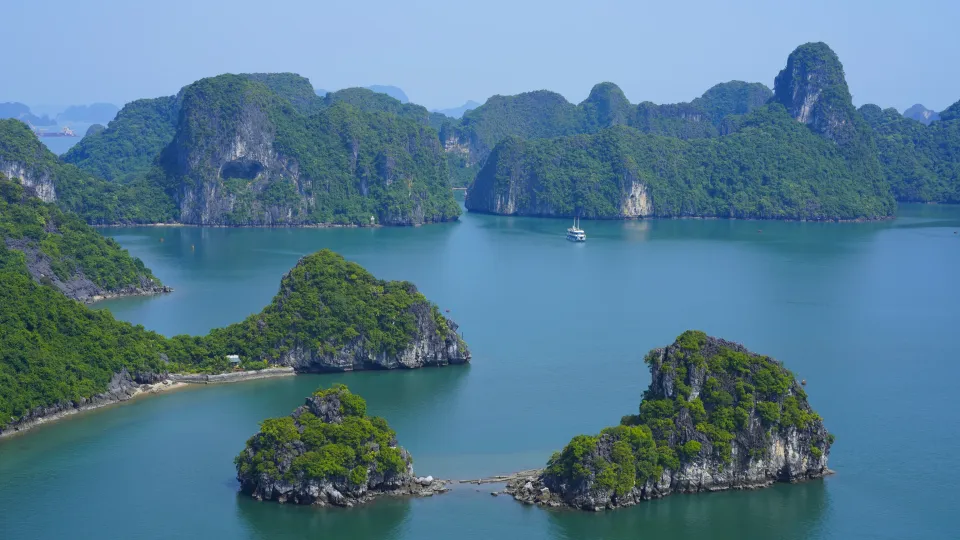 Vietnam is a rising star in the Southeast Asian scene. While it has been troubled by wars and political strife in the past, today, Vietnam has a booming economy and plenty of great experiences for travelers. Vietnam offers stunning mountain highlands, gorgeous beaches, incredible caving, and desirable cities. Not only does one country have all these pros, but you can experience them at a palatable price tag. The nation is becoming a place of extreme interest for digital nomads, backpackers, ex-pats, entrepreneurs, and tourists.
Logisitics
Weather / Climate
Universally, the best time to visit Vietnam is between November and April because the weather is drier then. However, due to the vertical length of the country, the weather is often divvied up based on three geographic regions: North, Central, and South.
North: December to February, the weather is often cold and dry winters (lows 9°C/39°F). In contrast summers run hot and humid from May to August. Shoulder months are the recommended travel times here. This is when you are most likely to find pleasant temperatures and sunshine – March, April, September, October, and November.
Central: Typhoon season runs from approximately August to November. While it can be impossible to plan around the potential of a large storm rainy season is known to last here through February. Though, weather from late February through July is mild and pleasant for travelers.
💡
Locals will tell you that in Ho Chi Minh City (Southern Vietnam) they only have two seasons "Hot & Hotter"
South: Compared to the rest of the nation, the south experiences warm and pleasant temperatures year-round. The official dry season runs from December to May, while the rainy season runs from June to November. The rains in the south are short bursts that should not impact one's travel. But in the summer (March to May), temperatures can get quite oppressive. Heat will regularly reach 40°C/104°F.
Seasonal Festivals / Celebrations
Mid-Autumn Festival – Also known as the "Children's Festival" this celebration started in China and has taken on its own life in several other Asian nations. In Vietnam, it is common to eat moon cakes, for children to parade with lanterns, and to have lots of pop-up stalls appear around the cities.
💡
The Mid-Autumn Festival origin story (as we were told it) is: "A man named Cuoi hung on to a magical banyan tree as it floated to the moon. They say that if you look closely at the full moon, you can see the shadow of a man sitting under a tree. Children parade lanterns through the streets the night of the Mid-Autumn Festival to help light the way to the earth for Cuoi from the moon."
Buddha's Birthday – Also known as "Vesak Day" or Phật Đản in Vietnamese is celebrated annually on the 15th day of the 4th month in the lunar calendar. Celebrations for this holiday look like incense burning and decorations in the temples and pagodas. In the cities, there will be processions and offerings given.
Lunar New Year - Tết in Vietnamese, is celebrated with fireworks, dancing, family, and friends gathering for visits and meals, and the gifting of red envelopes to children and the elderly. This holiday is often seen as the most important festival in the Vietnamese calendar.
Hoi An Lunar or Moon Festival – Celebrated monthly on the 14th day of the month in the lunar calendar, all of the town lights are shut off. Instead, the only light emits from paper lanterns and candles floating down the river.
Safety
A large part of Vietnam's industry comes from tourism, so the Vietnamese treat tourists very well. If you are visiting a major city you can expect typical petty crime. Take normal precautions, especially in crowded areas. Public transportation is known for having many scams, rigged taxi meters, and many busses "breaking down." Natural disasters that you will find in Vietnam are the occasional earthquakes (but you cannot plan for that) and typhoon season. Know the weather when you plan to travel and you should be fine.
Visas
For citizens of the United States visas are required and should be applied for and printed out prior to arriving at the airport. EU Citizens see different rules based on their country of origin. Applying online for eVisas is a relatively straightforward process through the government but it can cost anywhere from $15 USD to $150 USD depending on the duration of stay, number of entries, and if you are entering via an airport or crossing a land border so make sure you are requesting the correct one for your situation.
Transportation
If you are a meek or uncomfortable driver, Vietnam is not the place for you to practice. The cities are swarming with millions of people most of whom are on motorized bikes. Many drivers appear to take lane lines and rules of the road as merely a suggestion. If you have not driven in such a bike-heavy and/or chaotic environment before, we suggest riding as a passenger for the extent of your stay.
To get around town, a popular option is to hail taxis. We recommend finding a company you trust or making sure you negotiate the fare before departing to avoid getting caught having to pay for a rigged meter. You can also use ride-share apps, the most popular being Grab in Vietnam, but know that many of these are on the back of motorbikes so come weather prepared.
As for getting to or from any tours or visits you booked, most companies will organize transport from your hotel or popular city hubs. So, you should have no trouble getting picked up and dropped off where ever is most convenient for you.
Things To See / Do
Cities
Hanoi - The capital city of Vietnam in the northern region of the country. It is a populous, French-colonial-styled city located on the Red River. There is a lot of cultural history in the city of Hanoi. There are plenty of museums, old pagodas, trade/craft shops, and it is the center for traditional Vietnamese cuisine. Hanoi is extremely busy, with traffic at all times of day, but it maintains a vibe that calls back to Vietnam's cultural past.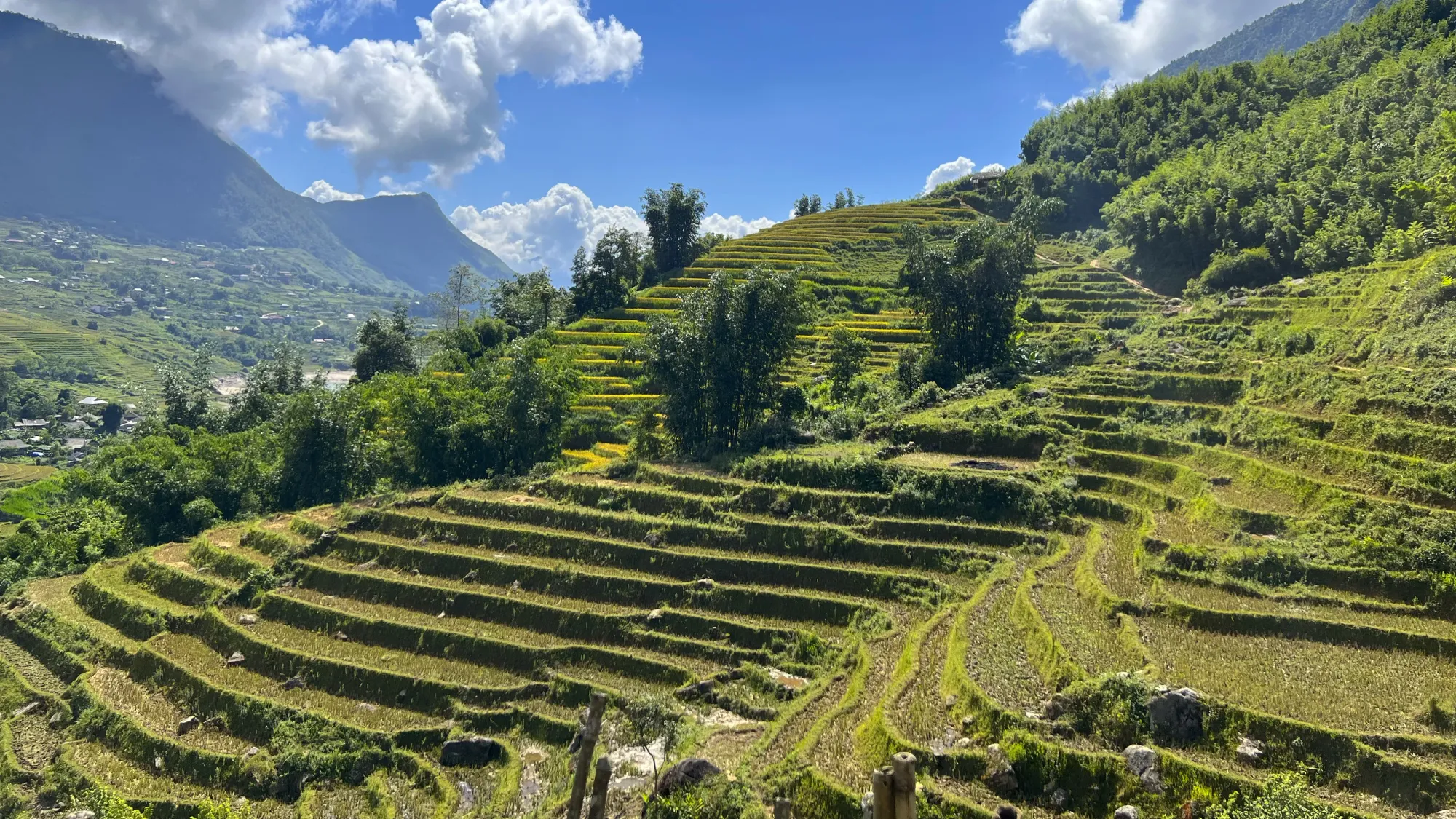 Sapa (Sa Pa) - A gateway town in the far north of Vietnam that brings tourists to the pastoral rice fields in the beautiful countryside of northern Vietnam. It used to be a small, charming backpacker town that connected many of the small villages in the North; but has morphed into quite a bit of a tourist attraction. It still does connect many of the small villages together, but now it has become more modernized and efficient at distributing tourists to the hikes and homestays throughout the region. Sapa also brings in other Vietnamese in order to see Vietnam's tallest mountain: Mount Fansipan. Although not the escape from the modern world it used to be, it is still a cute town that primarily provides unique experiences for travelers to gain an insight into the life of Vietnamese farmers.
Da Nang - A beach and resort town in Central Vietnam. The city has a small downtown area and lots of enjoyable chill beachfront. In a typical coastal town fashion, Da Nang is a calm and relaxing respite in the off-season and an exciting beach paradise during peak season. Although it is not as well known to Westerners, Da Nang is a popular vacation spot for many Asians. It is also an up-and-coming place to be for digital nomads.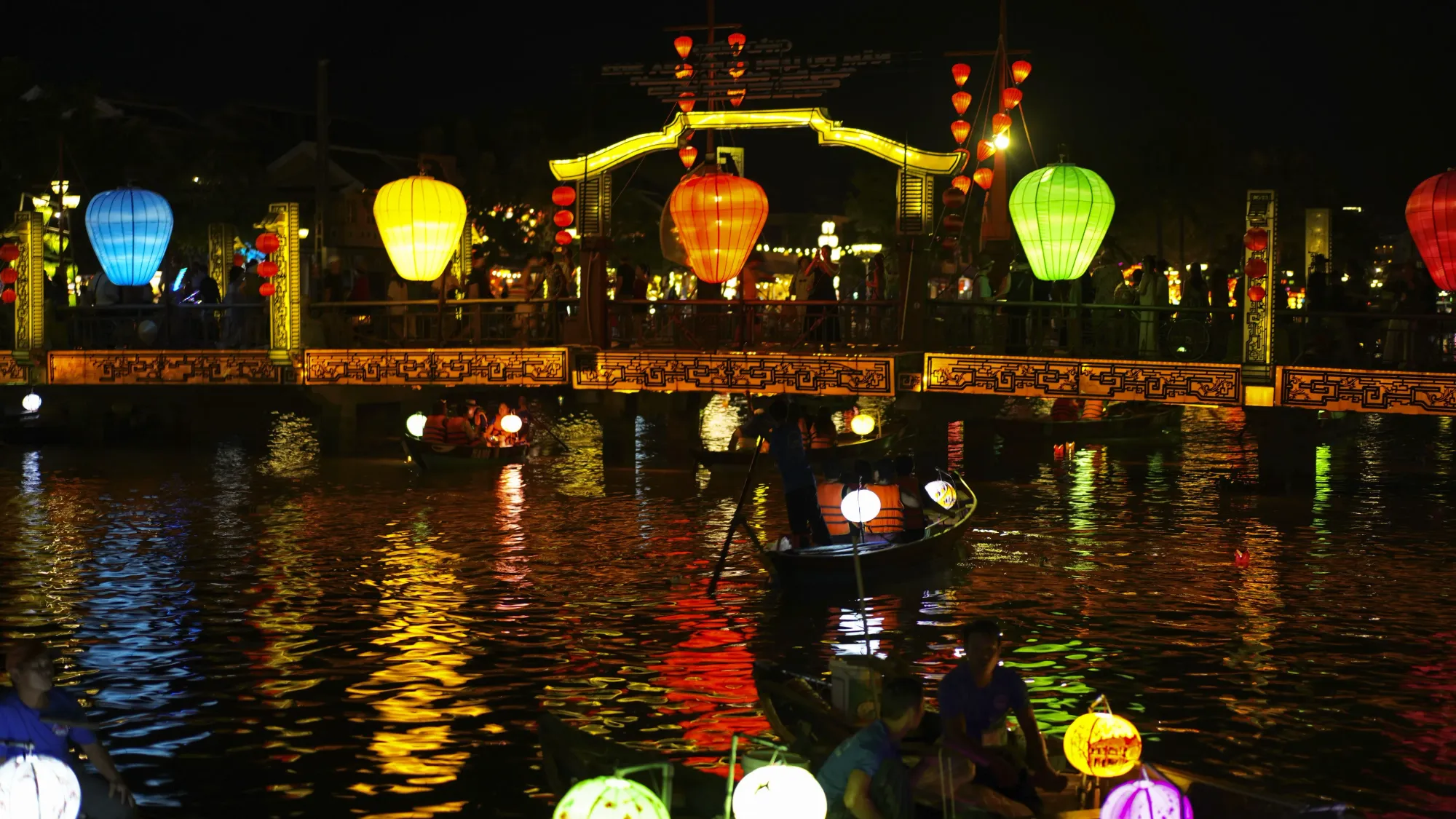 Hội An - A town nearby Da Nang that has kept its old charms. It is now a popular tourist attraction where you can get a glimpse of what traditional Vietnam cities might have looked like. There are many shops and eateries in Hội An with cute architecture and sites to stroll through and enjoy. The town attracts especially huge crowds during the Moon Festival each year.
Ho Chi Minh - Vietnam's largest city located in Southern Vietnam. Still called Saigon by locals, this city is a great example of a fast-growing, modern city. It has an international feel from both the food and the business perspective. There are plenty of things to do in Ho Chi Minh and enough variety that you can have fun here for a long time.
Must See
Hạ Long Bay - Hạ Long, East of Hanoi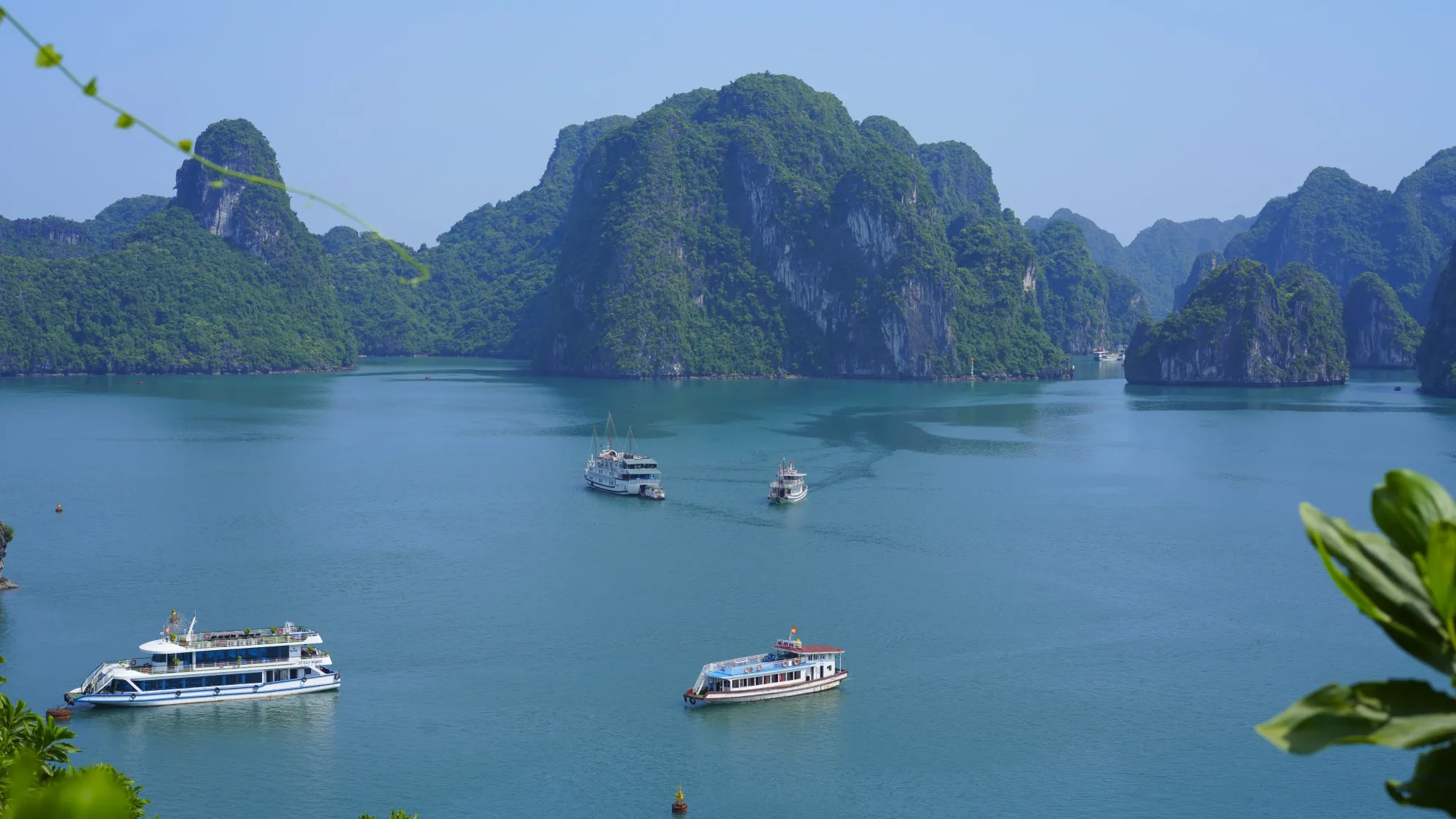 Over 1,600 islands and islets in this bay in the Tonkin Gulf off the northeast of Vietnam create a stunning seascape of rock and foliage. This dense congregation of limestone pillars jutting out of the water seems almost otherworldly while boating through them; when you visit the water, it is almost like you are in a scene out of a movie for a distant planet. An absolute must-see when in northern Vietnam, Ha Long Bay will be a wonderful entry on any natural wonders list.
💡
Ha Long Bay can feel a little too touristy if you book many of the standard 1-day tour packages. One suggestion would be to find one of the smaller companies and do a 2-day, overnight tour of the bay for a better experience.

If you have the time, there are two neighboring bays (Lan Ha Bay and Bai Tu Long Bay) with similar experiences but less name recognition. These could be options for fewer crowds and the possibility for a more intimate, cheaper experience.
Hanoi Old Quarter - Hanoi
Hanoi Old Quarter is a neighborhood of Hanoi that contains many craft shops, pagodas/temples, restaurants, and cultural halls. Old Quarter is crammed with narrow, long tube buildings with elements of French colonial architecture spread throughout. Many of the tourist attractions of Hanoi (Hoan Kiem Lake, Ngoc Son Temple, Hanoi Night Market, etc.) are in or right around Old Quarter. If you are visiting Hanoi, this neighborhood is the most important stop to see most of the "famous" items from the city.
Ba Na Hills (Sun World) - Trường Sơn Mountains, West of Da Nang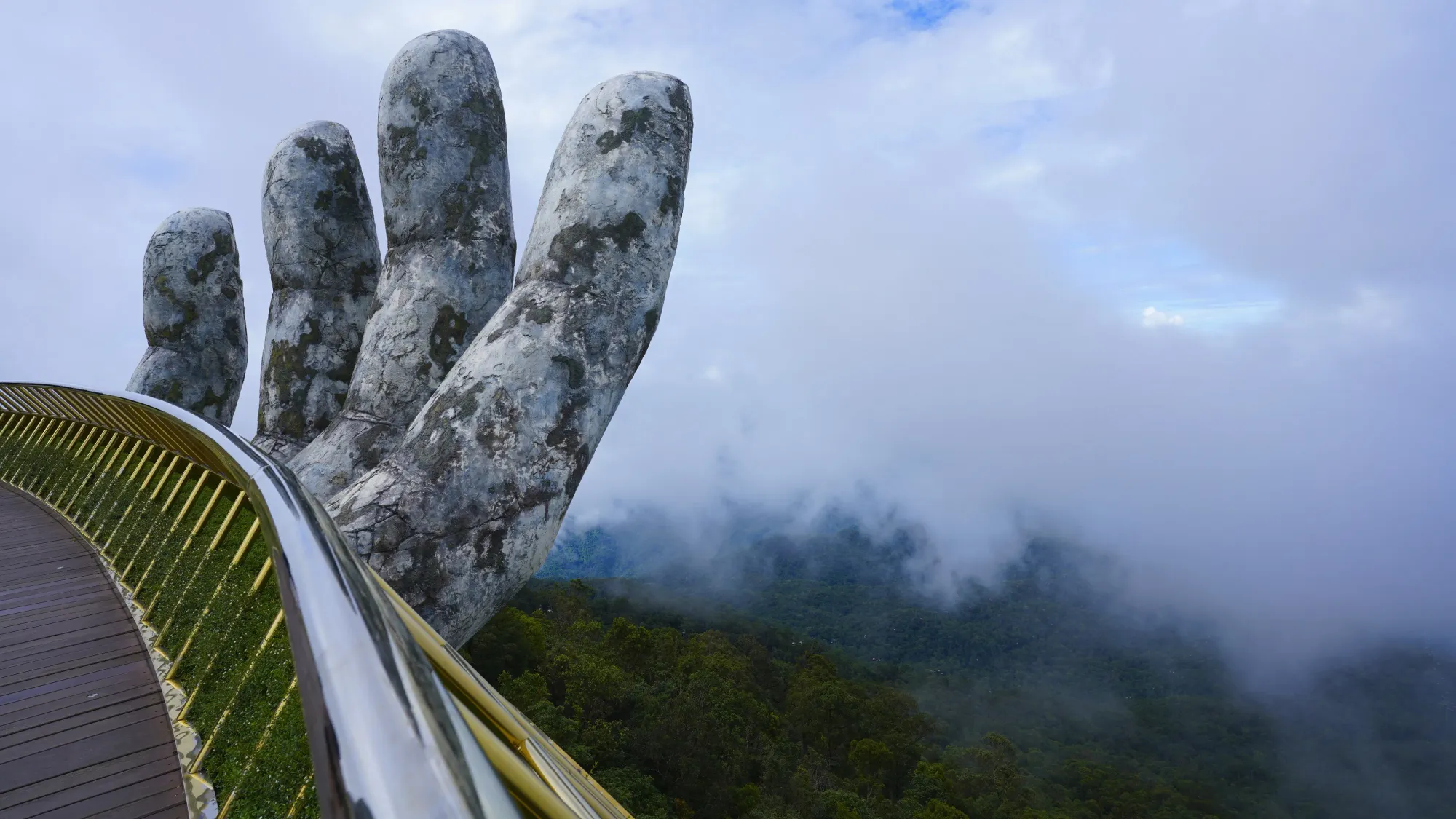 Impressive amusement park and tourist attraction outside of Da Nang in the Bà Nà Hills of central Vietnam. The recreational complex contains a variety of interesting architectural / landmark installations, amusement rides, and resorts. There are re-creations of a French village, a German beer garden, a Roman fountain, and multiple styles of Asian pagodas/temples; plus, Sun World is continuing to build more of these settings every few years. You can ride amusement park rides (alpine slides included) and play arcade games, just like at an amusement park. To even get to the attractions in the hills you must take one of the most impressive cable car systems in the world. It holds multiple world records for its size and adds to the fun of the entire experience. In summation, Ba Na Hills is a massive tourist attraction due to the insane amounts of money being poured into this modern and aesthetic amusement complex with something for every type of tourist.
Hội An Night Market - Hội An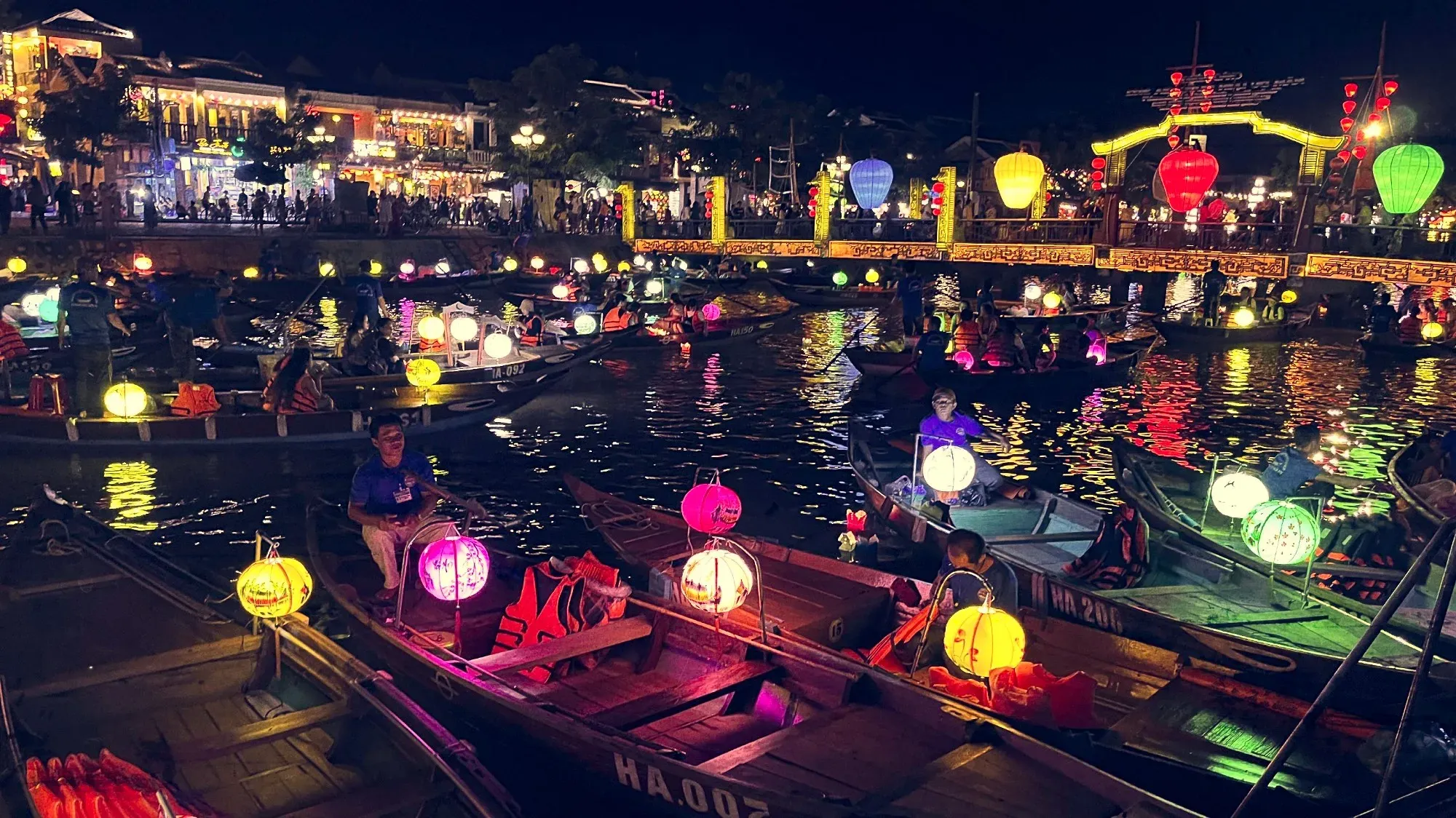 Hội An is a town that has kept its old charm and is now a popular tourist attraction to get a glimpse of what traditional Vietnam cities might have looked like. The town itself is a place to visit on a Vietnam bucket list, but specifically enjoying the town at night is a thrill that should be included. The Hội An night market is not particularly special as far as night markets go; but, the bridge over the Hoài River and the surrounding riverside area is an amazing sight when the night markets are open. Boats and lanterns fill the river, and suddenly you are transported to a different time and place altogether. It is a truly magical experience.
Mekong Delta - Region of southwest Vietnam, southwest of Ho Chi Minh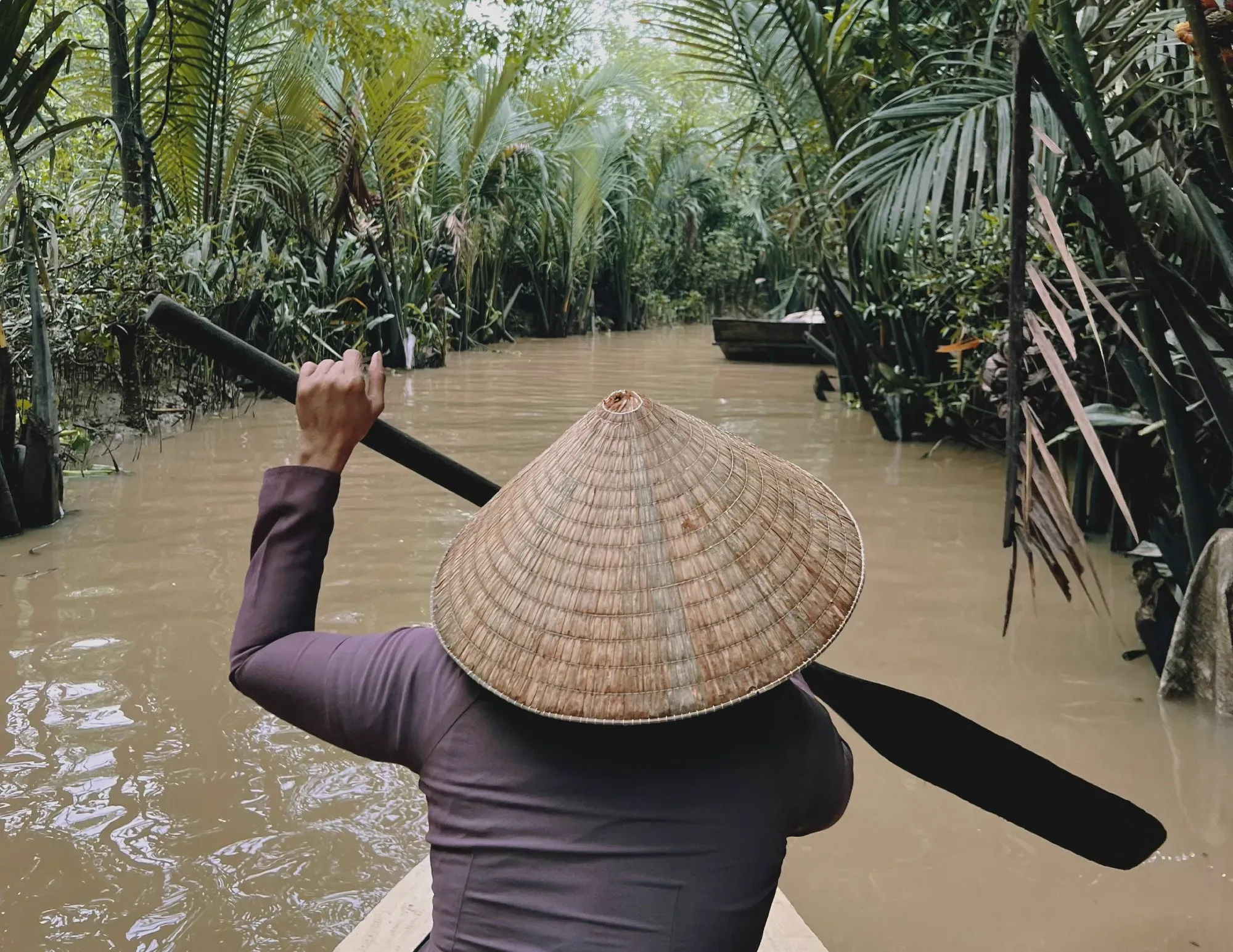 The Mekong Delta is a massive area in southwest Vietnam where the Mekong River spreads into a network of distributaries to form a giant, regional coastal plain. The Mekong River is one of the longest rivers in the world and is significant for many people groups in southern China, Myanmar, Laos, Thailand, Cambodia, and Vietnam. The trade and cultures along the river culminate in the Mekong Delta before these lifestyles of the river fade into the sea. The Mekong Delta area has many islands full of incredible biodiversity and agricultural peoples. If the scenery, mangrove swamps, and fruit orchards weren't enough, the Mekong Delta also has one of the most expansive floating markets in the world (Note: you'll have to go really early in the morning to get an authentic picture of these markets).
District 1 - Ho Chi Minh
Ho Chi Minh as a city is a must-see when visiting Vietnam. While no singular site in Ho Chi Minh is a "must-see" site. The main downtown area of District 1 contains many touristy locations such as Ben Thanh Market, Saigon Opera House, September 23rd Park, Reunification Palace, Notre Dame Cathedral of Saigon, and more. Take a stroll along Nguyễn Huệ in the evening for a lively and fun time.
Nice to See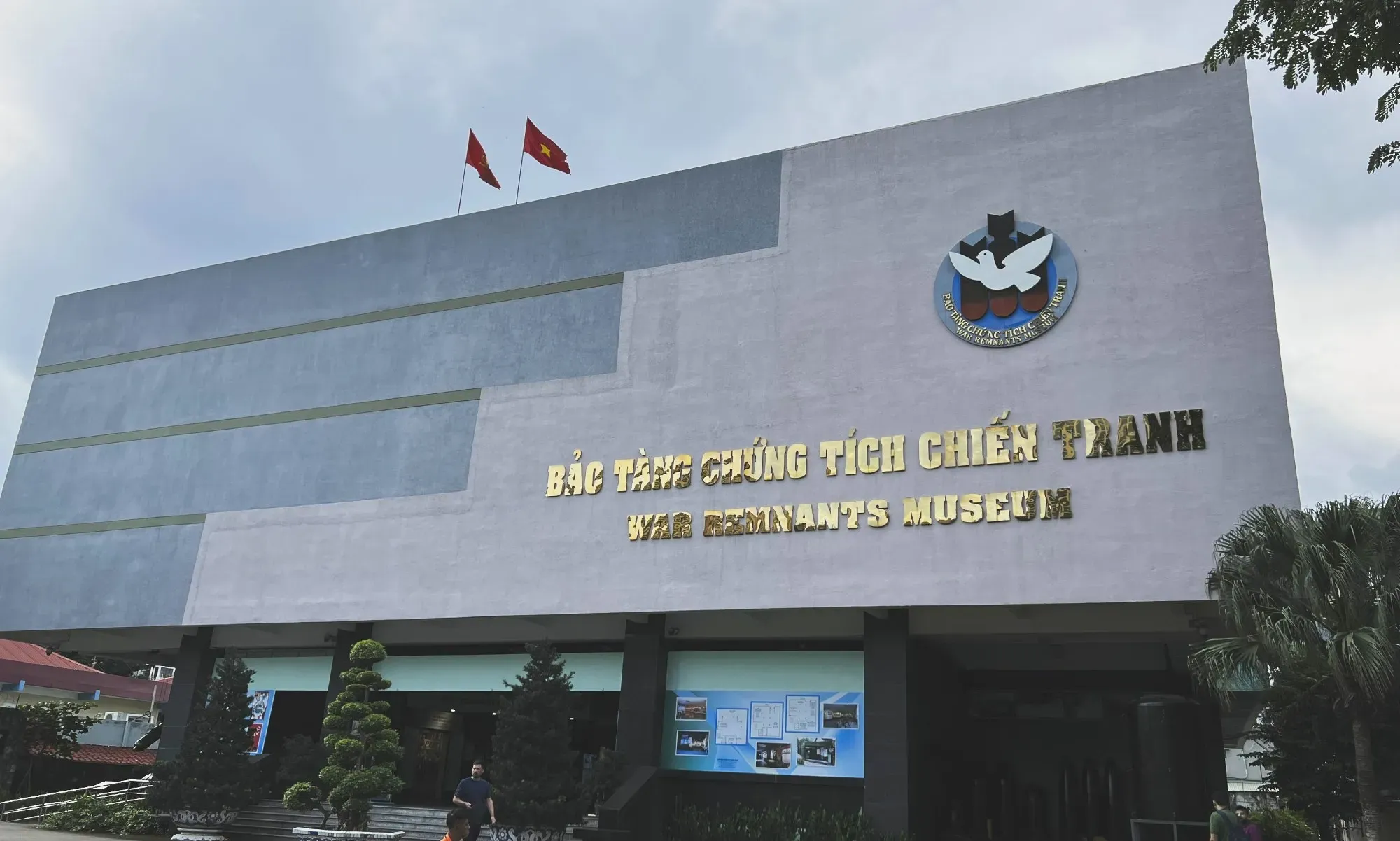 Hanoi
Bat Trang - Village just outside Hanoi that makes classical pottery.
Hoan Kiem Lake - Lake right along Old Quarter that is a central point for many attractions in the area.
Ngoc Son Temple - Popular temple in Hoan Kiem Lake.
Thang Long Water Puppet Theater - Theater in Old Quarter that performs classical water puppetry, unique to Vietnam.
Hanoi Night Market - Night market every Friday, Saturday, and Sunday night that stretches along the streets of Hàng Đào and Hàng Ngang in a northern direction for quite a long stretch.
Imperial Citadel of Thang Long - Important historical site consisting of a complex of ancient imperial buildings.
Temple of Literature - Cute temple complex that celebrates academic accomplishments in Vietnam.
Hanoi's Train Street - Streets along Hanoi that an old rail line runs through. Keeps closing and opening for safety reasons, but in the past, it was popular for picture taking and the many stalls set up right along the tracks.
Phung Hung Mural Street - Stretch of a street with tons of large murals depicting Vietnamese history and culture in unique ways.
St. Joseph's Cathedral - Hanoi's famous cathedral.
Đồng Xuân Market - The largest market in Hanoi with numerous stalls for all types of goods.
Tran Quoc Pagoda - Popular temple on West Lake.
Bach Ma Temple - Reconstruction of an old Ly dynasty temple.
National Museum of Vietnamese History - Details the history of the country up until the 1945 revolution and liberation of Vietnam.
Fine Arts Museum of Vietnam (Bao Tang My Thuat) - A showcase of Vietnam fine art over a range of historical periods.
Military History Museum - Museum in Hanoi that is a bit outdated compared to the Ho Chi Minh War Remnants museum, but has a lot more info on the war with France and Vietnam independence rather than just the American Vietnam War.
Ho Chi Minh Mausoleum - Resting place of Vietnam's revolutionary hero and first president: Ho Chi Minh.
Hanoi Opera House - Famous Asian opera house in Hanoi.
Da Nang / Hội An
My Son Ruins - Ruins southwest of Da Nang / Hội An consisting of religious monuments of the ancient Champa kingdom.
Japanese Bridge - Major landmark in Hội An of a classic-style Japanese covered bridge.
An Bang Beach - Nice public beachfront with food carts, small art installations, and fun crowds.
Fujian (Phuc Kien) Assembly Hall - Decadent place of worship in old town Hội An.
Marble Mountains - Five marble and limestone hills with a bunch of small religious landmarks set up to attract visitors. Plenty of shops line the road approaching the mountains trying to sell marble statues and figurines. It is overhyped by travel guides/agencies, keep expectations low here.
Dragon Bridge - Major suspension bridge over the River Hàn in Da Nang that is decorated to appear as a dragon. It breathes fire every Saturday and Sunday night which is super neat.
Linh Ung Pagoda - Famous large pagoda situated on Son Tra Peninsula that can be viewed from most of Da Nang.
Cham Islands - Beautiful islands for water sports and fun day trips from Da Nang.
My Khe Beach / Non Nuoc Beach - Other popular public beaches (arguably better for water sports than An Bang).
Museum of Cham Sculpture - Museum dedicated to sculptures of the Cham: ancient people group from the region.
Ho Chi Minh
Cu Chi Tunnels - Tour that explains the system of tunnels and guerilla warfare used by the Viet Cong during the Vietnam War. Located in Cu Chi, about 60km North of Ho Chi Minh. Lots of great information and an educational tour on the actual fighting and details of the war.
Bui Vien Walking Street - International party street with plenty of bars and clubs.
Ben Thanh Market - Famous market in District 1.
Notre Dame Cathedral - Famous French church in District 1.
Saigon Opera House - Famous Asian opera house in the central area off Nguyễn Huệ Street.
September 23rd Park - Green space park in District 1 with public exercise equipment, an underground shopping plaza, and lots of activity to interact with city residents.
War Remnants Museum - Museum on the American Vietnam War that condemns the war from many perspectives and speaks to the atrocities committed by the Americans during the war.
Independence Palace - Architecturally impressive government building that symbolized the "Fall of Saigon" and the end of the Vietnam War.
Giac Lam Pagoda - Historic Buddhist temple in Ho Chi Minh.
Rest of the Country
Imperial City of Huế - The ancient capital of Vietnam from the Nguyễn dynasty. The city is a vast complex of palaces and monuments.
Nha Trang - Coastal city in south-central Vietnam. Awesome beaches/scuba and near the Hon Khoi Salt Fields. Da Nang alternative; Although not as popular, some Vietnamese prefer Nha Trang.
Ha Giang Loop - A 350km loop in Northern Vietnam with incredible views of the landscape throughout the Ha Giang province. It is a popular adventure for young Vietnamese and backpackers to complete on motorbikes over the course of a few days.
Phong Nha Caves - One of the caves that is used as shorthand for a network of incredible caves in the Phong Nha-Kẻ Bàng National Park. Includes the largest cave in the world: Hang Sơn Đoòng.
Ba Bể National Park - A beautiful national park with one of the largest freshwater lakes in Asia. Located in the Bắc Kạn Province of northern Vietnam.
Phu Quoc Island - Famous Vietnamese, white sand beach island in the Gulf of Thailand. A popular vacation spot for the Vietnamese.
Recommended Experiences
A homestay after trekking in Sapa. Sapa is mentioned in major cities primarily to recommend the experience of staying at a homestay with local Vietnamese farmers. Learning about how rice farming works, seeing the gorgeous beauty of the countryside, and experiencing the lives of people in rural areas of the country makes the trekking/homestay an incredible adventure.
Water puppetry is a uniquely Vietnamese art form. Attending a performance at a Water Puppet Theater is a cultural experience you will probably only get in Vietnam. We can personally recommend the Thang Long Water Puppet Theater  in Hanoi if you are visiting the north. It is not the most exciting performing art in the world, but it is certainly distinct and worth the modest ticket price.
Attending a show at one of Vietnam's major opera houses can be a real treat. Vietnam has some of the most prestigious opera houses in Asia, and prices are typically reasonable.
Island day trips are a popular Vietnamese vacation concept and should provide a phenomenal beach/diving experience (i.e.- Cham Islands if in Da Nang).
Shopping at one of the floating markets.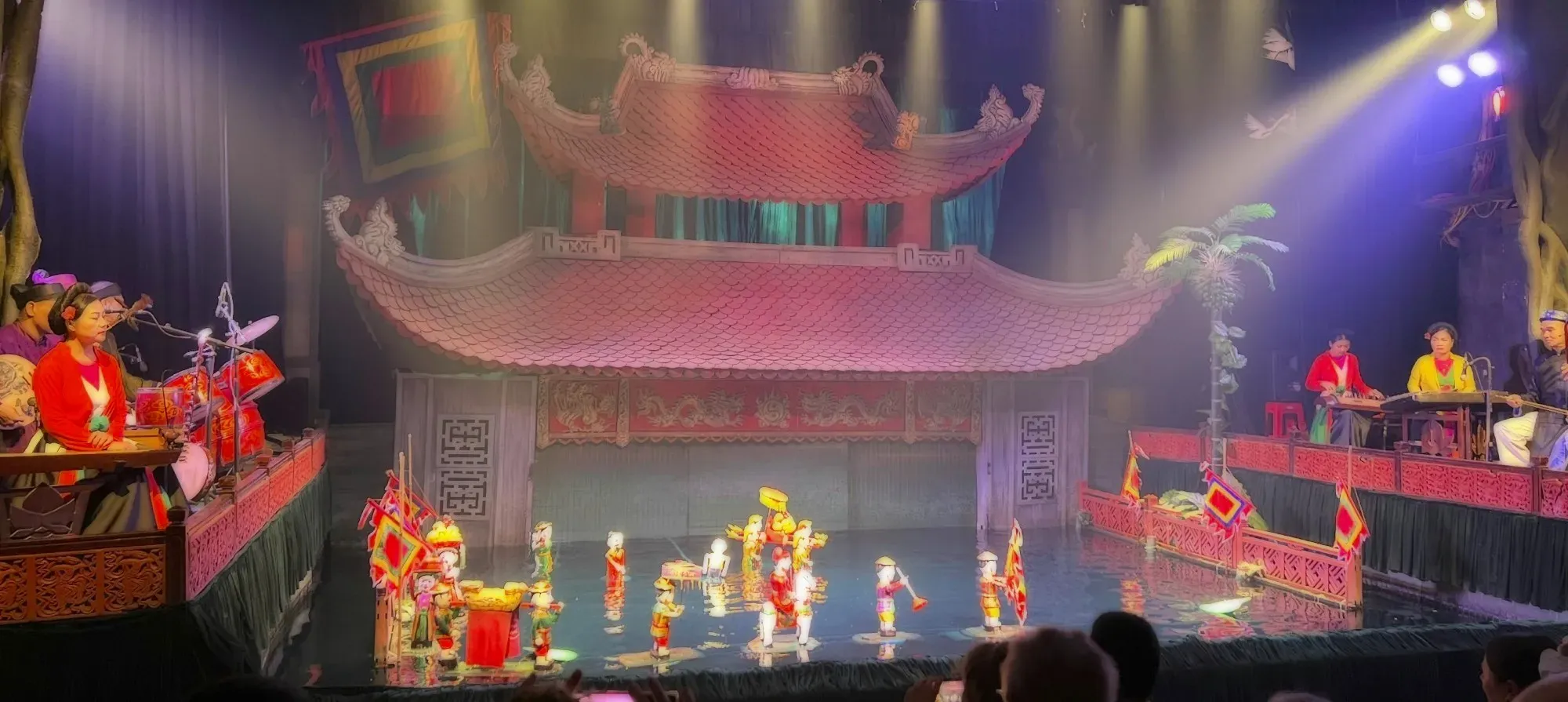 Culture
Politics
The Vietnamese trace their roots back to migrants from southern China. Most of what is now Northern Vietnam was ruled by China for many years. In the 10th century, the Great Viet (Đại Việt) nation was formed in Northern Vietnam as it gained independence from China. Similarly, in Southern Vietnam, the Champa kingdom had taken over the empty space. The Đại Việt eventually "merged" with the Champa kingdom, but albeit with some back and forth these people groups ruled over modern Vietnam for almost 1,000 years until the French colonized the nation in 1858. The three major regions of the country, northern, central, and southern, can be found in the history of the Đại Việt, Champa, and Khmer kingdoms that ruled for these 1,000 years. The French ruled from about 1858 until 1945 at which time Vietnam became an independent nation.
The political history of Vietnam does not end with its independence on September 2nd, 1945. Although president Hồ Chí Minh declared independence on that day, the newly formed communist Democratic Republic of Vietnam only really represented Northern Vietnam. Shortly after, the French tried to regain control. This power grab resulted in the First Indochina War. Afterward, Vietnam became divided into communist Northern Vietnam and non-communist Southern Vietnam: called the "State of Vietnam". Soon followed the "Vietnam War", or Second Indochina War, where communist-backed Northern Vietnam fought and eventually defeated democratic-backed Southern Vietnam. The history of French colonization and the Cold War struggle between communism and democracy has a lasting impact on the country and its people today.
Vietnam is currently ruled by a single party, the Communist Party of Vietnam (CPV). There is a president, the head of state, a prime minister, the head of government, and a general secretary of the communist party, the de facto supreme leader of the entire country. The communist party is authoritarian and civil rights are tightly restricted; censorship is a common practice in the country. While tourists are not commonly affected, be careful about what you say and who you say it to while traveling.
Religion
Vietnam is officially an atheist state, and most people in the country are atheists who only practice the cultural ideologies and practices of Tam Giáo, or the "three teachings": Buddhism, Taoism, or Confusism (which today now includes Christianity to a significant degree). Minority religions in the country are Buddhism (mostly Mahāyāna Buddhism) and Christianity (mostly Catholic). True Buddhism has decreased in recent years in favor of atheism or Tam Giáo, while Christianity has remained static for a long while. Although Christianity is arguably the second most popular religion in Vietnam (after atheism / Tam Giáo), it should be noted that there is an underlying sentiment among many Vietnamese that Catholicism is the religion of colonial power.
Cuisine
We have an awesome in-depth guide to Vietnamese Gastronomy which should provide all the details you need for a trip to Vietnam, check it out!
Social Customs
Greetings are typically done with a simple handshake. Bowing of the head is still common practice for showing respect to elders; just the head, not a full bow.
Much of the country outside of Ho Chi Minh still consists of small shops or street food many of which do not speak anything but Vietnamese and do not use anything but cash. So be sure to exchange for đồng before venturing out to avoid getting stuck.
The Vietnamese have an interesting hand gesture to indicate they want you to come to them. It is like a shooing motion, where you hold your hand palms down and flap from the wrist like a little birdie's wing. It can be used to hail taxis, get your attention on the street, or when a local resident wants you to follow them. It is versatile and extremely common, so be ready to respond.
Many of the buildings are described as "tube-like", especially in Hanoi. They have very narrow fronts facing the street but are extremely deep. This is due to old tax laws, and today gives a distinct feel to some cities.
Nón lá, or conical hats (or rice hats), are worn by many Vietnamese outside of the major cities (and even then sometimes elders in the cities). Do not think of them as a cultural symbol of the past, they are still a common and highly practical wardrobe choice.
Áo dài are traditional dresses for women in Vietnam. Also still frequently worn, especially for formal events or as uniforms for a variety of different companies.
Flip-flops are another popular fashion choice for all occupations and occasions. Don't be surprised when you witness construction workers rocking their rubber sandals.    
Vietnam is in Southeast Asia: expect a sea of motorbikes whenever you go out.
The street lights have countdown clocks and people time jumping the gun. Be prepared for this for your own safety when driving or crossing the street.
Karaoke is one of the most popular forms of entertainment in Vietnam; you'll see Karaoke options everywhere in cities. Billiards is also popular. Soccer, badminton, and sepak takraw (the Southeast Asian sport like volleyball except with no hands - check it out!) are the most common athletic activities you'll see being played. Golf is becoming an extremely attractive option for Vietnamese elites as the country modernizes, but at this point, it is primarily an elites-only option and there are conversations within the country about equity and acculturation surrounding golf.