Journal #6 - Thailand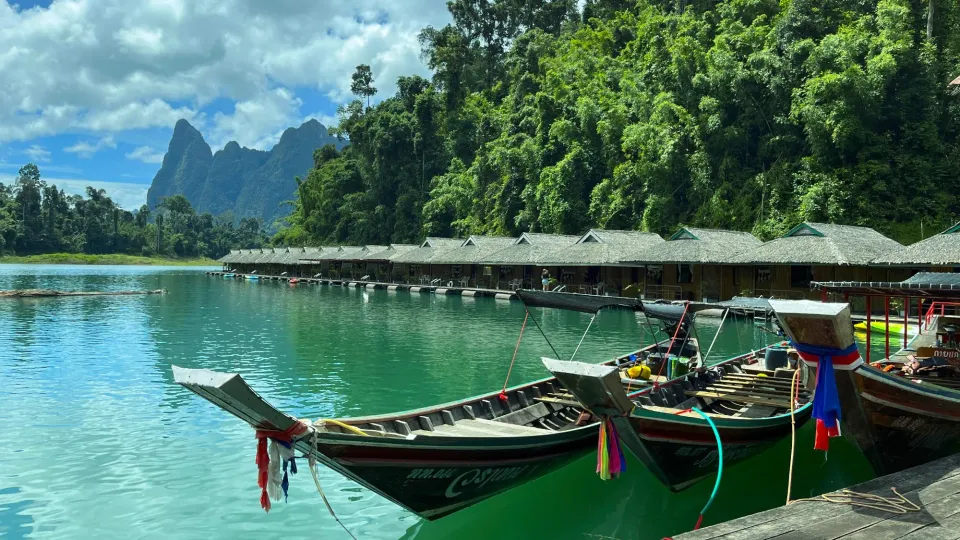 Sawatdee Kha (สวัสดี ค่ะ) from Thailand,
Thailand has been a beautiful rollercoaster. We had the privilege to stay in three different home base cities during our time here: Phuket, Chiang Mai, and Bangkok. This gave us a wide assortment of views of the country, including the northern mountains, the archaeological sights of central Thailand, and the beaches/islands in the south. We have loved so much of what we have gotten to see and would absolutely love to come back again.
We started in the southern city of Phuket. There we explored several different beaches and indulged in a lot of different Thai food. This was a cuisine we had been thrilled to dive into. We even booked a food tour around the old city where we got to try dishes from each of the cuisines that inspired what we know as modern Thai food. That was an adventure that included a century egg, Thai tea that was poured until it turned into a pure froth, a tea leaf salad, and ended with o-aew.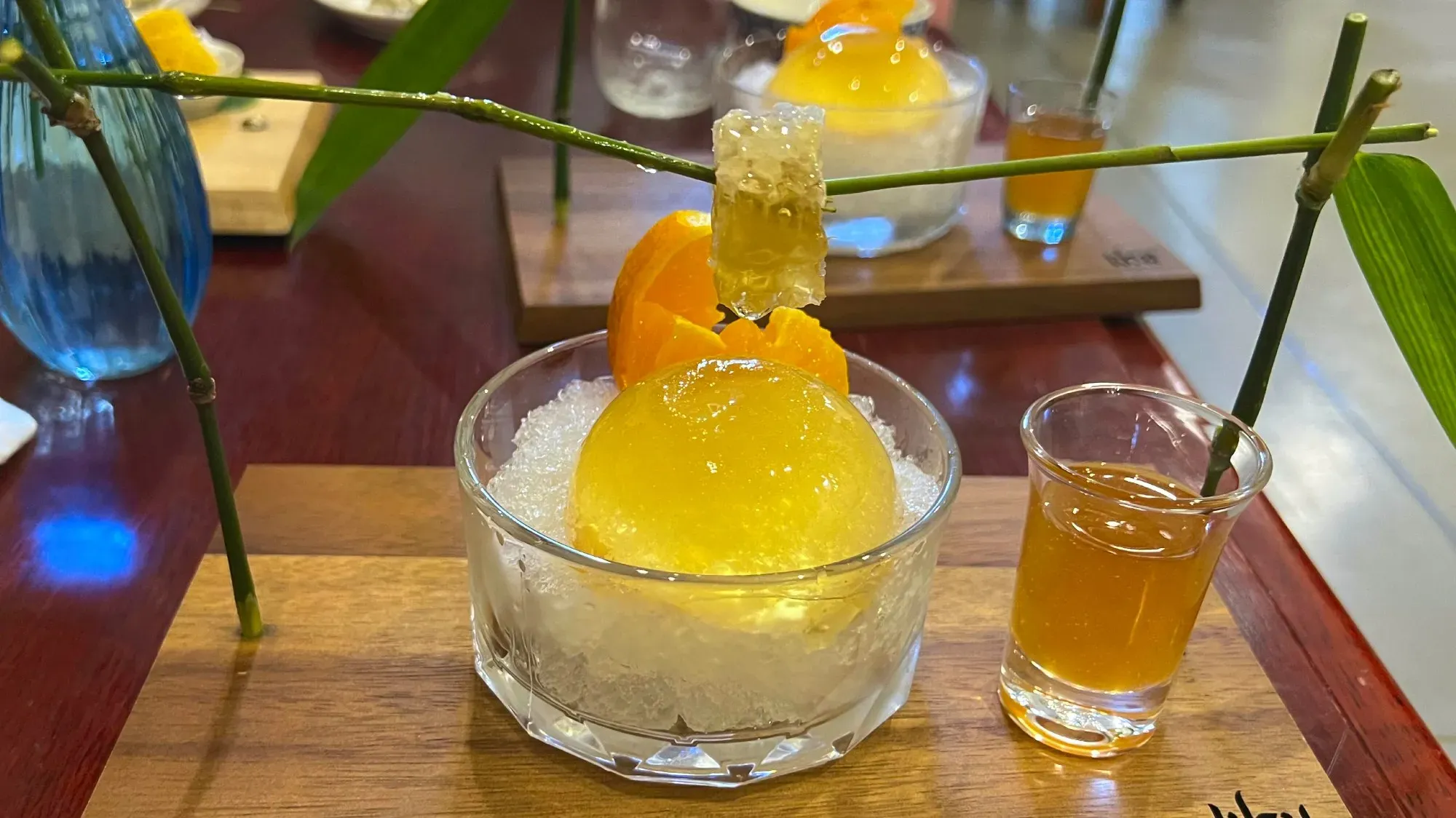 We enjoyed munching on the food at the beach and at a night market, but all of this eating with reckless abandon did catch up with us. Mr. Wanderer caught an infection (probably from something we ate, but there was so much of it, it has been difficult to identify what did it) which rendered him down for the count for several days. We even had to have a doctor come and check on Mr. Wanderer, who could not get out of bed. The doctor hooked him up to an IV right there in our room. It took about a week of just bread and bananas before he could be adventurous with his food consumption again, so that slowed us down a bit, but thankfully he recovered in full before we left the country.
Before he got sick, we had the truly outstanding opportunity to visit the Khao Sok National Park. We took a tour that brought us around the rainforest islands in a boat on the water. We got to dine at a floating restaurant, go kayaking, and be taken into a limestone cave by a banana boat. It was, by far, the most beautiful experience we had in our whole stay in Thailand (which is saying something). Everywhere you looked there were luscious mountains blanketed in dense tree cover rising out of the teal lake. After visiting cities and doing a lot of walking tours, it was the place we could take a fresh breath in and relax. Our pictures will probably not do this beautiful park justice, but this home to elephants and monkeys, with sparkling waters, and maybe a leech or two was the absolute highlight of our trip.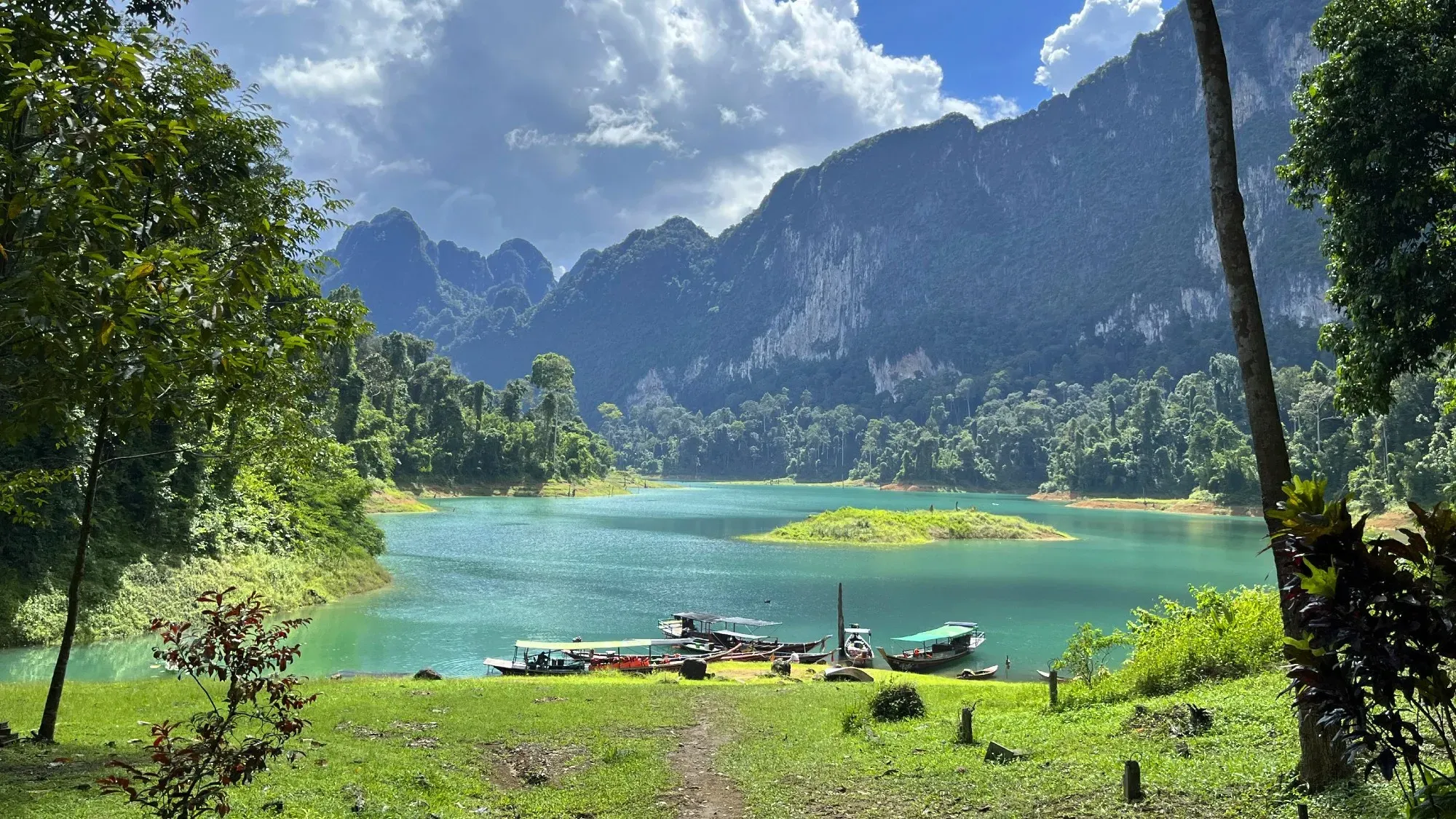 Our next base was Chiang Mai and this was very deliberate. A large part of why we visited Thailand at this time was because we wanted to see what is known as the lantern festival. And it is celebrated the biggest here in Northern Thailand. In the north, they celebrate two festivals that fall at the same time of year. There is the two-day Loy Krathong Festival (known more for the lanterns that float in the river) and the Yi Peng Festival (known for the floating lanterns). We had the pleasure of seeing all of the festivities for both celebrations. We spent time by the Nawarat Bridge on the Ping River and made our wish by drifting a lantern down the water. We also saw the parades, installations, street food, and celebrations happening all around the city. We thoroughly enjoyed our experience here in Chiang Mai and can understand why it is a favorite destination among backpackers and digital nomads alike. The food was yummy (which only I ate since Mr. was still only eating bread) and the sights and celebrations were beautiful.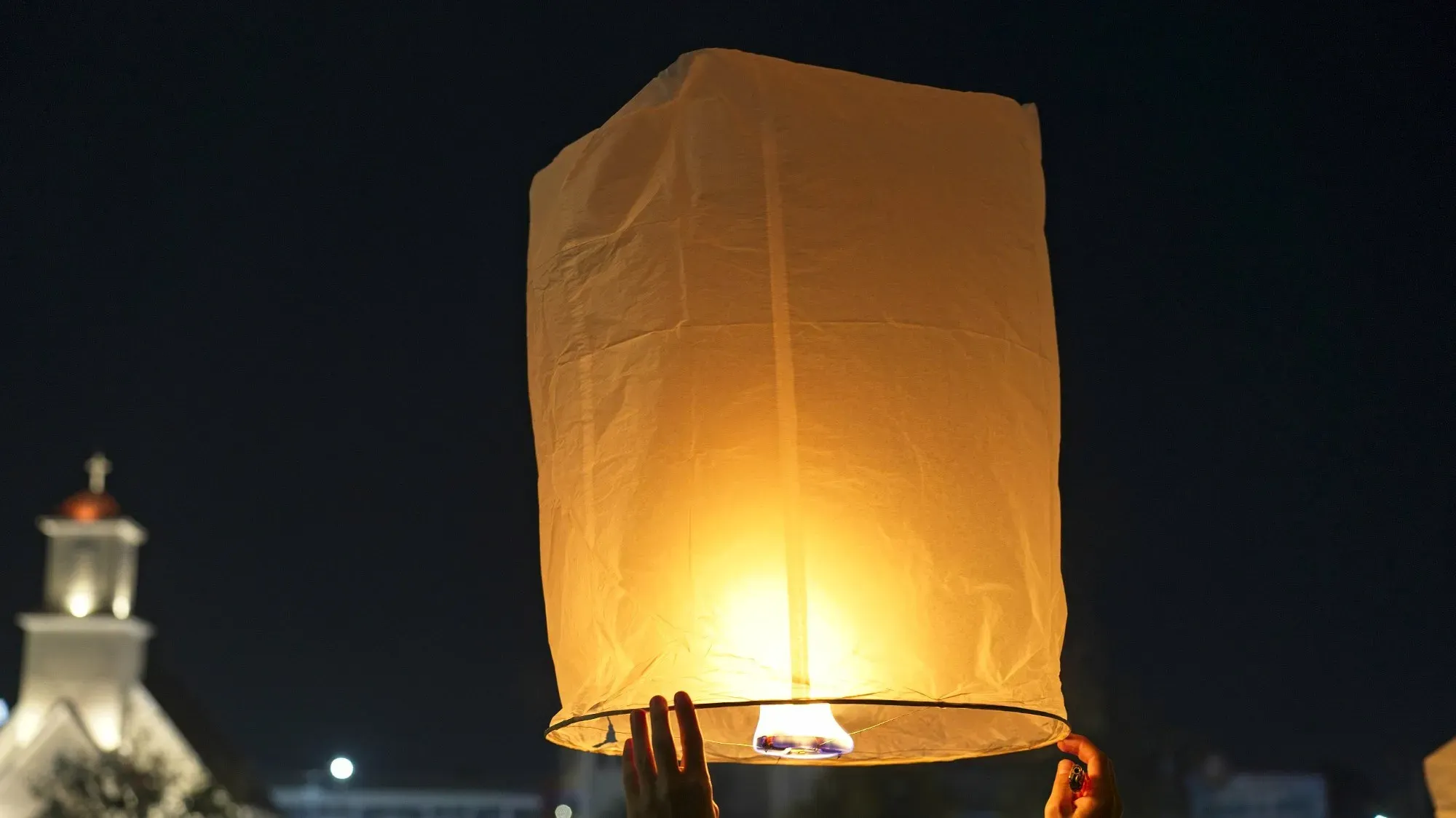 The third and final home base for our time in Thailand was the capital city, Bangkok. Here we were able to embrace urban life. We got lost (literally) trying to find our way around the giant malls. We dined at a restaurant listed on Asia's 50 Best Restaurants (which was a first for us). We enjoyed the rich history of the capital city, densely packed with temples and Buddhas of different compositions. We got to see the Jade Buddha at the Grand Palace, which was particularly exciting since we had seen its previous home when we were touring Laos just a short time before. We also got to see the giant gold reclining Buddha in Wat Pho. And many more significant idols as we toured a multitude of wats around the city.
A part of that history we enjoyed was the time we toured and shopped through the floating markets. We got to drift through the boats filled with sticky rice and trinkets to remind you of your trip to Thailand. But for all of its commercialization, we still saw several locals floating along and doing their weekly grocery shopping alongside us. Our guide was sweet and gave us her hot tips on where the best snacks were. The coconut ice cream we ate that day was the best we had tasted in months, so maybe she was on to something.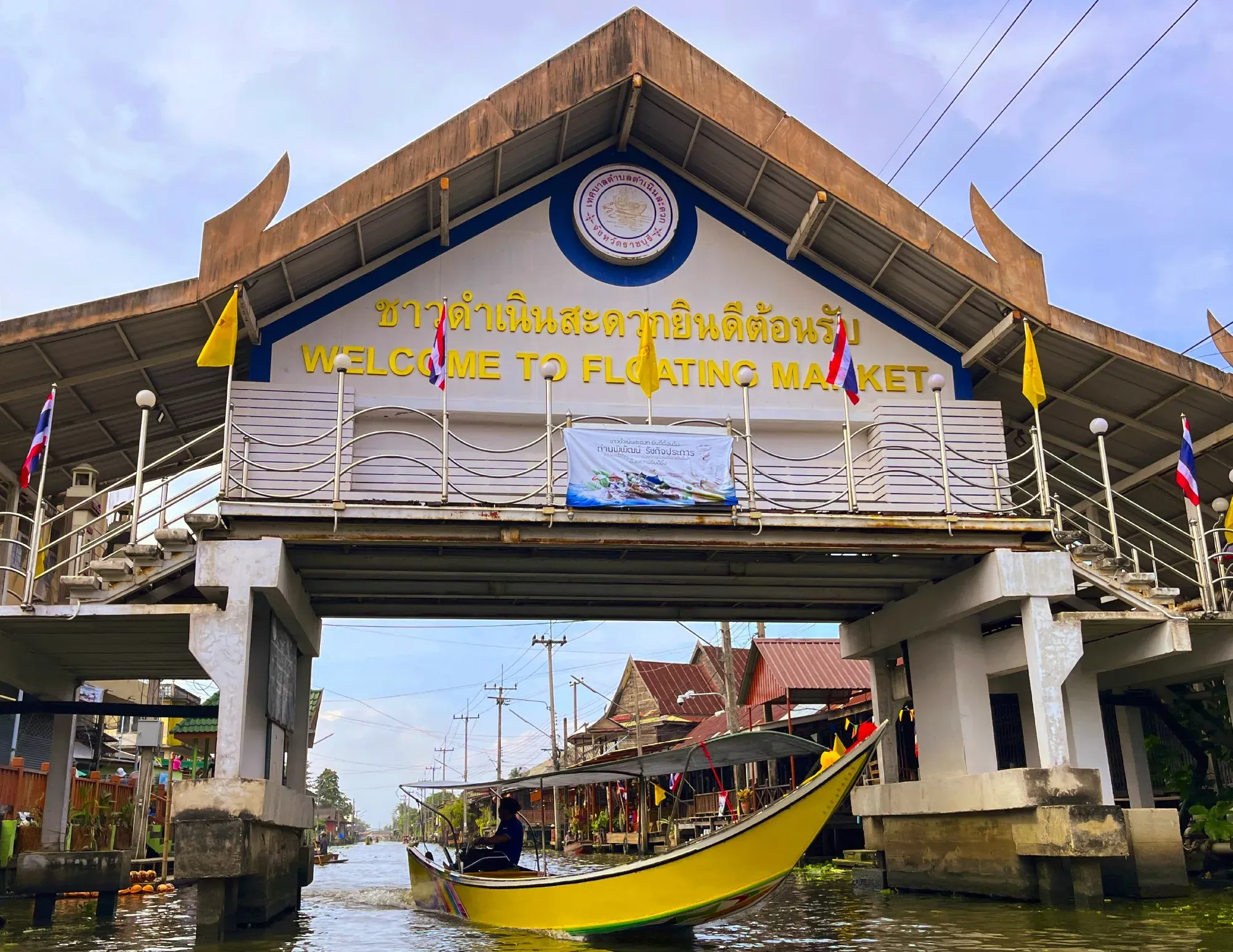 One of our more exciting evenings in Bangkok was at the Rajadamnern Muay Thai Stadium. The first of its kind, this stadium hosts Muay Thai and Kickboxing matches throughout the week. We got lucky and caught their World Series night, and let me say – those fights were exhilarating. We saw multiple knock-outs and fights from some incredibly well-trained and impressive fighters. Despite not having been into Muay Thai before visiting, I still found the evening, arena, and general atmosphere thrilling. Fights and sporting events are not a usual stop for us in the cities we have been visiting; however, the Muay Thai arena was one of the more exciting experiences we got to try here in Thailand.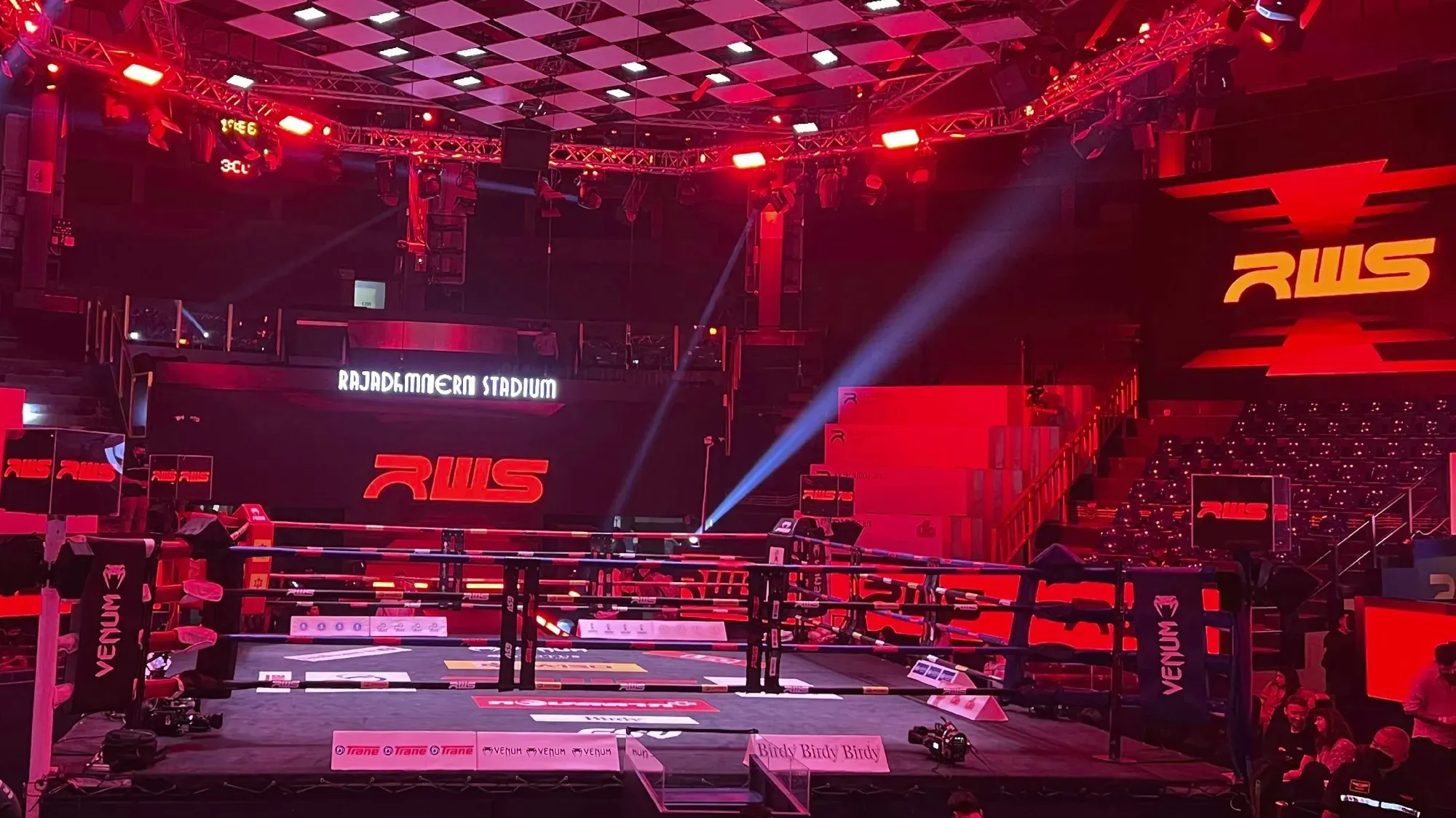 In summary, our visit was jam-packed with lots of sightseeing, plenty of food (even if Mr. had to take a break mid-trip), and some unique-to-Thailand experiences. We loved so much of our trip and cannot recommend Thailand enough. It is a beautiful country that welcomed us with open arms. If our adventures through the north, center, and south tell you anything, let it be that there is something for every type of traveler here.
As we leave Bangkok, we are leaving behind the urban experience and are about to immerse ourselves in something much more outdoorsy. Any guesses where we are off to next? Hint 1: This is the only country with a national flag that is not a quadrilateral. Hint: 2 This country is home to eight of the top ten world's highest peaks. We cannot wait to update you on our next adventure!