Journal #7 - Nepal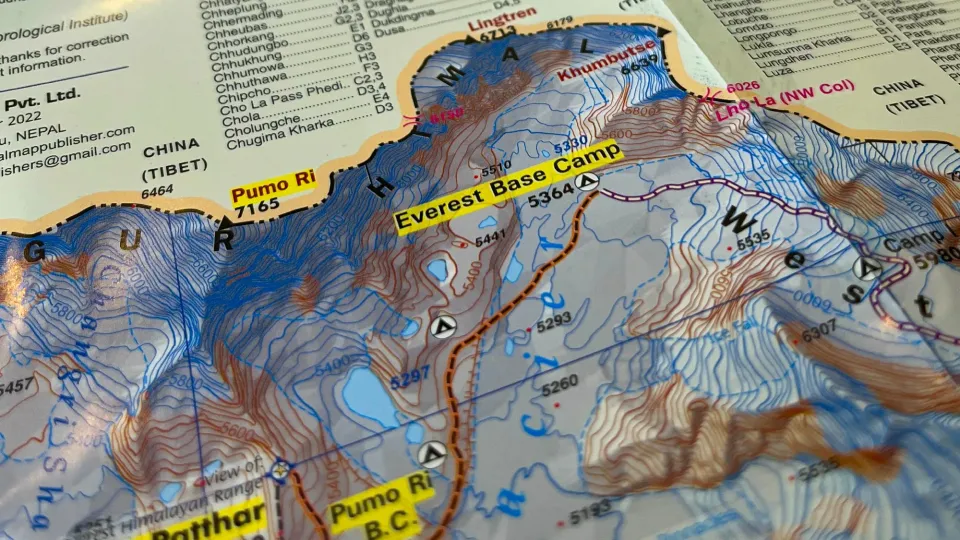 Tashi Dalek from Nepal!
This country had a first for us. We took time off from our jobs to travel for this trip. Where we went, being digital nomads was not an option. Instead of our usual cadence of city during the week and nearby excursion on the weekend, we spent two weeks completely off the grid. Our great adventure in Nepal brought us to high altitudes in sub-freezing temperatures, with nights spent in sleeping bags and days filled with up to forty thousand steps - all so that we could hike the Everest Base Camp Trek.
We began by flying into Kathmandu, and looking out the window as we descended, we could see some of the tallest peaks in the world. It made us both quite giddy. Upon landing, we met with the tour group we booked our trek with. Our tour company was amazing, with personal service that went above and beyond. The owner met us at the airport and greeted us with marigold garlands. Plus, since we live out of backpacks and have spent the majority of the last half a year in temperatures conservatively called warm (realistically, sweltering), we did not quite have all of the gear we needed to travel to above seventeen thousand feet in elevation. Our guide personally took us shopping around the Thamel district and made sure that we had everything we needed to be comfortable and prepared for our journey.
Now, as far as preparation goes, we might have bought the pants, gloves, etc that we needed but there is also a physical aspect that needed to be prepared for too. We had been doing some training in preparation for this undertaking, but Mr. Wanderer's infection in Thailand and the general nature of our constantly on-the-go lifestyle meant that we probably did not do enough. Muscular strength or lung capacity was not our biggest struggle though, that came by the name of altitude sickness.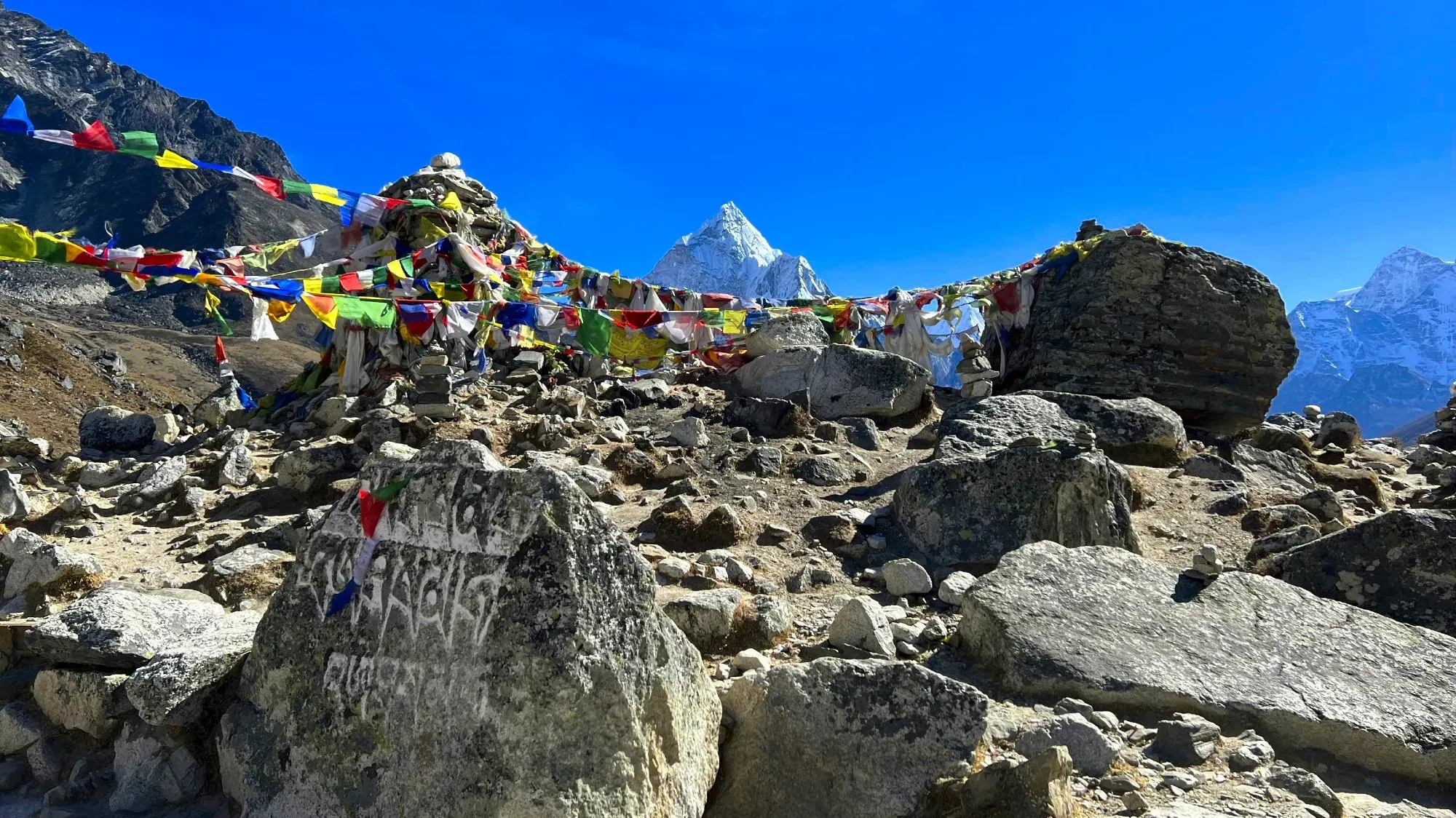 Our trek was conducted slightly after peak season, meaning fewer plane flights go back and forth between Kathmandu and Lukla's airports. Because of the shortage, we rode up in a helicopter, which was unplanned. Our flight left around six in the morning, flying us up over the clouds as the sun rose. We got to see the sunshine on the beautiful Himalayas rising out of the mist first thing in the morning while our pilot pointed out all of the famous peaks. The ride gave us our first glimpse of the highest point in the world, Mount Everest. Despite the early morning, we felt invigorated on arrival and were ready to jump in and begin our trekking.
We ended each day at a tea house. These guest homes usually had a common room with dining tables in a U-shape against the windowed walls with a boiler or two in the center used to heat the water for everyone's tea (and serve as the only heat source for the building). We spent our evenings huddled together, sipping hot tea for warmth and wearing our down jackets. We recouped each night by claiming a table as close to the boiler as we could. We only went to bed when we were ready to sleep because our bedrooms had no heating. Instead, we used sleeping bags and (at the higher altitudes) our coats to create warmth in our sleep.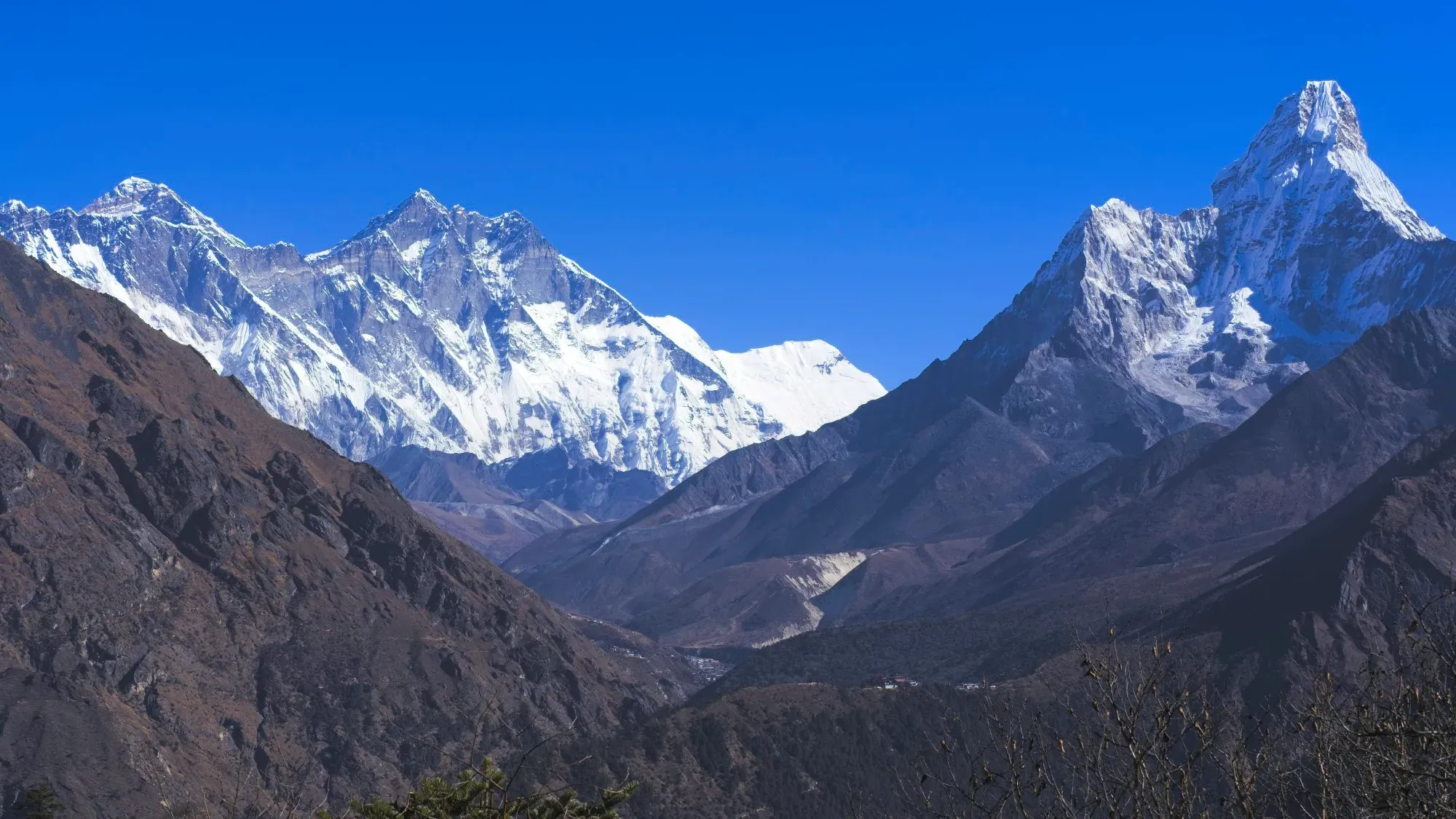 After our entrance, on day two, into Sagarmatha National Park we had daily sightings of tahr and the mountain peaks of Lhotse, Everest, and Ama Dablam watching over us. We did a lot of climbing up, more down than I was expecting, and quite a bit of flat as we progressed through the trek. Each day became increasingly more difficult as the air became thinner and our untrained lungs attempted to adjust. My body had a more difficult time, giving way to early symptoms of altitude sickness on several days. Nausea, fatigue, and loss of appetite each found me in the evenings while the most aggressive symptom (the headache) stayed with me constantly as we ascended. Mr. Wanderer progressed quite comfortably until the seventh day of our ascent. Then, as if payback for his ease on previous days, he had a very rough night. Thankfully, each morning when we woke up, the symptoms had dulled enough for us to press on. And our guide was very helpful in encouraging us to continue with the trek while reassuring us that despite our body's resistance, we were safe to continue progressing.
💡
While most westerners know the mountain's name as Mount Everest. It is important to note that the Nepalese name for the mountain is Sagarmatha (hence the name of the national park) and the Tibetan name is Chomolungma meaning "Mother Goddess".
Each day brought new views and more breathtaking sights. We loved being able to look up at some of the tallest points in the world while simultaneously looking down over the Khumbu Valley we were trekking through. By day five, we had surpassed the tree line meaning that the later leg of our upward trajectory was over rocks and ice. It was amusing to have started our trek in t-shirts and sweating when, a week later, we were walking all day in our down jackets plus hats, gloves, neck warmers, and insulated boots.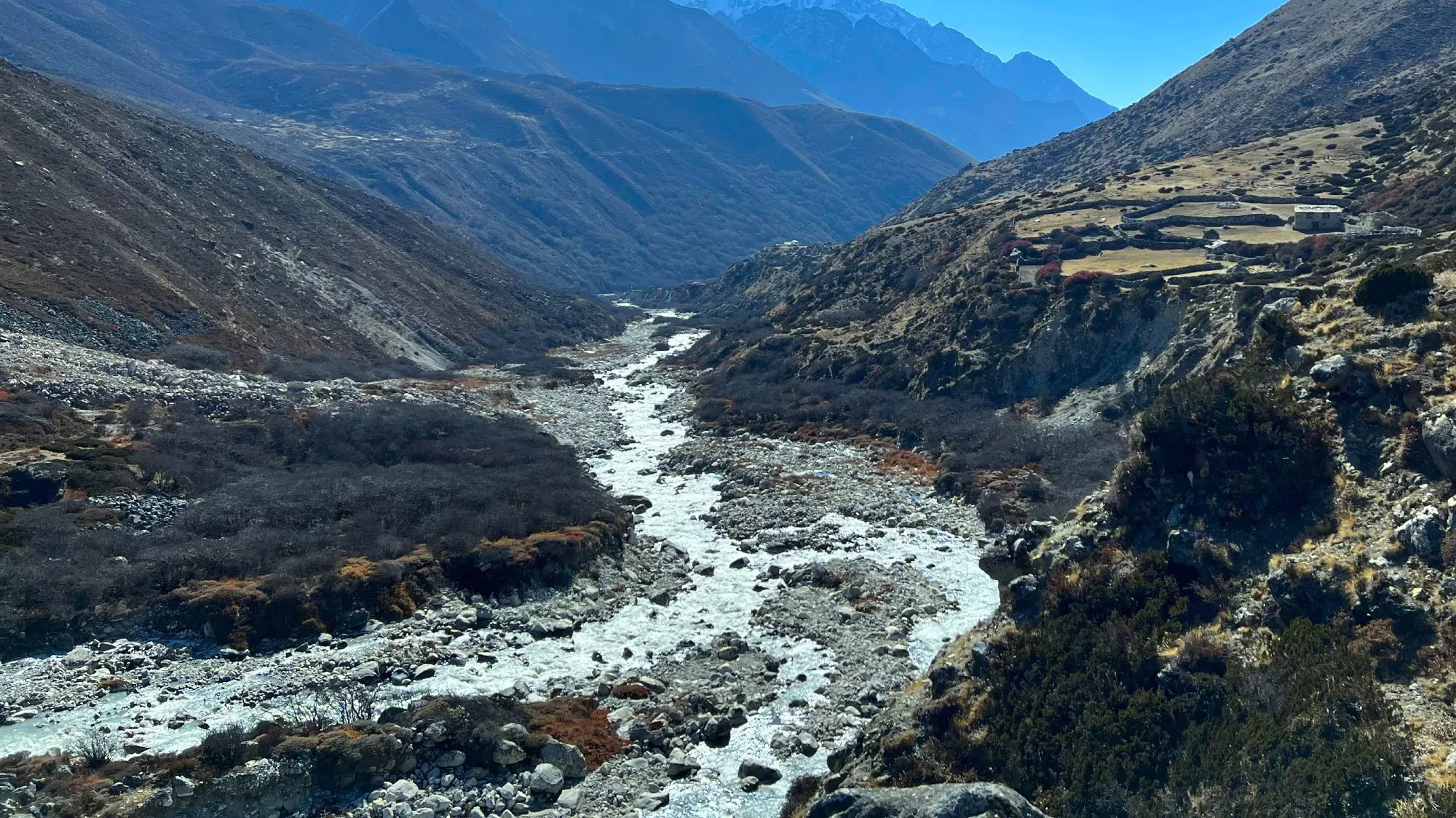 The trek concludes at the foot of the great mountain herself, atop the Khumbu glacier. In the spring, there are hundreds of tents set up as alpinists and mountaineers prepare to make their attempt upon the mountain. But at the end of the year the glacier is barren. The only sign of where you are is a large spray-painted rock bearing the tag "Everest Base Camp 5364m". It is on top of the glacier, after eight days of trekking and six days since our last shower, that we arrived at our destination. Spurred on that final morning by the adrenaline of knowing we were about to complete the job. It surprised us to find that we basically had the place to ourselves. Just two solo trekkers stopped by while we were there. We stayed at Base Camp for forty-five minutes, reveling in our success and documenting the experience with photos and videos. We made short clips to send home to our friends, family, and physical therapist.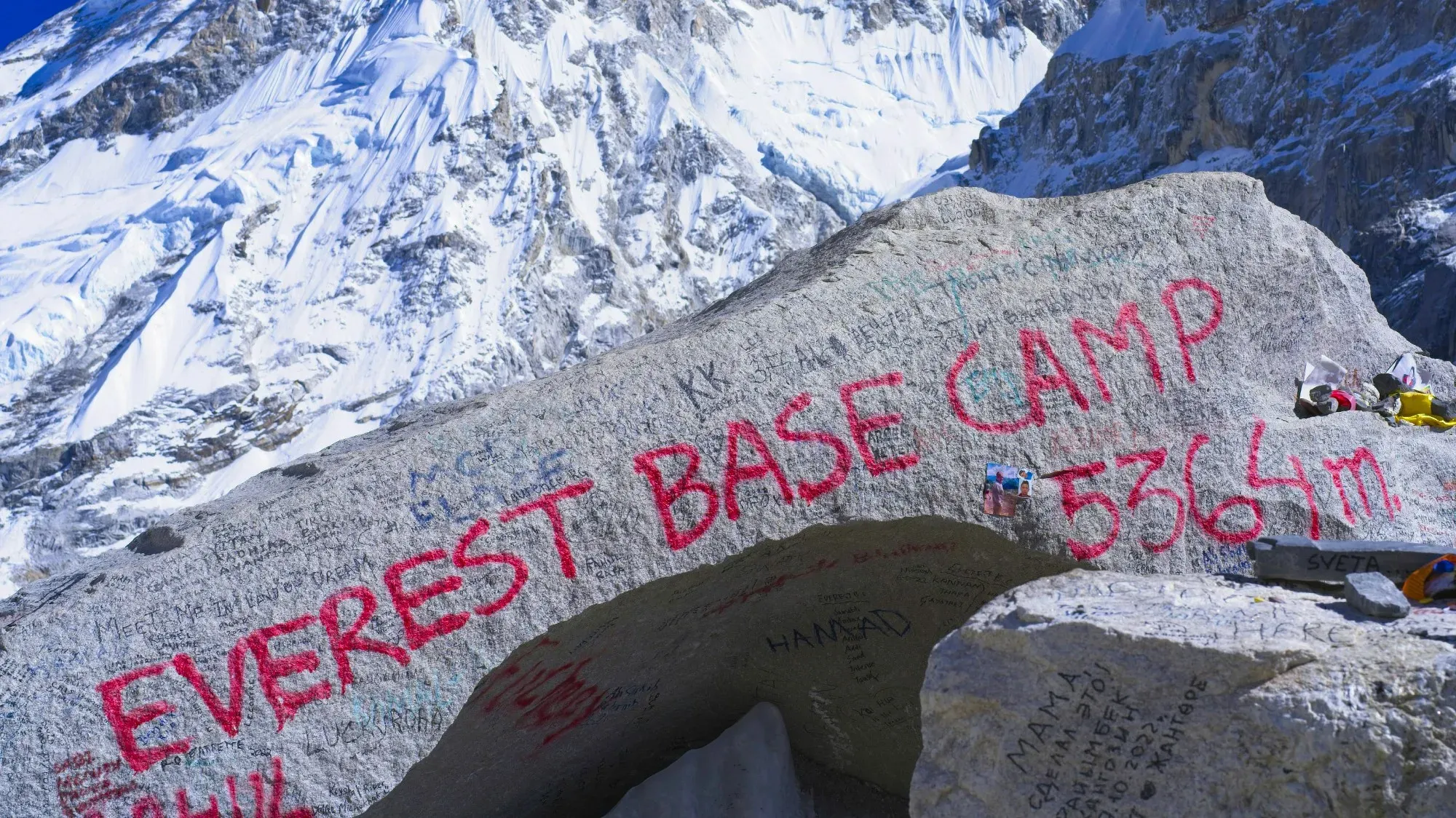 As you stand at the base you can see the Khumbu Icefall, the first actual challenge for anyone intending to summit the mountain. It is there that the majority of casualties have occurred. Being here, when the place is empty, it is hard to miss the magnitude of what this national park, this mountain, and those who have summited her stand for. Base camp has an elevation of 5,364m/17,589ft and her summit rests at 8,849m/29,030ft. Knowing what struggle and discomfort our little trek was to us I cannot imagine the mental fortitude of anyone willing to put themselves through a summit attempt. The peak is so high that it is literally located in an area called the "Death Zone". It is un-survivable for a human to remain that high for too long as the lack of oxygen at that elevation means that your cells are dying just by you standing and attempting to breathe there. I am immensely proud of our ability to tag base camp but I have zero desire to raise a flag on her summit.
And then, as anti-climatic as it is, we had to climb back down. It had taken us eight days to ascend, with two days built in for acclimatization. But with the air becoming richer as you descend, things get easier. So, we retraced our steps and arrived back at Lukla in just four days. If I am making the descent sound easy, let me add that on two of those four days, we took approximately forty-thousand steps and trekked for almost nine hours. The rigor of our descent was almost more grueling than our climb. But make it we did, before dark, every day. And we curled up on the benches next to the boiler with our hot cup of tea to recuperate (we were personally a fan of most of the tea houses' rendition of a honey lemon ginger brew).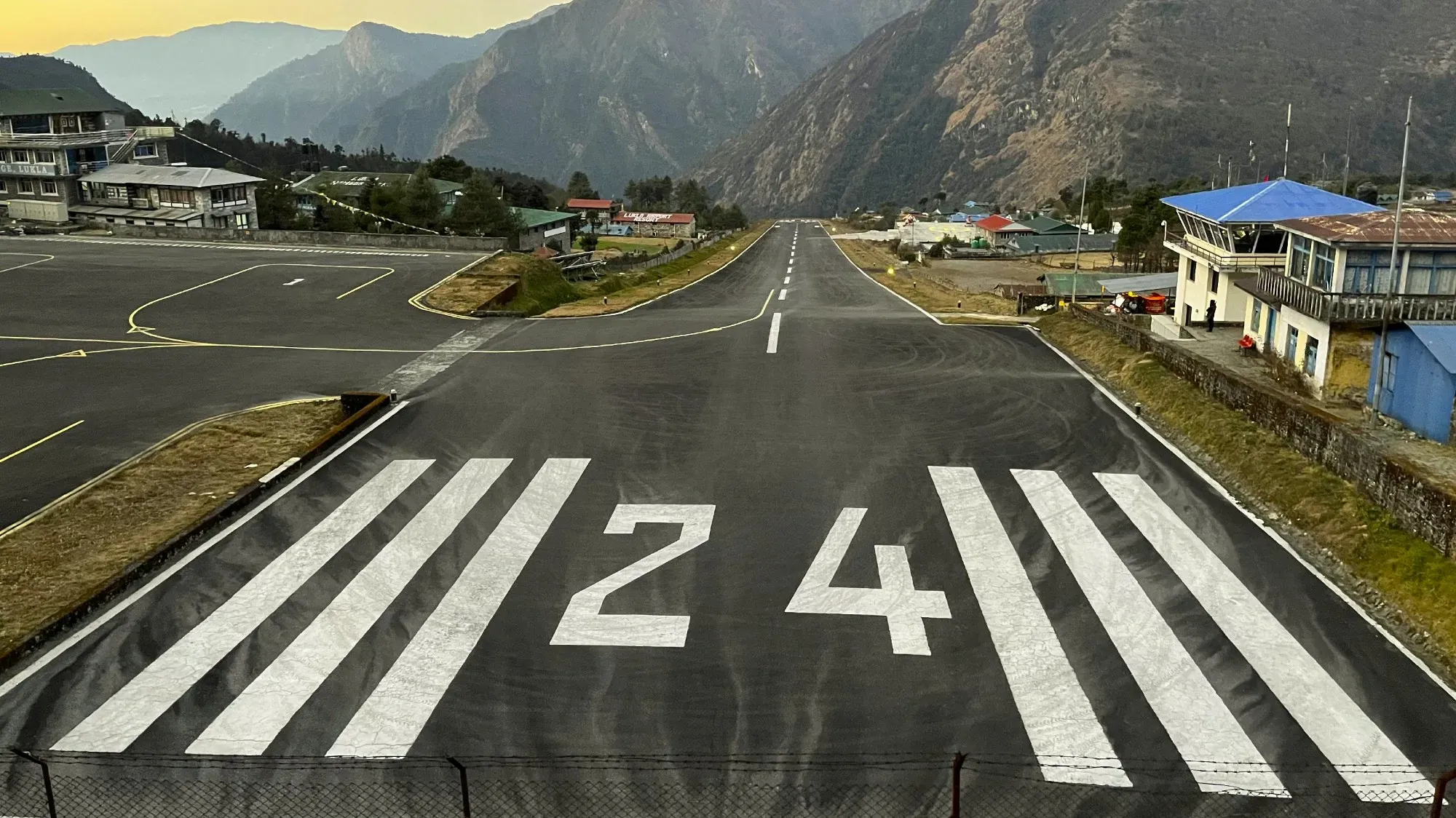 On our last morning, we boarded a small plane carrying less than twenty passengers and took off from Lukla airport. Rated the "World's Most Dangerous Airport", there were a couple of factors that could make you nervous. The biggest reason is that the airport sits on the side of a mountain, so the wind and the weather can be very unpredictable, making take-off and landing here rather precarious (This is why most flights are in the early morning). The other factor that complicates matters is that the runway is comically short. Planes must hit the gas as soon as they want to take off and accelerate quickly. The planes then are launched off the side of the mountain as the runway (and any ground) drops off below them into a valley. As a passenger, it feels like taking off into an abyss. Thankfully our flight went smoothly and we landed back in Kathmandu with no problems.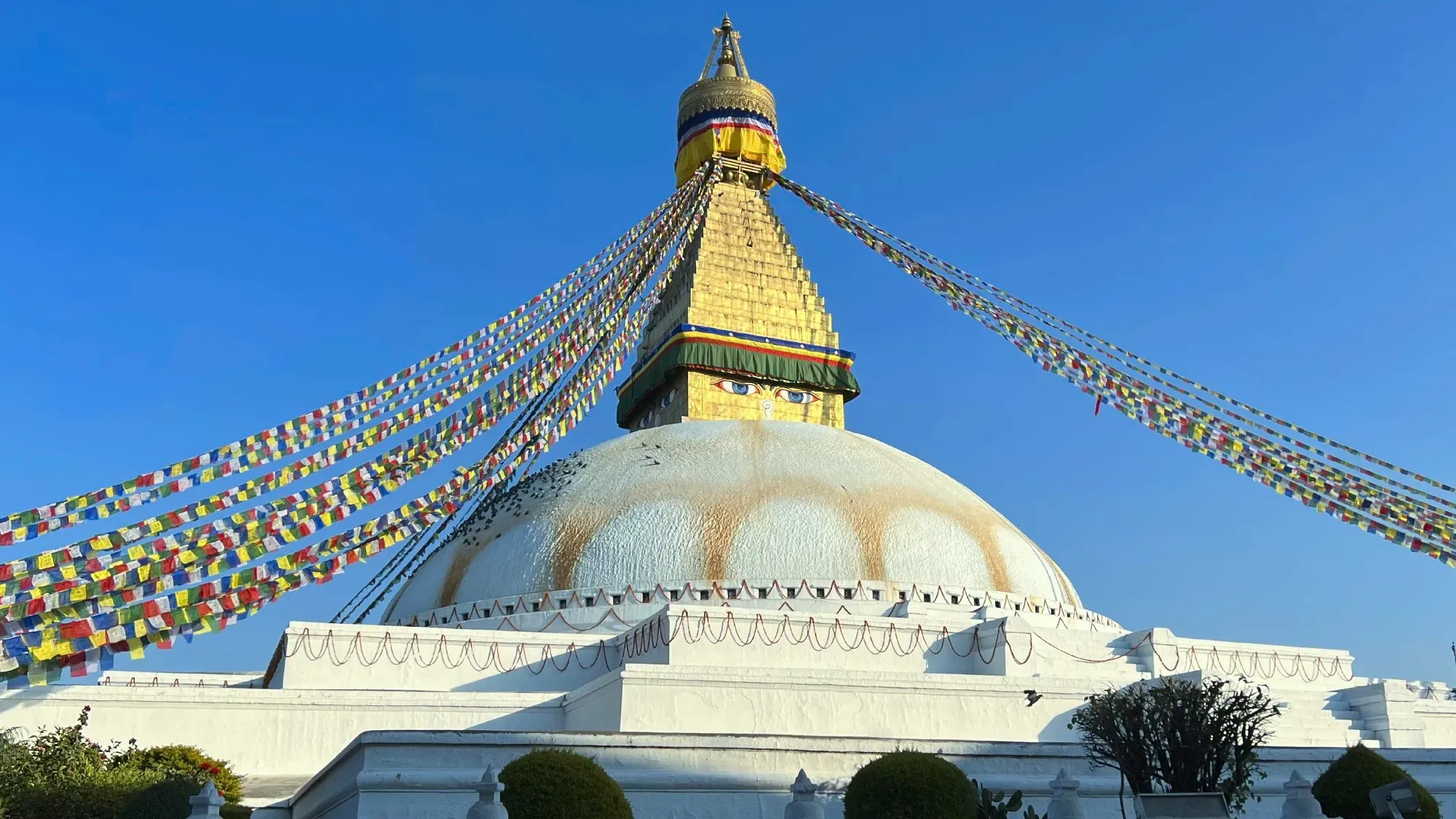 We spent a couple of days after our trek sightseeing around the city. We checked out the multiple beautiful stupas and different districts. We also took in the multitude of prayer flags flying everywhere; it feels like every building has at least one row of flags strung up on it. Mostly though, we used those days to eat as much Nepalese food as we could and get some rest.
But now, embracing the attitude of enjoying nature and wanting to go somewhere peaceful to recover, we have packed our bags and are off to our next destination – any guesses where? Hint: Its name translates to "Land of the Thunder Dragon"!