Laos is an often overlooked country in Southeast Asia. Much of Laotian food is known through the impact it has had on its more popular neighboring cuisines: Thai and Vietnamese. Nonetheless, Laotian food upholds a strong cultural identity with the people of Laos and is exciting to explore for those who know little about the cuisine.
History
Laos is a land-locked country between Vietnam and Thailand covered by mountainous forests. Laos is a country with three major regions, northern, central, and southern, that arose primarily from its historical formation. Laos used to be three kingdoms: the kingdoms of Vientiane, Champasak, and Luang Prabang. These kingdoms came under French rule after the Franco-Siamese War of 1893. The French then split the old kingdoms to the east and west of the Mekong Delta, in essence designating a large section of what was historic people groups of Laos to Thailand. This area of Thailand, the Isaan region, is culturally Laotian and is why we see Laos roots in many Thai dishes.
Ingredients
The primary ingredient, as well as the food of the Laotian people, is sticky rice. It is no joke when people claim Laotians eat sticky rice with everything. Not only is sticky rice used as an ingredient in  Laotian dishes, but it is also eaten as a side dish by itself, at any time of day, with practically any meal. Sticky rice is so engrained in the culture that the food is a part of a Laotian's identity; apparently, the people of Laos will call themselves the "children of sticky rice." Although, admittedly, I don't speak enough Laotian to confirm whether or not this ever happens naturally.
In addition to sticky rice, Laos food gets its characteristic taste from Padaek, Jaew Bong, and a copious amount of herbs, grasses, and roots. Padaek is a salty, fermented fish sauce that gives umami to many the Laotian dishes. Jaew is a Lao condiment similar to a hot pepper dip, consisting of fish sauce, palm sugar, dried chile, garlic, shallots, and tamarind. Jaew Bong is by far the most popular version of this dip with the unique inclusion of shredded water buffalo. Together Padaek and Jaew Bong help add savory and spicy flavors to Laotian cuisine.
Major Ingredients
Sticky Rice
Jaew Bong
Padaek
Lemongrass and Bamboo Shoots
Herbs

While charcoal is not a consumed ingredient, it adds a depth of flavor to food in Laos that stands out. Traditionally, and surprisingly true to this day, the people of Laos cooked over a clay pot with a charcoal brazier called a Tao Dam. Cooking in this manner brings an earthy, smoky layer into the flavor profile of all of the Laotian cuisine.
International Highlights
Laap, Sticky Rice, and Green Papaya Salad are the Laos trifecta that make a name for themselves on the international stage.
Laap / Larb (Minced Meat Salad)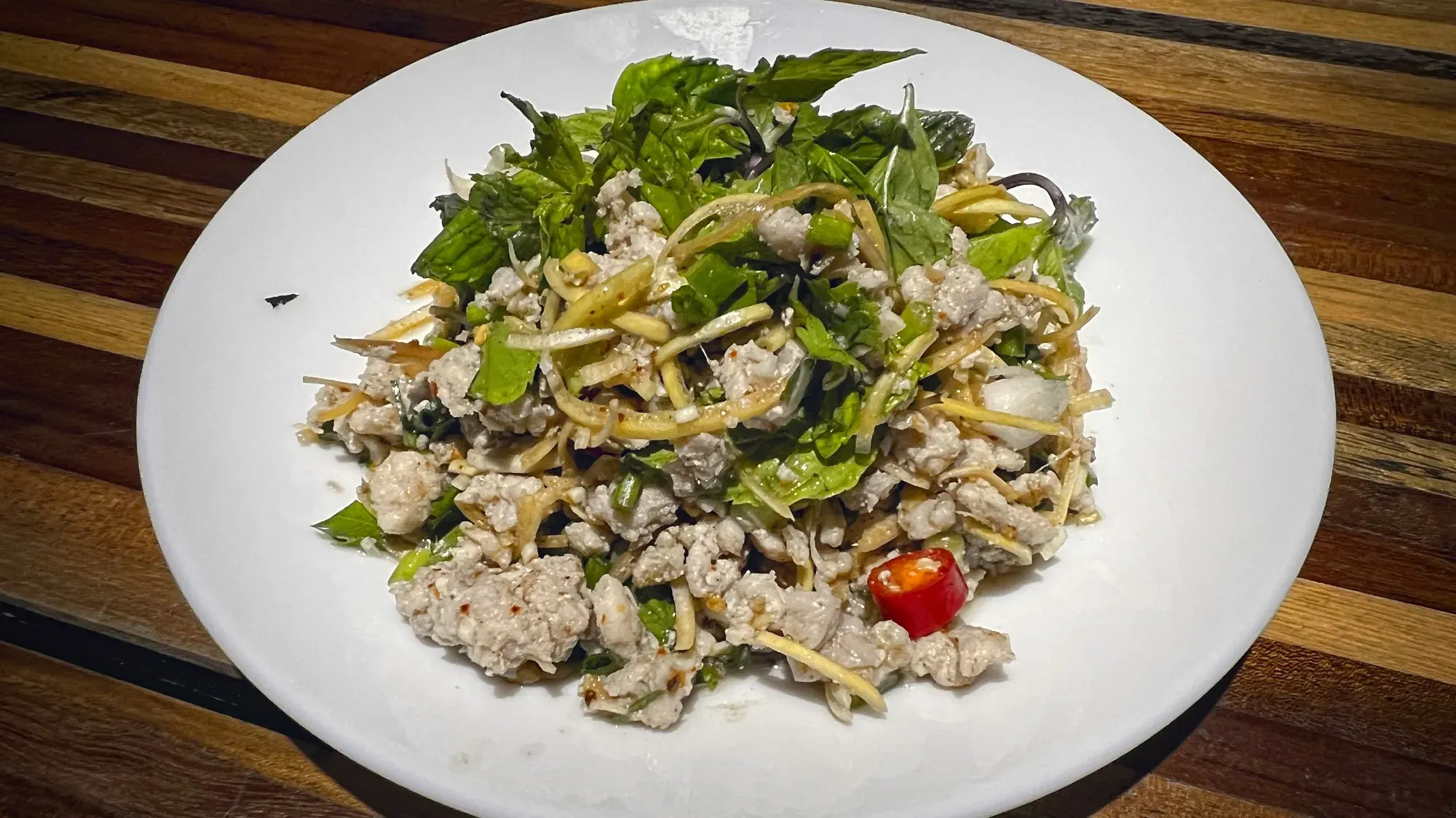 The national dish of Laos, Laap is a minced meat salad with fish sauce, lime juice, padaek, chilis, and an assortment of fresh herbs. There is also a Laap Lan Na style from northern Thailand that uses a variety of dry spices instead of sour fish sauce and lime juice for an alternative flavor profile.
Now here comes the unusual part for many: the meat can be either raw or cooked. When raw, it does have a lot of lime juice so it is sort of like ceviche. However, many argue there is not enough acid and you are thus eating raw pork. There have been many health problems from eating the raw version of this dish over the years, including brain-eating parasites. Your life is your own, but I would suggest that you ensure you are eating the cooked version (almost all tourist restaurants will of course serve the cooked version).
Khao Niaw (Sticky Rice)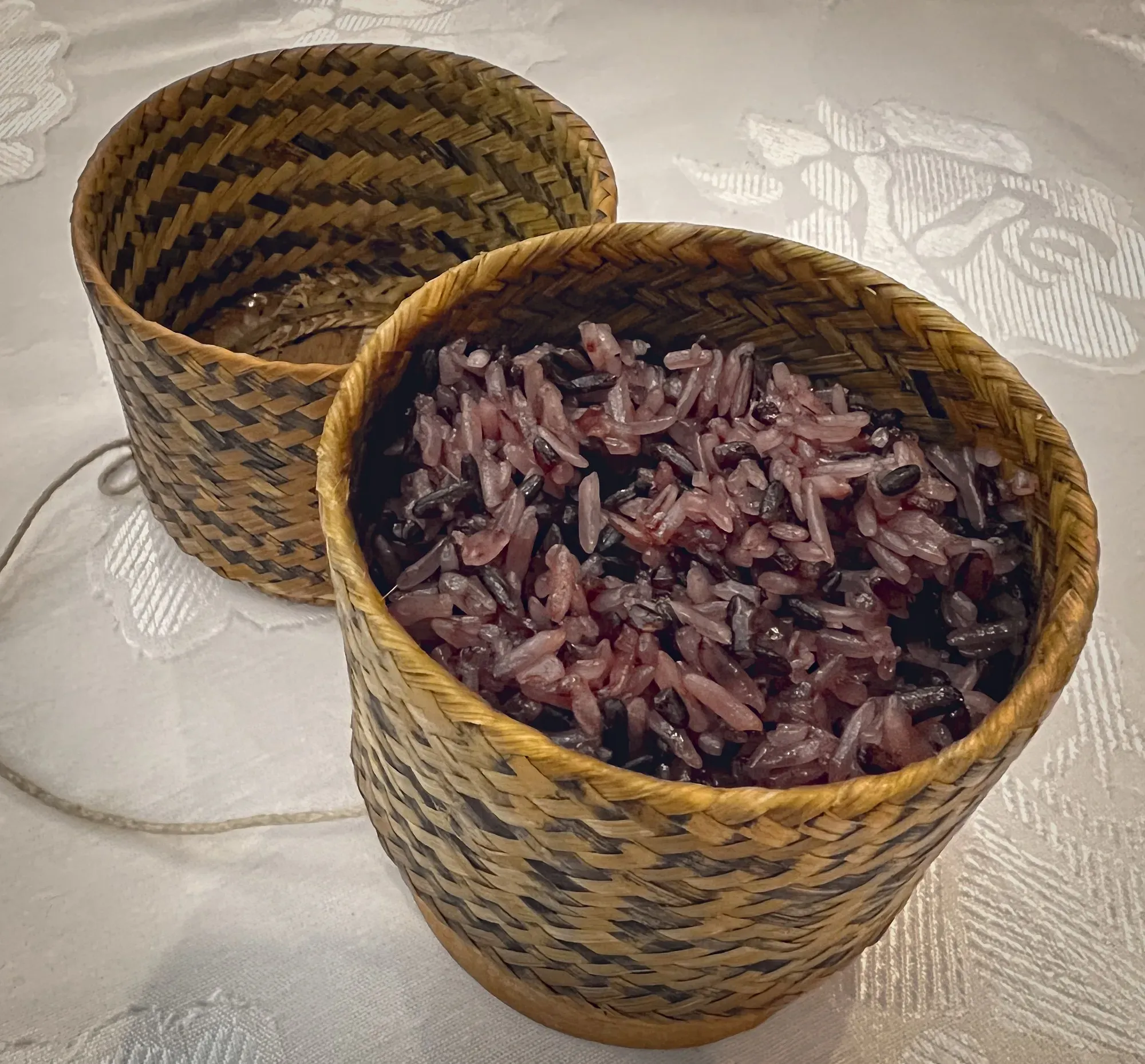 Sticky rice is a staple of the nation. It is consumed at all times of the day with practically anything. Traditionally you use your hands to grab a bit to either use the rice like a spoon for other dishes at the table or roll the rice into a ball and eat it as a side.
Tam Mak Hoong (Green Papaya Salad)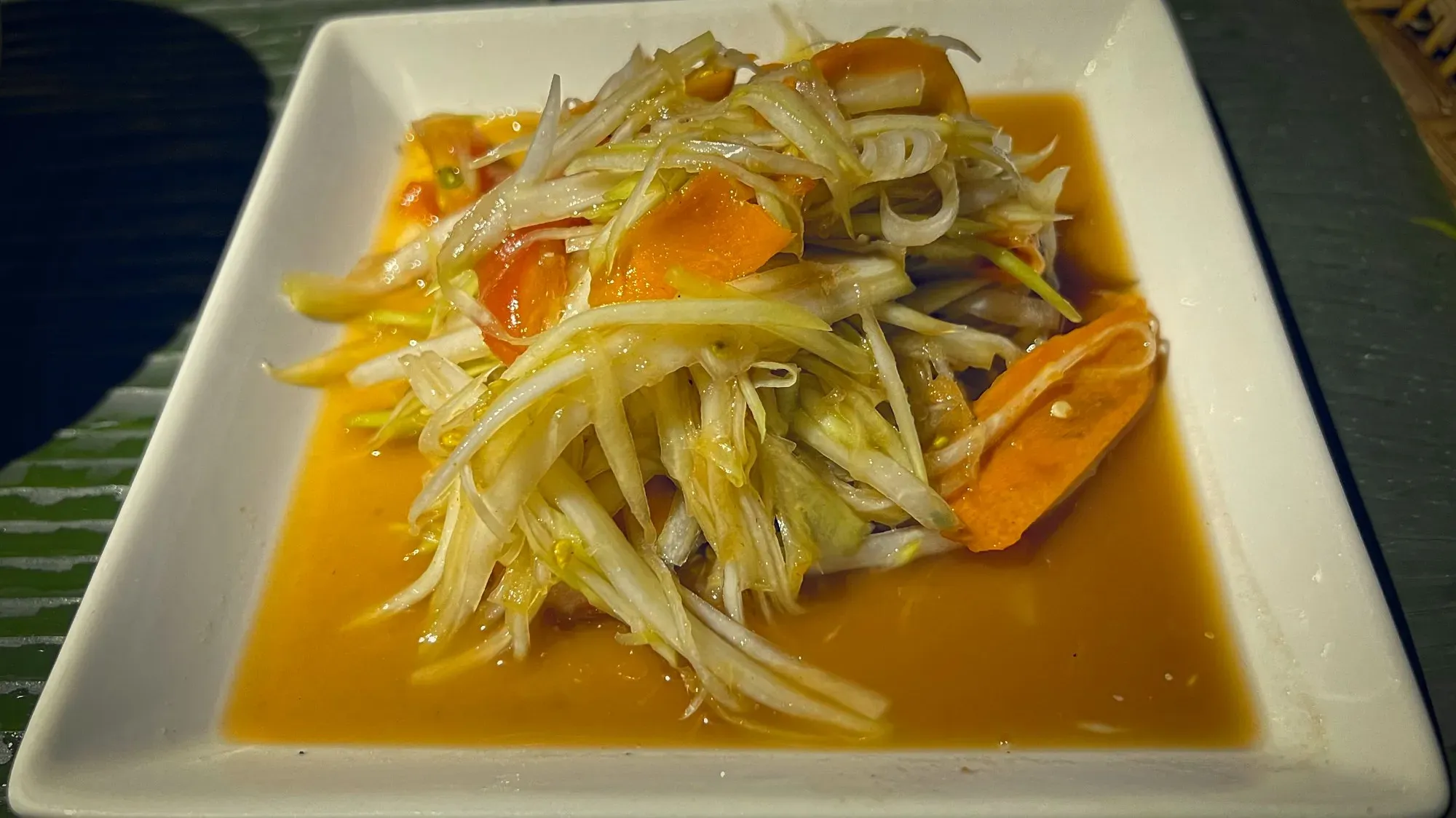 Green Papaya salad is a salad made from green papaya that has grown in popularity throughout Southeast Asia. Usually it is made with sliced unripe papaya, bean, chili, brined crab, hog plum, and lime. It is a relatively simple dish, but the perfect combination of flavors makes this meal shine.
In Laos, there are actually many Mak dishes. Papaya just happens to be the most famous. Someone can technically make a Mak dish of practically any ingredient. Try a few different varieties and see which one is your favorite.
Regional-Specific Shout Outs
Naem Khao Tod (Crispy Rice Salad)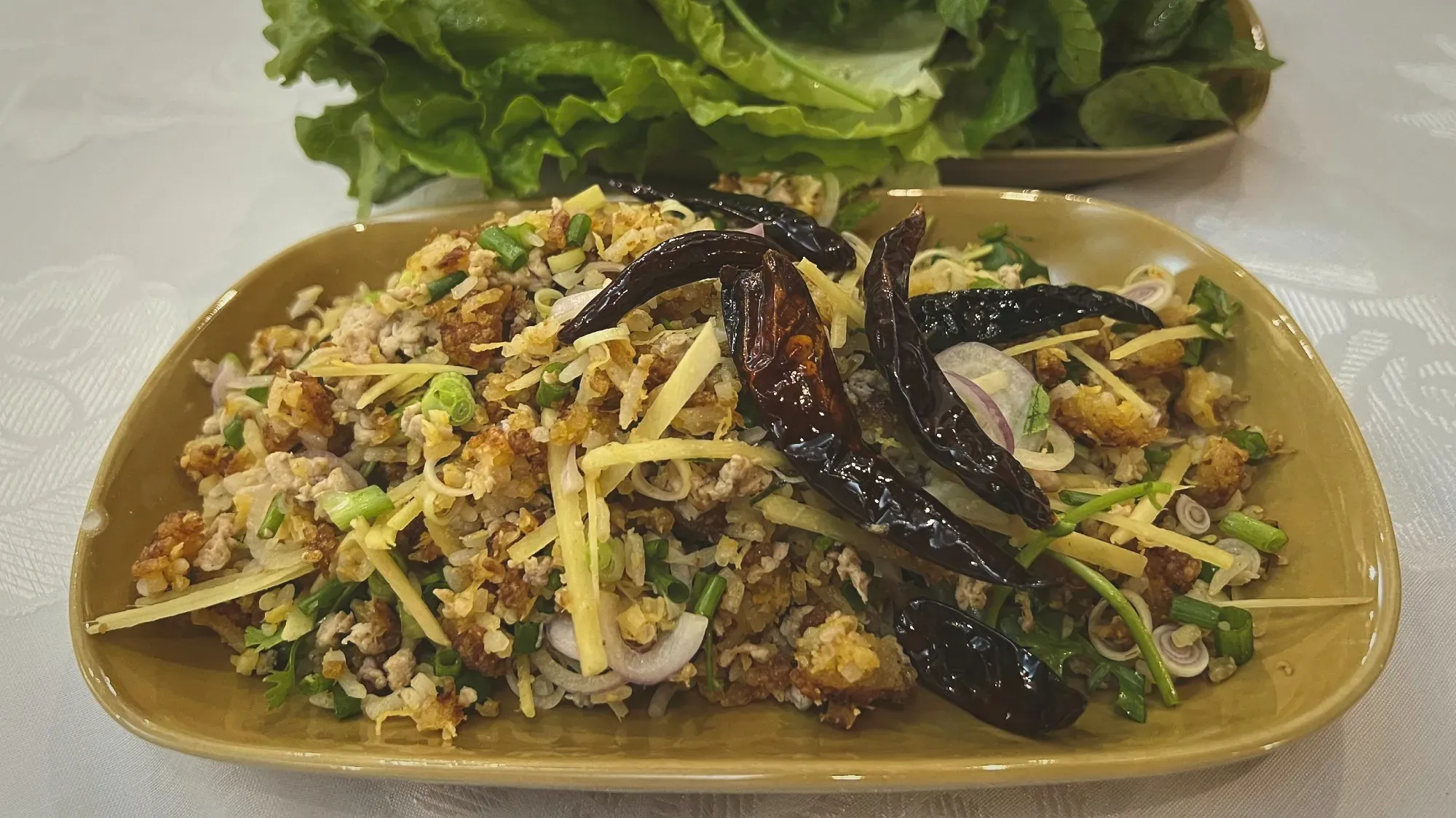 Crispy Rice Salad is a popular Southeast Asian salad dish made with dried rice and wok-fried to give it a distinctive crispy texture. The salad consists of steamed and dried pork and pig skin, white rice, dried coconut, fish sauce, lime juice, scrambled eggs, herbs, chilis, pickled garlic, and sugar. It is sometimes served with lettuce leaves as edible utensils for the mixture. This dish has also been adopted by its neighbors and has become especially popular in Thailand. One way to differentiate between an original recipe from Laos and an adopted version from Thailand is that Thai Naem Khao leaves out the Tod from the name as well as the pickled garlic and sugar from their dish.
Or Lam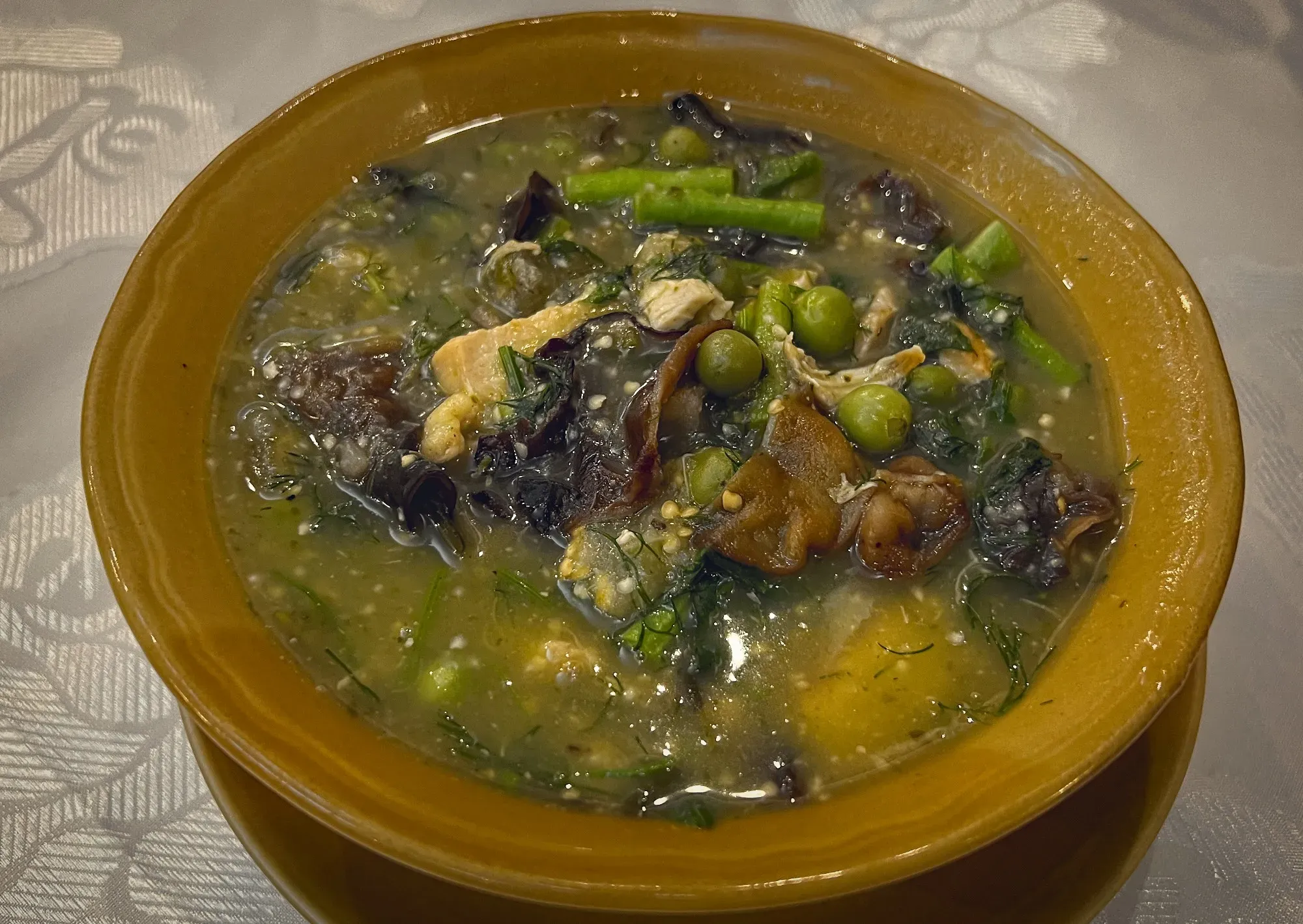 A Laotian stew originating from Luang Prabang made with characteristic ingredients of mai sakahn: a Lao wood chili vine that numbs the tongue. Or Lam is made from a thick stew of simmering lemongrass, garlic, onions, mushrooms, padaek, and fish sauce with herbs and a meat (often ox, deer, or dried buffalo). As a classic and popular dish, it can easily be found all throughout the country.
Khao Piak Sen
Khao Piak Sen is a "wet noodle" dish often called Laos chicken noodle soup. Wet noodles are rice noodles made from rice flour, tapioca starch, and water soaked in broth to give them a chewy consistency. It is served in a chicken broth with shredded chicken and garnished with garlic, shallots, green onions, cilantro, cabbage, lime, and chilis.
Mok pa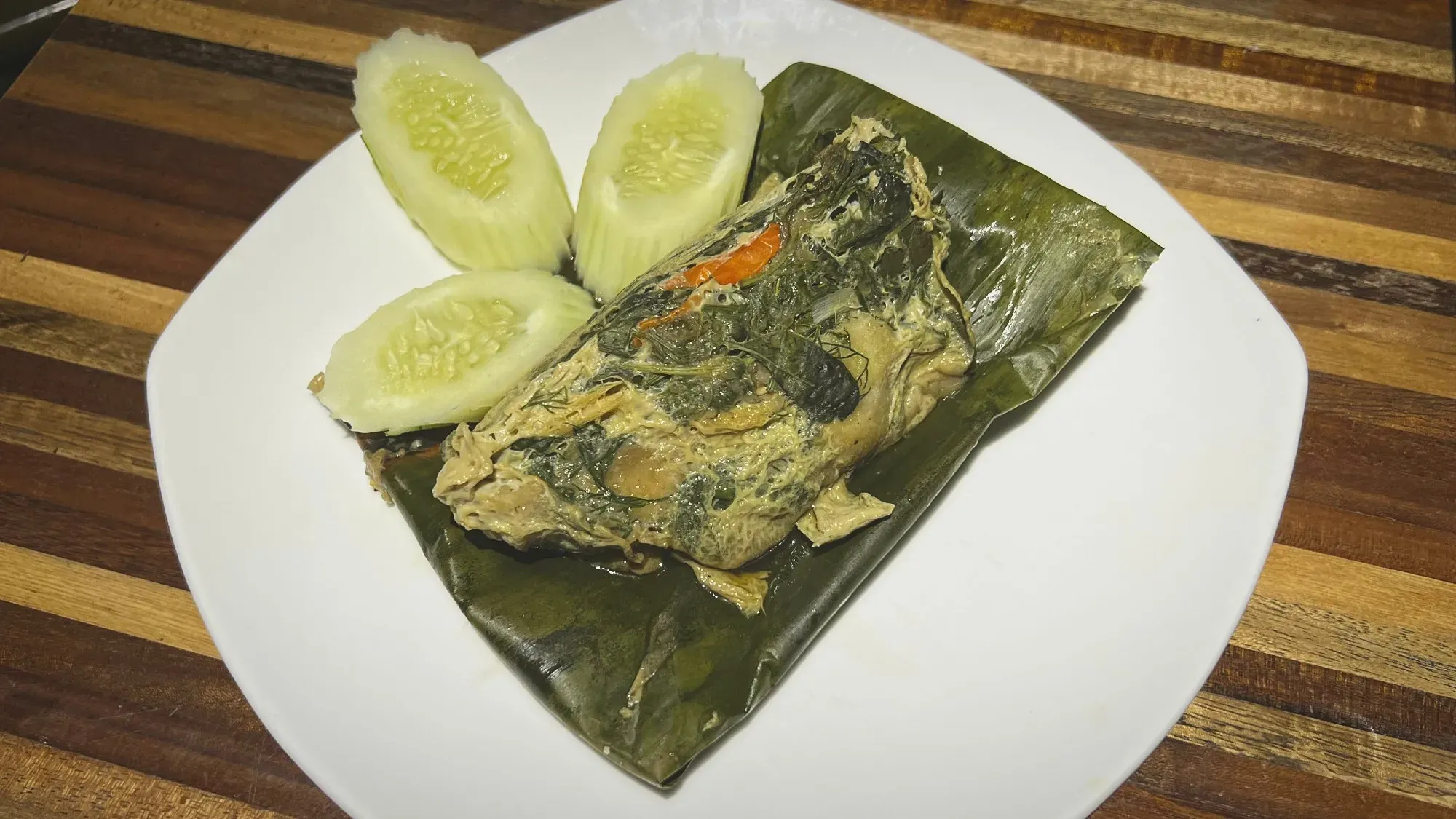 Mok means any steamed banana leaf-wrapped food. You can make a Mok of any ingredient, but one of the most popular is Mok pa or steamed fish.
Khao Jee
A Lao sticky rice pancake. It is a common street food in which sticky rice coated in an egg is grilled over an open fire to create a tasty sticky rice pancake snack. Note, Khao Jee is not to be confused with Khao Jee Pâté, the Laos version of Banh Mi.
Sai Oua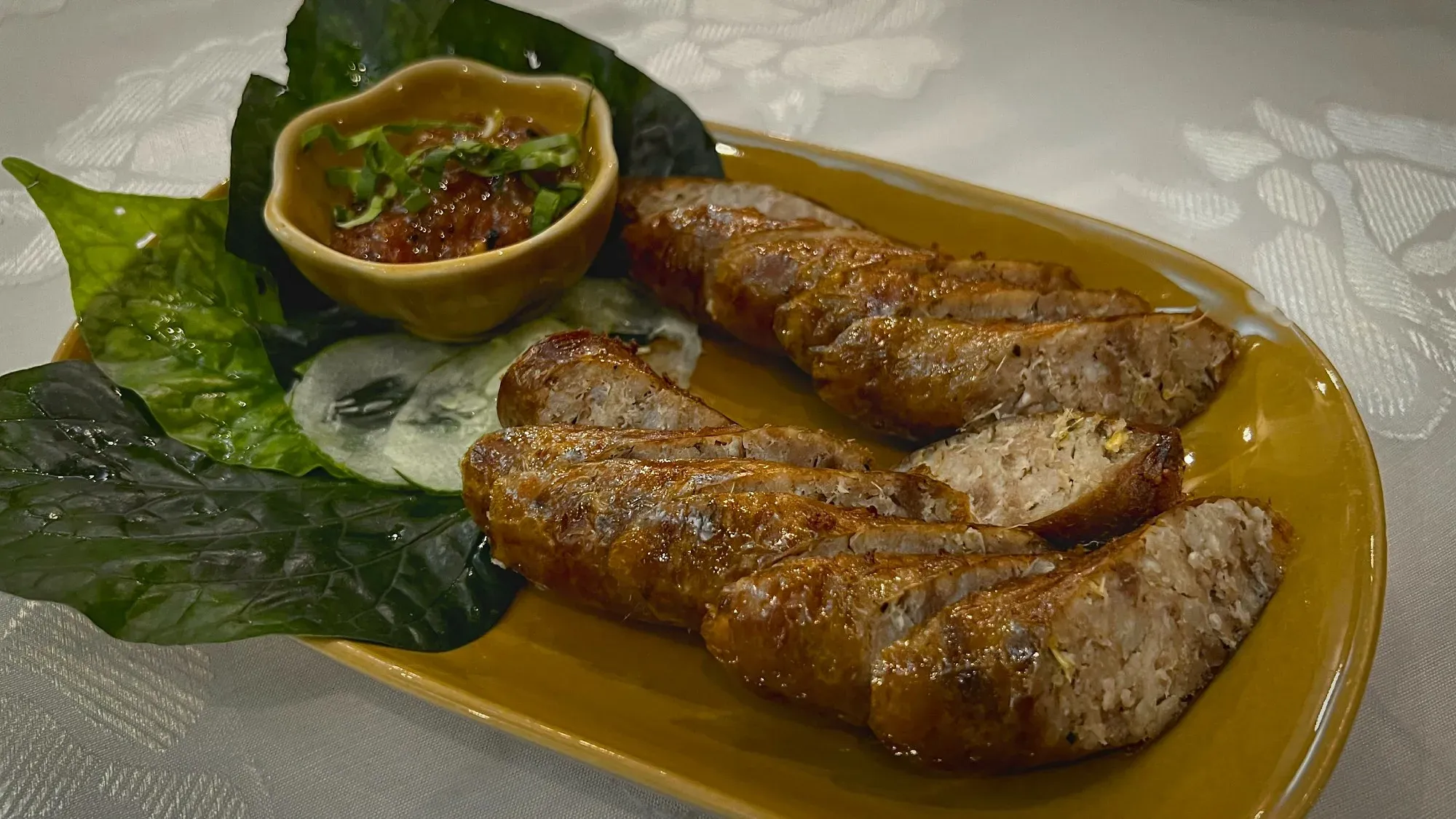 Laotian sausage made from chopped pork with lemongrass, galangal, garlic, shallots, kaffir lime leaves, cilantro, chilies, fish sauce, and sometimes sticky rice. Originating from Luang Prabang, it has a unique flavor profile different from many nation's sausages and should certainly be a food to try when in Laos.
Lao Beef Jerkey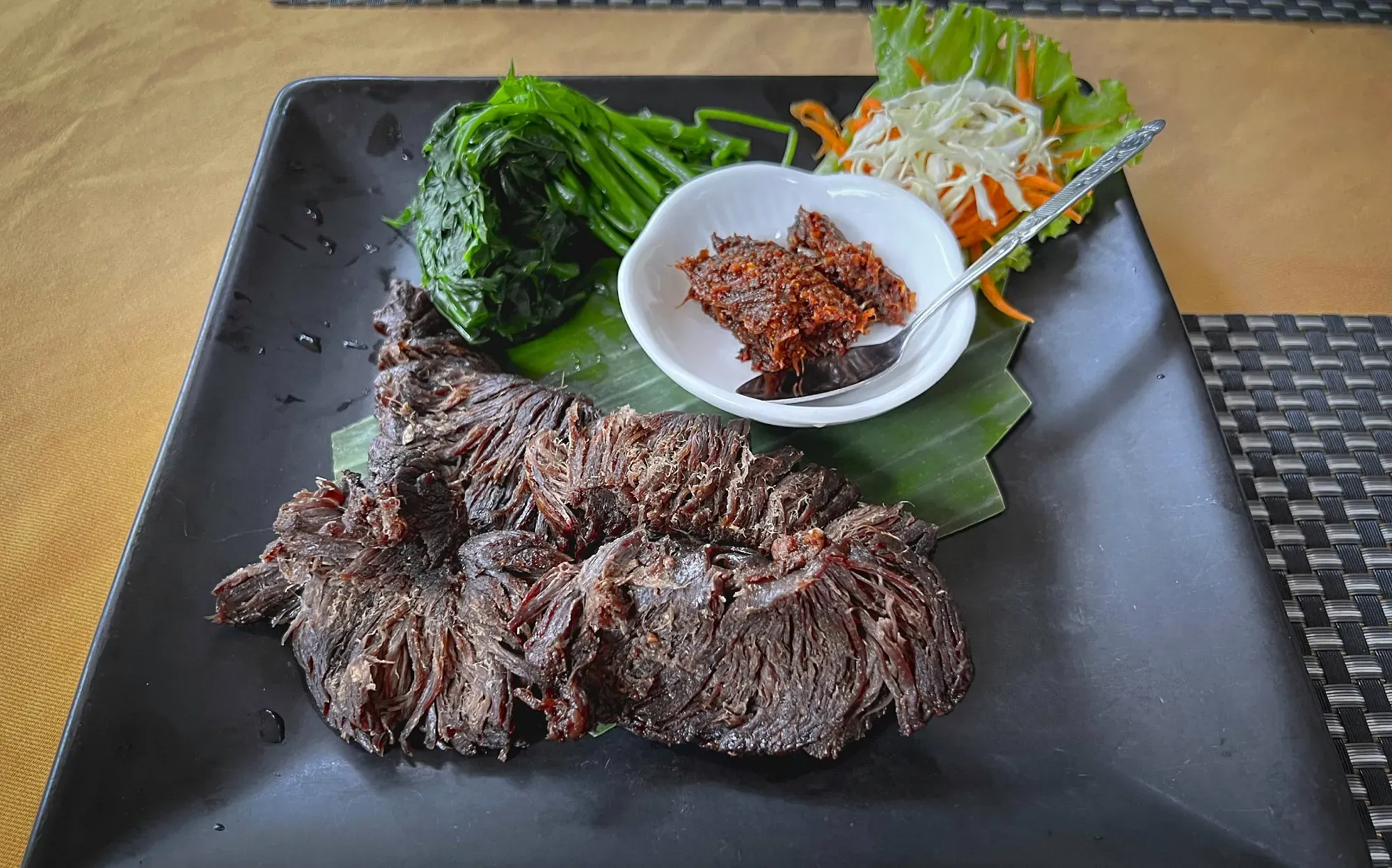 Lao beef jerky has a lot of different variations. You can choose a spicy jerky served with Jaew Bong (as seen above) or a sweet-flavored jerky. One of the most famous Laotian jerkies is Seen [Sin] Savanh. Seen Savanh, sometimes referred to as heavenly beef jerky, is a sweet beef jerky sprinkled with sesame seeds. No matter what variation you choose, it is sure to be a tasty snack.
List of Other Things to Try:
Khao Poon (Spicy, sour soup with vermicelli noodles and pounded meat)
Paeng Pet (Duck blood salad dish. For the most ambitious adventurers)
BeerLao (A local beer brewed with rice)
Laos Pho(r) – (Similar to Vietnamese Pho but served with flat noodles and beef innards like the heart, liver, etc.)
Cheun Yaw (Lao Spring Roll)
Kanom Tuay (Coconut Milk Pudding)
Khao Nom Kok (Coconut Cream Cakes)
Resources
Restaurant Recommendations
Vientiane has a plenty of interesting restaurants to try out, but perhaps the single most famous is Kualao Restaurant. Kualao is an upscale restaurant that serves high-quality, traditional Laotian cuisine. It serves travelers, business people, and locals for special celebrations. The establishment is a recreation of a large French colonial building. The restaurant even provides cultural dances and performances in the evenings on occasion. You will find great quality here, and although the restaurant is for sure a highly tourist-y place, is indeed a wonderful locale to try some Laotian food.
Luang Prabang has plenty of good food spots. One such food option is called Bamboo Tree and is located off the Old Town area. This place has a nice atmosphere and some great Laotian options to refresh you while Wat touring around city center.
---
To see an extensive list of restaurant recommendations in Laos, check out the Food page to see a map of our top recommendations for Asia as well as the database with details on restaurants from all around the world.