Journal #4 - Laos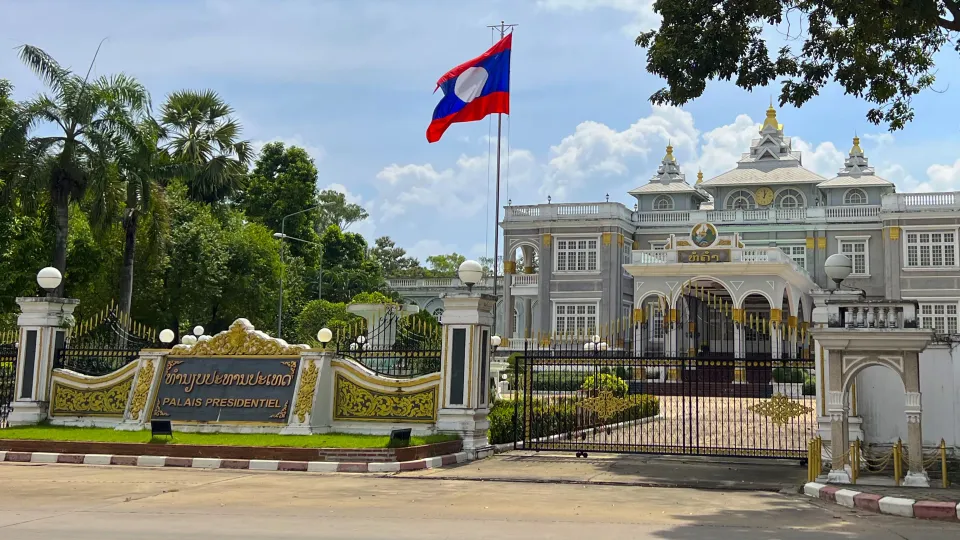 Saibaidee (ສະບາຍດີ) from Laos!
I do not think we knew what to expect walking into Laos. We had not heard much from other tourists and could not recollect seeing many pictures on social media. We were pleasantly surprised when what we found was adorable. We used Vientiane as our home base for our stay. Vientiane is the capital city, but you would not know it from a casual stroll down the street. This town was laid-back. We spotted traffic maybe one time during our visit. There were plenty of locals on motorbikes, but compared to the chaos of the Vietnamese roads driving here seemed very tame. The biggest obstacle we witnessed was the wild dogs who kept trotting into the street. They had little respect for the rules of the road.
At this point, we are starting to feel fully adjusted to the Southeast Asian time zone. Working nights (to keep East Coast USA work hours) is brutal on days we want to plan excursions that leave first thing in the morning. So, we have had to plan our adventures strategically. For example, traveling on Sundays rather than Saturdays to ensure we can get to bed the night before if we have an early morning.
One early morning we had was for our trip up to Luang Prabang. Considering how far along the Laos infrastructure is (mainly dirt roads that get washed away during the rainy season outside of the cities), we were quite impressed with the China-Laos Railway. The train that operates between Vientiane-Vang Vieng-Luang Prabang-Boten is modern. The cars were clean, the staff boarded the passengers efficiently, and everything was pleasant. We heard the goal is to continue to extend the railway all the way south through to Singapore. We will have to come back in a decade to see it finalized.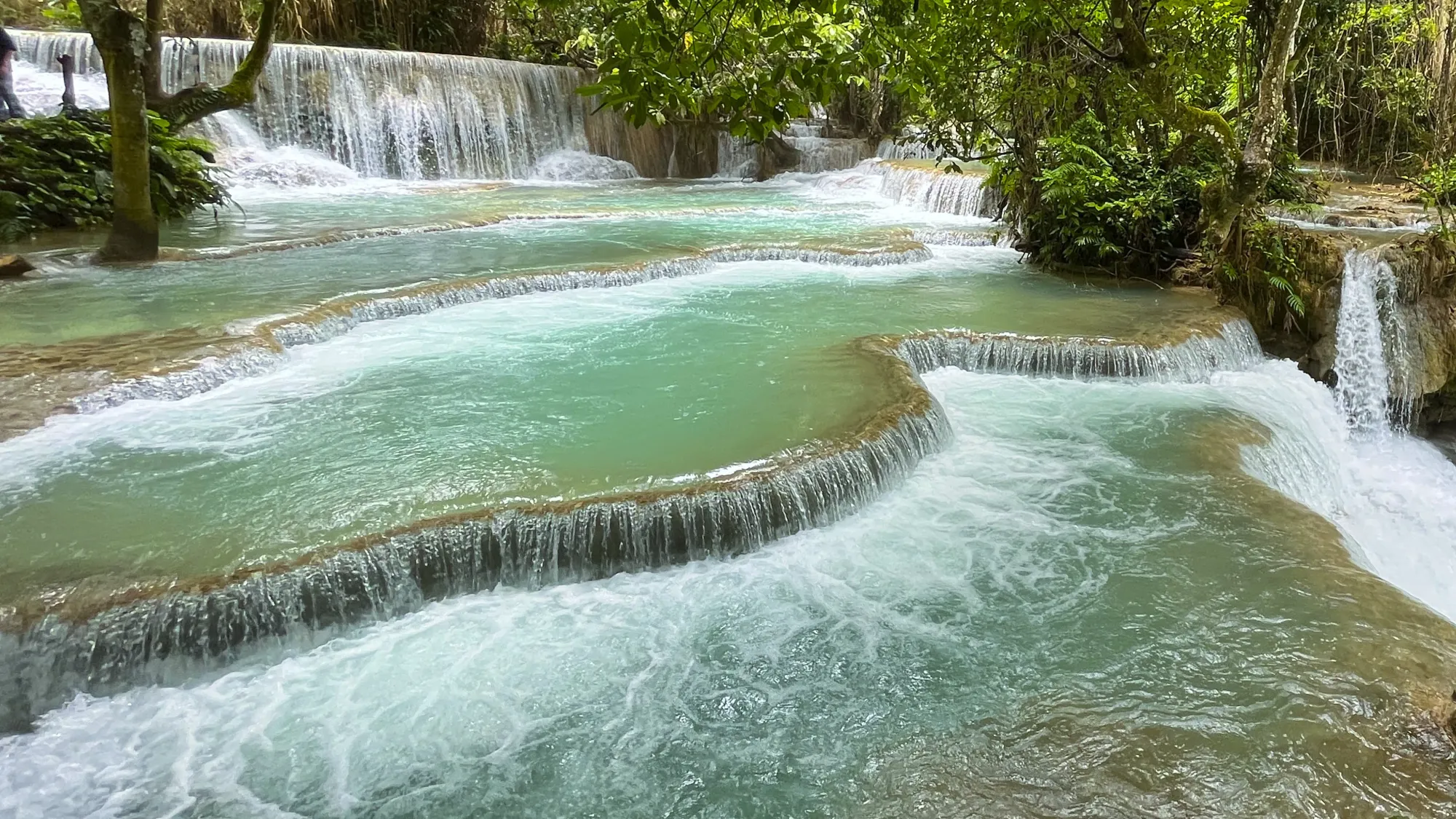 In Luang Prabang, we had the opportunity to check out our favorite sight in all of Laos - the Kuang Si Falls. The water here is a bright aqua color requiring no filter to look this beautiful. This color occurs because of the minerality it picks up running over the limestone rocks. Additionally, the falls flow into several pools, with a few designated for swimming. The whole complex, from the hike to the moon bear sanctuary, was well-managed and quite beautiful. It reminded us of the natural beauty of Laos and truly added to our time here.
One inconvenience we have found has been that most of our interactions (even in the cities) have been cash-only. Credit cards or mobile payment options are not part of the Laotian transaction experience at this time. Thankfully there are ATMs located all over the city. Conveniently, many are where you are most likely to be dropped off by a Tuk-Tuk. Even our train tickets at the rail station were cash-only.
Besides the beauty, the experience that impacted us the most was the COPE Visitor Center. Located in Vientiane, the Visitor's Center is a small exhibit on the Unexploded Ordinances (UXO) that remain in Laos and their effects on the population. There were an estimated 560,000 American bomb runs conducted over Laos during the Vietnam War. The exhibit had a life-sized model home showing how the rural Laotians live with these leftover munitions in their day-to-day life. There were examples of bomb capsules converted into kitchen utensils or used as a stilt for a home. Most of the visitor center though focuses on the life of the Laotians who have been impacted by UXO. COPE partners with several aid organizations to provide prosthetics, physical therapy, occupational therapy, and many more services in the most impacted regions of the country. If you want to understand the plight of the rural Laotian or learn more this exhibit is definitely worth a visit.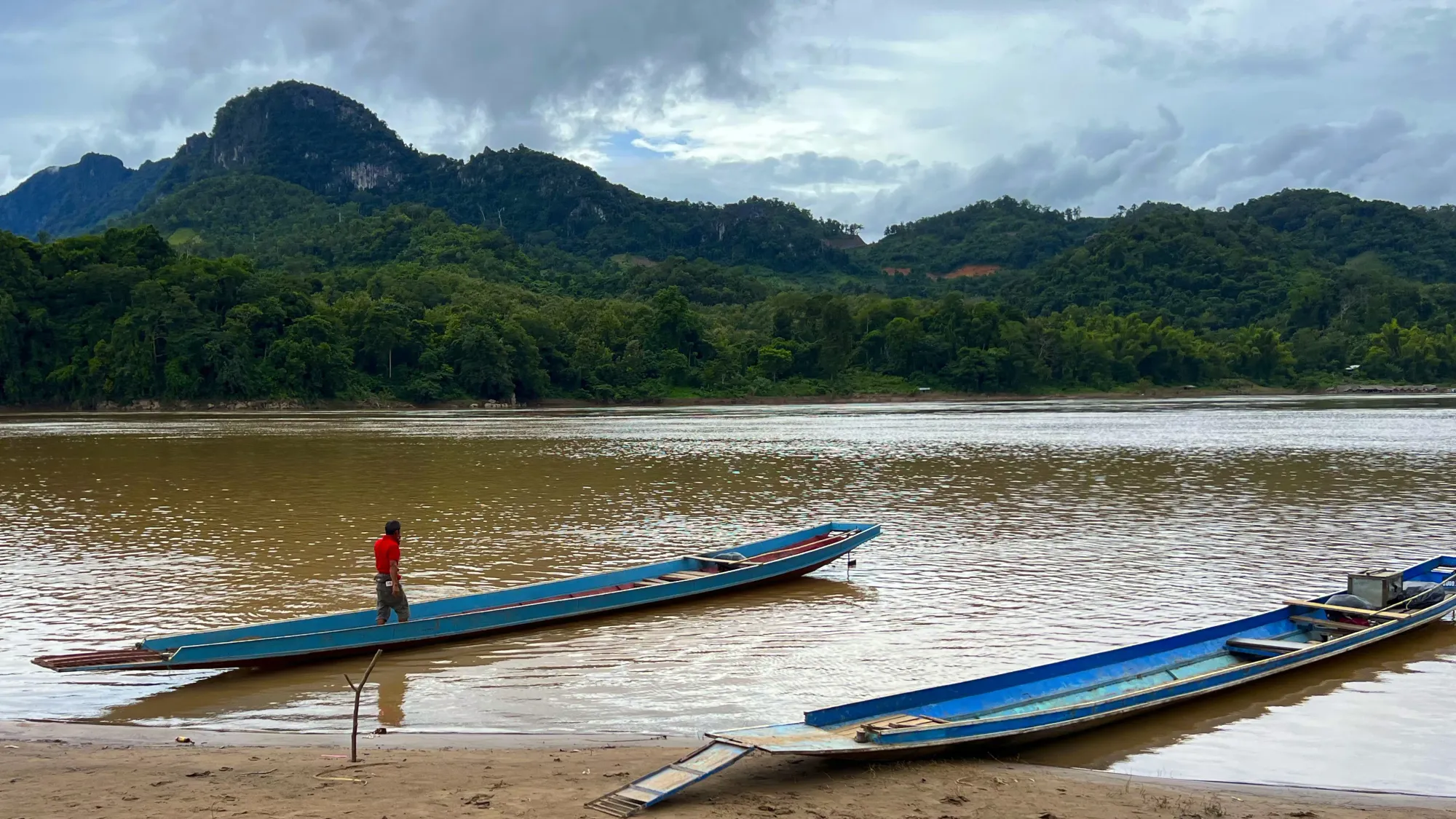 One major hiccup in Laos that did taint part of our experience was discovering mid-trip that our apartment had rats! Mr. Wanderer saw them on the kitchen counter then we were up all that night listening to them scurry around the kitchenette. We could hear every move they made. They knocked over water bottles and then pushed them around all night. We tried making loud noises, having the lights on, playing music, and general obnoxious sounds. Nothing would deter these pests. We were thoroughly grossed out and too creeped out listening to them to be able to sleep. Needless to say, that Airbnb did not get a good review. I am still shuddering.
Barring that specific experience, we are really starting to love our traveling life. The fact that this is full-time has definitely set in. We are excited to continue to learn and see more as we go. We have packed our bags to leave Laos & the rats behind. We are heading off to our next country, any guesses where? Hint: It is home to the largest religious monument in the world.