Guide to Laos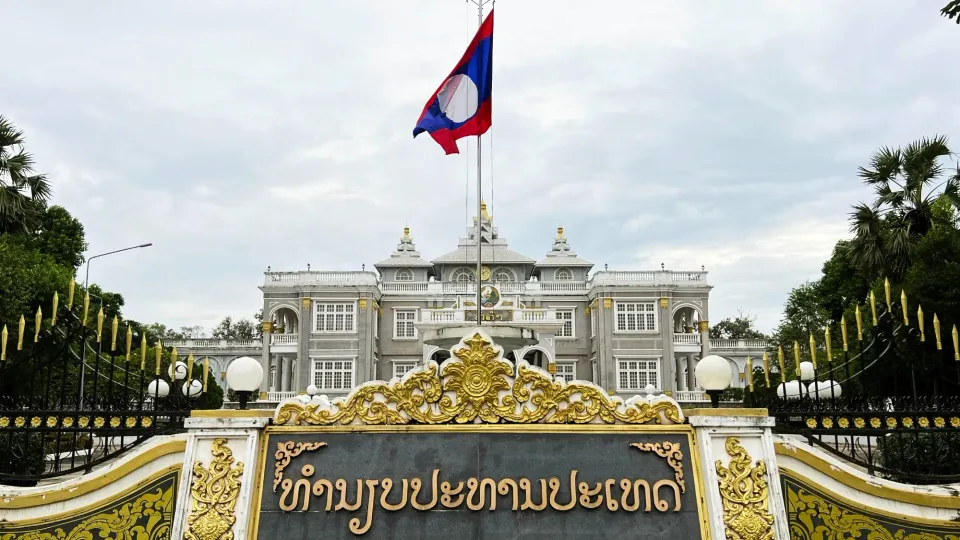 Laos is an often overlooked country in Southeast Asia. It is similar in many ways to Vietnam politically and historically and can be compared culturally to Thailand and Cambodia. It is the only landlocked country in Southeast Asia and faces unique economic challenges as a result. Today, Laos is a laid-back country that misses many of the tourist crowds and could be a hidden gem for you on your travels.
Logisitics
Weather / Climate
Weather is split into two seasons here: dry and rainy. The dry season runs from November to May, with high heat hitting around March and April impacting comfort levels. The rainy season runs from May to October. And while this may make for a less desirable vacation, the country is at its most lush and picturesque during these shoulder months. Because of the above, for the best chance of ideal weather, recommended visitation is between November and February.
Seasonal Festivals / Celebrations
Laos Rocket Festival (Bun Bang Fai) - Celebrated in the sixth lunar month (typically around May or June) with rockets fired into the sky. This is done to ask the god of rain for a harvest free from drought, floods, and pests. Celebrations last two to three days with music, parades, and dancing with a competitive rocket launch.
Lao New Year (Pi Mai Lao) - Celebrated across the country over a three day period from April 14th to 16th. The first day represents the last day of the old year when the people clean their homes and villages. The middle day marks no year and the third day marks the new year.
Great Stupa (Buon That Luang) - The "Great Stupa" is the largest Buddhist stupa in Laos and is a very important national monument. For three days in November, the monks and townspeople perform religious ceremonies at the statue. With folk music and dancing occurring throughout the week.
The End of Buddhist Lent (Awik Phansa Festival) - Decorations go up around town and there is a boat procession to celebrate this annual milestone. (Most famously in the UNESCO-designated town of Luang Prabang) The lights used to decorate are what dubbed this celebration the Festival of Lights. You will find candlelight all over the streets, homes, waterways, and sanctuaries.  This Light/Lantern festival also launches the Boat Racing Festival (Boun Xuang Huea) across the country canoe races are held throughout the day (Biggest celebrations in Vientiane, Luang Prabang, Savannakhet, and Champassak).
Safety
Laos is regarded as being relatively safe to visit for tourists and is known for its friendly population. The nation has a lot of poverty so beware of petty theft or small crimes while visiting.  There have been some issues of civil unrest so check government advisories prior to booking (Xaisomboun Province specifically).  Myanmar (Burma) has not always been historically safe to travel, so also it is worth avoiding the border region.  The other concern with Laotian travel is unexploded munitions, be sure to not travel off the beaten path or in certain high-risk areas.
Visas
Tourist visas are required (At least for all citizens of the USA, UK, EU, Australia, New Zealand, and Canada).  They are available upon arrival – at certain ports of entry. Usually, they permit a stay of 30 days with an additional option to extend another 60 days.  At certain ports of entry, you also have the option to use an eVisa which can be applied for ahead of your visit.
Transportation
There are many options to choose from for getting around Laos. Buses are not recommended due to being crammed, slow-moving, and a generally uncomfortable way to travel. The train system, in opposition, has been updated and currently runs between the major Laotian cities swiftly and efficiently. River travel was a way of life for Laos and is still a unique way to move. Traveling the Huay Xai is slow but will make for a fun story. Biking (motorcycle and dirt bike) is common on the roads. Traffic is sparse, but wildlife, dust, and bugs can be a problem. For car rentals, an International Driving Permit is required; however, rentals usually cost as much or more than hiring a car. So it is recommended that you employ a driver, who is responsible for vehicle damages, to drive you around. If you are interested, the hotel's concierge should be able to recommend a company for you. And lastly, TukTuks and Jumbos are fun for short trips around town.
Things To See / Do
Cities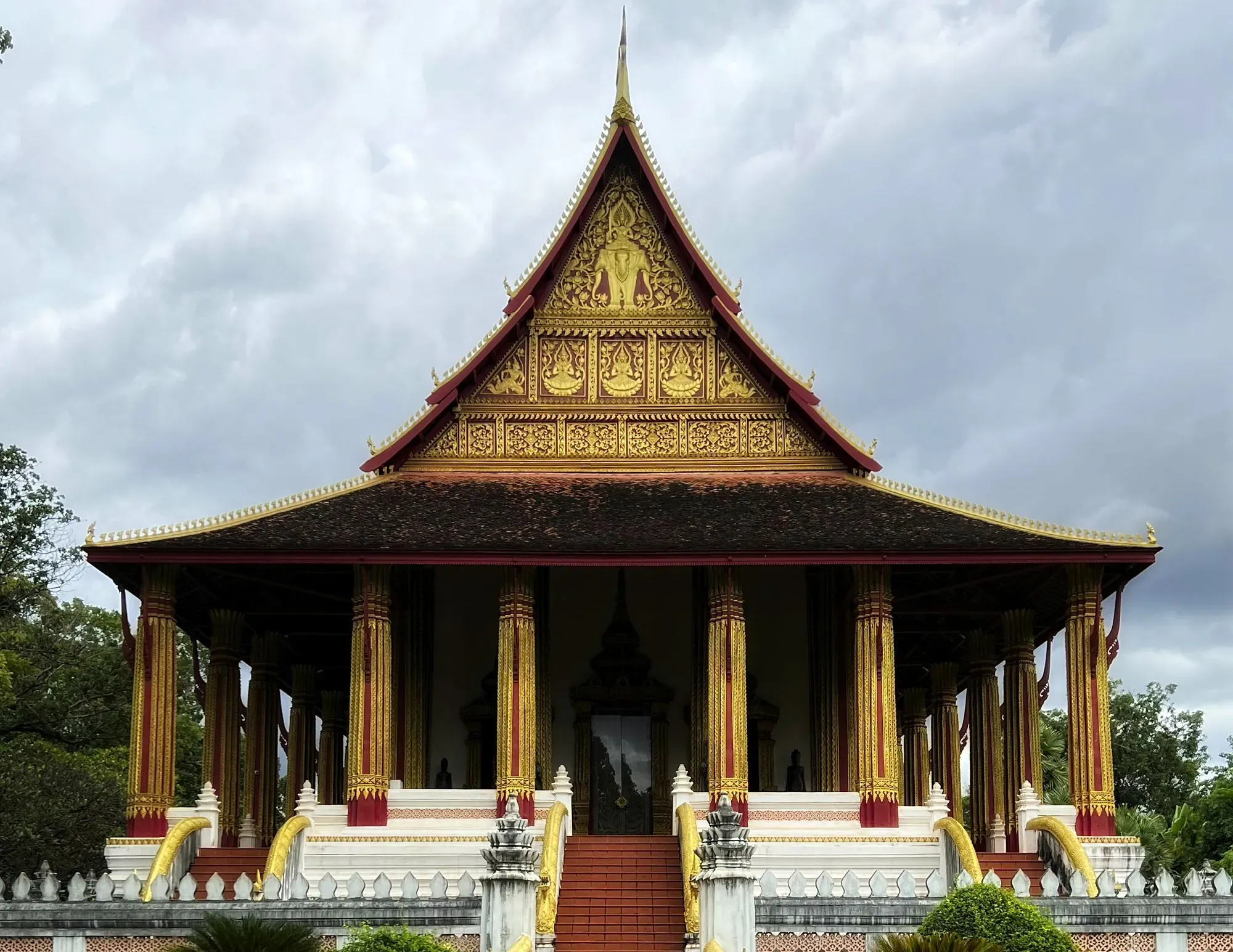 Vientiane - The capital and most populous city of Laos. Vientiane is the center of much of Laos' political and business life. Even so, it is still a laid-back city compared to most Southeast Asian cities. You do get some traffic during business hours throughout the major roads, but for the most part, everyone is still able to partake in the Laotian culture of slow and stress-free days. Business and life churn along in Vientiane, but the excitement keeps to a dull roar.
Luang Prabang - The historic capital and spiritual center of Laos. Luang Prabang is a cute town that attracts tourists for its spiritual history, nature and adventure activities outside of the city, and historic downtown. It is packed with temples and monks and has plenty of festivals and religious practices to participate in throughout the year. Additionally, the weekend night market is a massive social custom that brings locals and tourists together to enjoy the weekend nights together.
Vang Vieng - Another Laotian city that should be mentioned, not because of its great significance to Laos itself but because of its tourism appeal. This city became a backpacker's paradise and quickly was overrun with exciting bars for tourists to enjoy. The most popular activity here was tubing down the Nam Song River. In the mid-2010s, the city became overwhelmed with tourists getting too drunk, and deaths skyrocketed in the city. The government had to come in and shut down the river tubing and the city suffered. Since then, the tubing has been restored but with better regulations and without the "death slide" or dangerous rope swings along the river bank. The city is rebranding as an adventurous paradise and moving away from its debauchery and drunken past. As a tourist, it is a great place to visit; however, if your aim is to see more of the local Laotian culture prioritize any of the other key cities.
Must See
COPE Center – Vientiane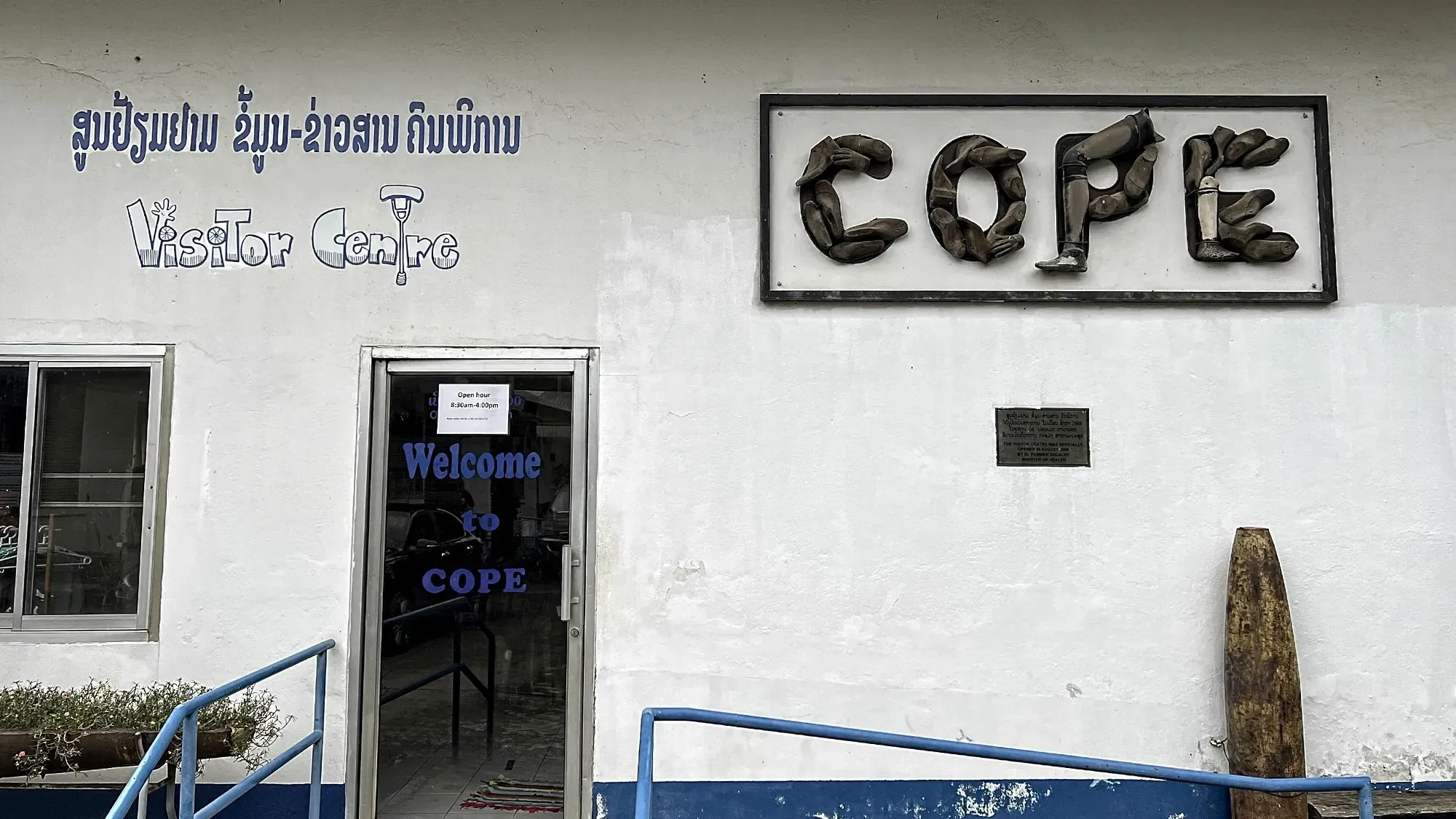 The COPE Visitor Center is a single-room museum (hence, why it is called just a visitor center) in the COPE complex. They explain the mission of their organization and the history of the Unexploded Ordinance (UXO) in Laos. COPE has helped thousands of people in Laos with mobility-related disabilities. The visitor center, despite its small size, is a great place to learn a lot about Laotian history and a fantastic cause.
Lao National Museum – Vientiane
A national museum that provides another great look into Laotian history and culture.
Kuang Si Waterfalls – Outside of Luang Prabang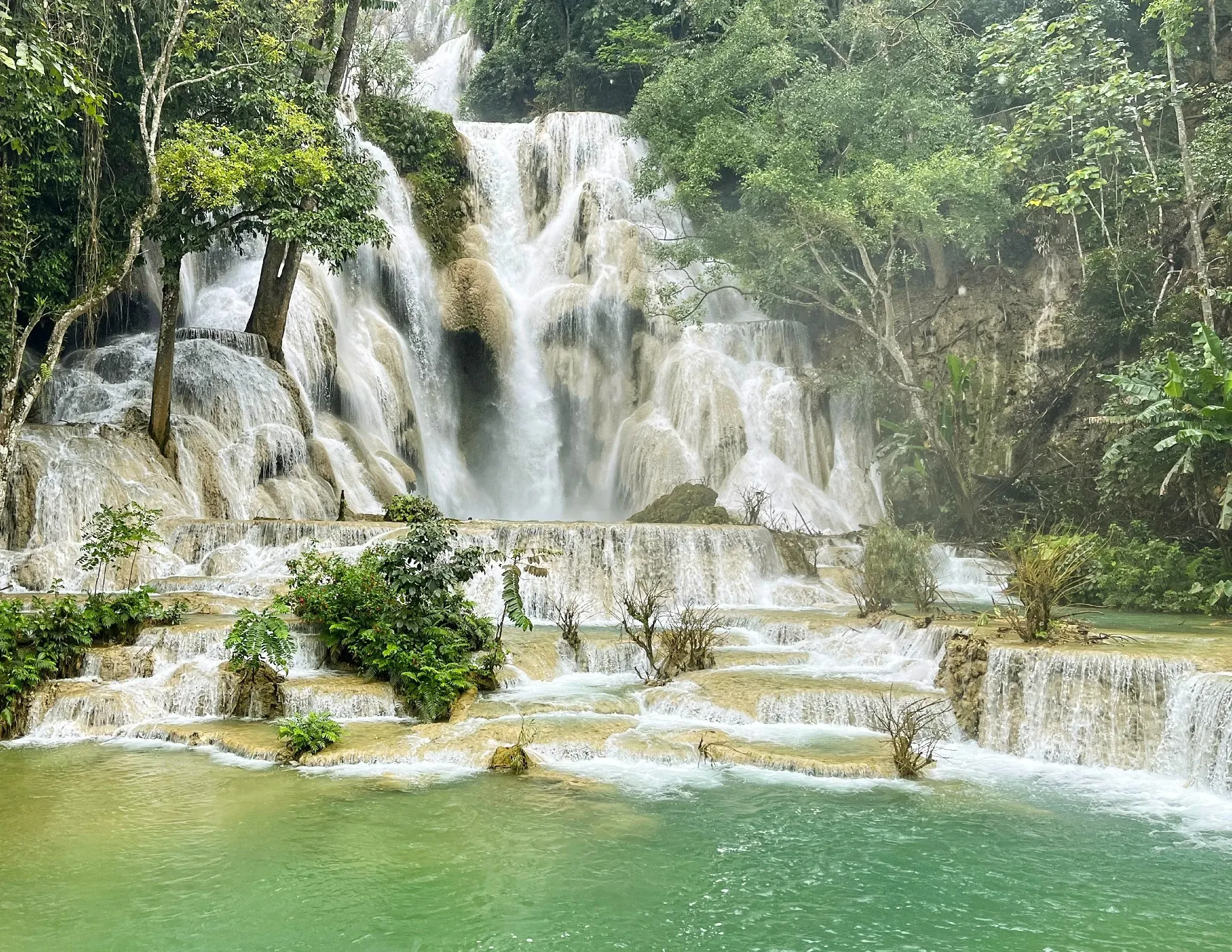 Beautiful waterfalls! The Kuang Si waterfalls are an attraction about an hour outside of Luang Prabang where you can go on a small hike to see absolutely gorgeous waterfalls. I usually have reservations when it is suggested to go see waterfalls. This is because, while waterfalls are neat, oftentimes they involve a long hike to see a mediocre drop of water that you cannot swim in. Kuang Si is definitely worth the trip though, as the falls here are such a deep, turquoise blue that no filter or saturation is needed to snap an incredible picture. There are three pools downstream from the waterfall that allows for swimming opportunities. Additionally, there is a small moon bear rescue and butterfly park to enhance the experience. Absolutely worth the trip, even if you are only staying one day in Luang Prabang.
Mount Phou Si – Luang Prabang
A high hill in the middle of Old Town Luang Prabang. Halfway up you can see Wat Tham Phou Si, and at the summit is Wat Chom Si. It is not a difficult trek but provides a great view of the city and surrounding area.
Wat Xieng Thong – Luang Prabang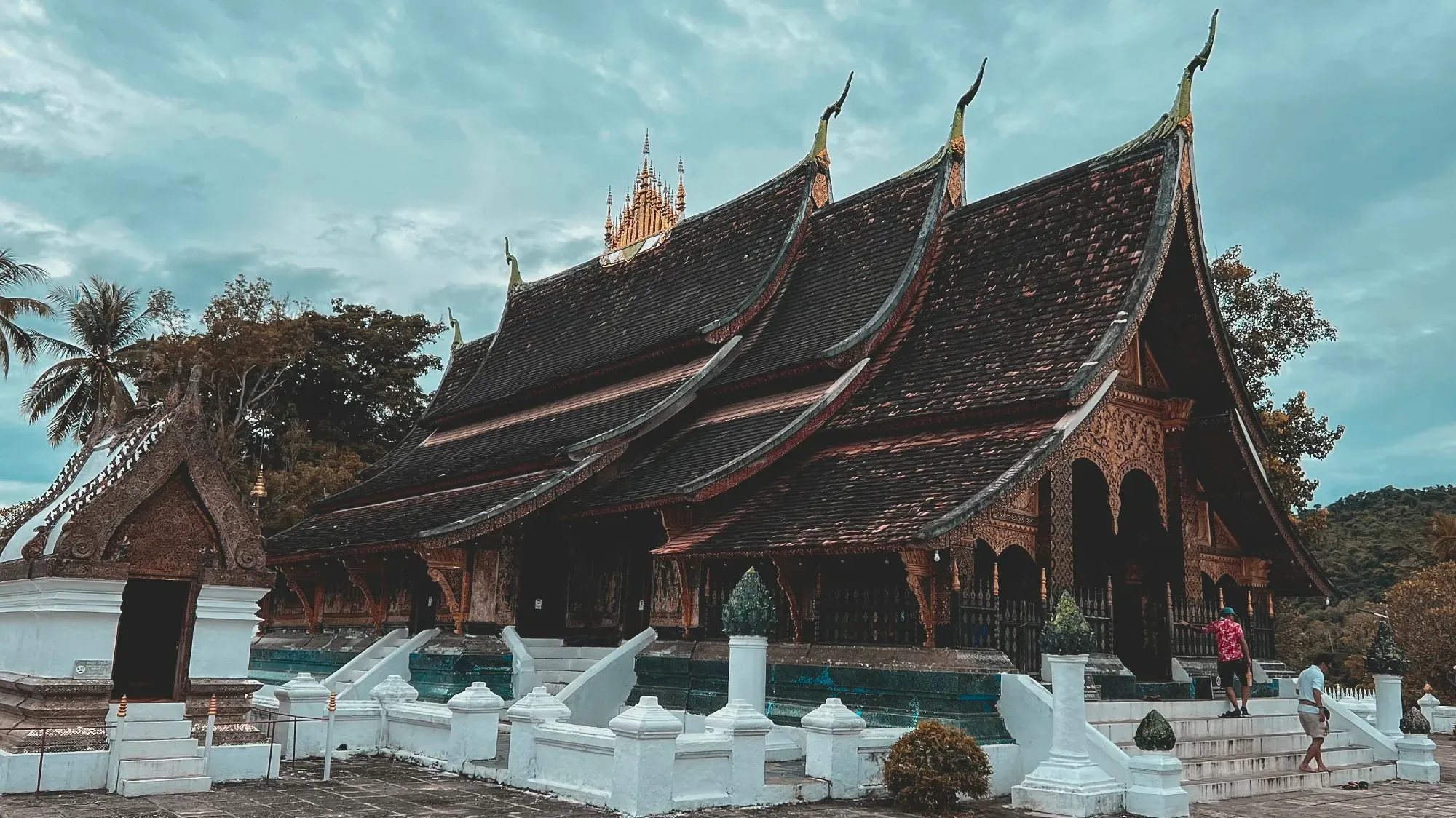 There are lots of temples in Luang Prabang. You can spend a whole day temple hopping around the various temples. Wat Xieng Thong is one of the most famous temples in the city and is mentioned here both as an example and because if you had to see one temple in Luang Prabang, then this would be a decent choice. The architecture of this wat is characteristic of Laos and the temple complex contains many mosaics and art pieces.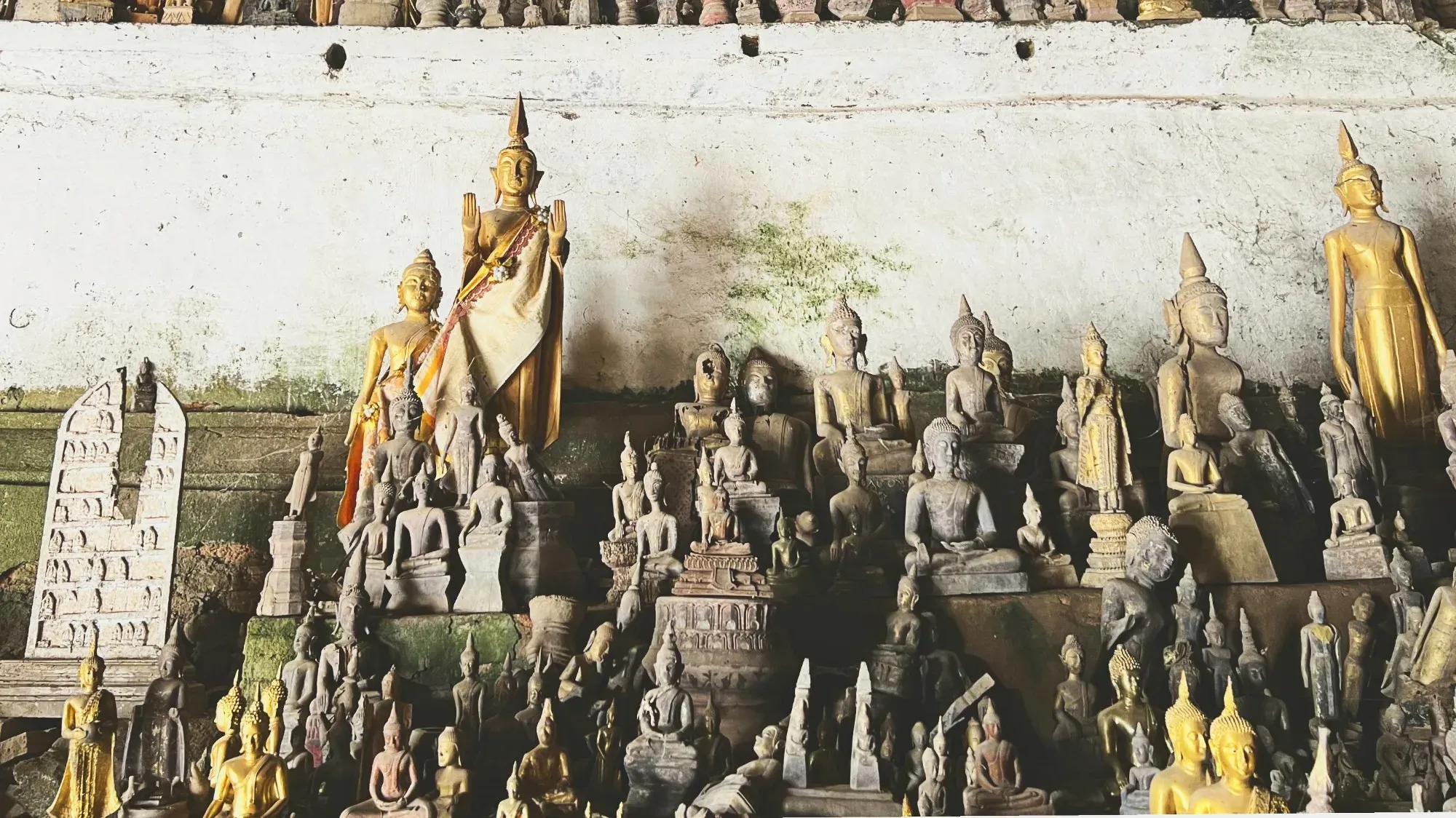 Nice to See
Vientiane
Patuxai Victory Monument – Large arch monument on one of the major roads through Vientiane.
Xieng Khuan (Buddha Park) - Park just outside the city with a variety of large Buddha statues and heads scattered throughout. Interesting photo-op.
Pha That Luang – Golden covered Buddha stupa.
Ho Phra Keo (Ha Phra Kaew) – Originally built to house the famous Emerald Buddha. The Emerald Buddha was taken to Thailand in 1779. But this former temple is still neat to see and contains many religious arts.
Wat Si Saket – One of the oldest original temples in Vientiane is right across the street from Ho Phra Keo.
Wat Si Muang – A popular Buddhist temple.
Luang Prabang
Pak Ou Caves - "Buddha Caves" in a small town up the river from Luang Prabang. The caves themselves are just small caves inside of which a ton of miniature Buddha statues have been placed (it would appear aimlessly). But, the ride across the river to reach them is an interesting enough adventure on the Mekong that it might be worth the detour to Pak Ou if you have the time.
Luang Prabang Night Market - Everyone in town gets together to enjoy the night markets on weekends in Luang Prabang. Partake in the fun with food and shopping.
Old Quarter - "Old Town" of Luang Prabang with a unique architectural style. Packed with temples and small cafes for tourists.
Wat Mai Suwannaphumaham - A famous temple in Luang Prabang. This one has an intricate, golden façade that is worth a visit.
Morning Market or Phosy Market - The markets in Luang Prabang are a major daily event. A possible place to grab a bite to eat or just enjoy the experience.
Rest of Country
Plain of Jars - Phenomenon across the central plains of Laos where thousands of stone jars are scattered in clusters. One of the most important prehistoric sites in Southeast Asia, they appear to be associated with ancient burial practices.
Bokeo Nature Reserve - Nature reserve created to protect the previously thought to be extinct black-cheeked gibbon. Located on the border of Thailand and Laos in Huay Xai, it acts as both a nature reserve and a tourist attraction. The "Gibbon Experience" allows you to stay in a treehouse and zipline between trees all while helping fund the project.
Tham Kong Lo - Cave within Phou Hin Bun National Park in Central Laos.
Pakse / Wat Phu Champasak - Town in the southern Laos region of Champasak near the famous temple complex of Wat Phu. Far away from much of the rest of Laos, it is not frequently visited by foreigners.

Recommended Experiences
Tubing Nam Song River – The major attraction in Vang Vieng is to go river tubing. Enjoy an afternoon taking in the beautiful jungle scenery floating down the Nam Song on a tube, then enjoy the evening at the bars. Just don't mix too much drinking and swimming: stay safe.
Giving of the Alms - The almsgiving ceremony, or Tak Bat, is a tradition in Luang Prabang (and for Laotian Buddhists in general) in which the monks walk the streets and collect offerings each morning. It is an interesting religious ceremony to witness, but be conscious and be respectful of this sacred, longstanding tradition.
Culture
Politics
Laos can trace its roots to the powerful kingdom of Lan Xang, or the "Land of a Million Elephants", after people migrated from southern China in the 14th century. This kingdom then broke into three separate kingdoms: Luang Prabang, Vientiane, and Champasak. These three kingdoms were then unified again in 1893 under the French after merging a large section west of the Mekong River into Thailand (the Isan region). Laos was then ruled under the French protectorate, with a minor Japanese occupation, until Laos' independence in 1953 as a monarchy. Soon after a civil war commenced in conjunction with the Cold War of USSR communism vs. American democracy until finally the communist Lao People's Democratic Republic officially solidified after the Vietnam War ended in 1975.
Laos was once one of the most powerful kingdoms in Southeast Asia, but having gone through the cycle of colonization and communism upheaval is now a small, often overlooked state with minor, albeit improving, international relations. As a communist state with one party, the General Secretary serves as the "supreme leader" holding ultimate power and authority over the government and people.
Religion
Most of the country practices Theravāda Buddhism, as is clear from the vast number of Buddhist temples throughout the country. The second most popular religious group in Laos is the Tai folk religion. Tai folk religion is a polytheistic religion involving shamans and ancestor worship intermixed with Buddhist beliefs. A small amount of the Laotian population is Christian. Note: the government bans foreigners from proselytizing.
Cuisine
We have an awesome in-depth guide to Laotian Gastronomy which should provide all the details you need for a trip to Laos. Check it out!
Societal Norms
The Laotian culture is easygoing. There is not a ton of stressing and rushing in Laos. We found everything taken with a relatively relaxed attitude.
A traditional Laotian greeting is a nop. To perform a nop press your hands together in a praying formation at the chest. A slight head nod is appropriate for formally greeting strangers. An actual bow is only performed in a deep respect for elders.
In modern Laos, there is a lot of Chinese influence, especially economically. Laos is one of the few countries where Chinese is about as popular as English as a secondary language.